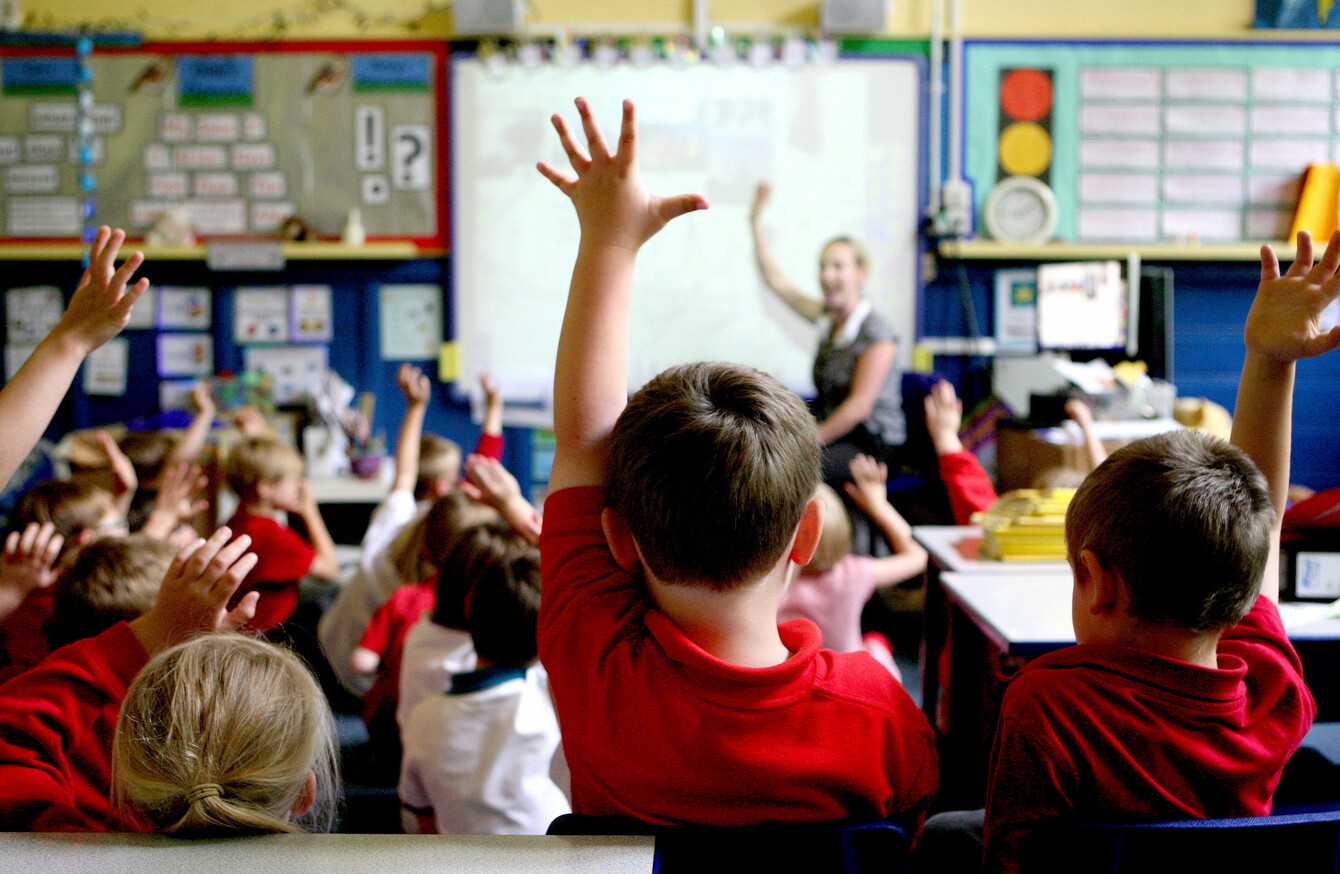 Image: Dave Thompson via PA
Image: Dave Thompson via PA
Updated: 7.50am
MINISTER FOR EDUCATION Richard Bruton has announced that new rules banning discrimination against children who are not baptised should come into force this year.
In a statement this morning, Bruton said that oversubscribed primary schools will not be allowed discriminate on the basis of religion. Around 90% of primary schools across the country are run through the Catholic faith.
Bruton published three amendments to the Education (Admission to Schools) Bill 2016  which included that the role of religion in school admissions be removed.
Announcing the change, Bruton said: "It is unfair that a local child of no religion is passed over in favour of a child of religion, living some distance away for access to their local school. Parents should not feel pressured to baptise their child to get access to their local school.
"While 90% of our primary schools are of a Catholic ethos, recent figures show that over 20% (and growing) of our parent-age population is non-religious. In addition, recent marriage statistics for 2017 show that only approximately 51% of marriages occurred in a Catholic ceremony."
Under the proposed new law, there will be protections to ensure that a child of minority religion can still access a school of their faith.
Gaelscoilleana
The new amendments are also seeking to protect the Irish language. Gaelscoileanna will be allowed to give priority admission to students who have a reasonable age appropriate level of oral fluency in the Irish language, "where such fluency would be at risk of regressing if the student were not admitted to an Irish medium school", according to Bruton.
Under the amendment, these schools will be required to take into account whether a child has a special educational need in the context of determining what a reasonable age appropriate level of Irish for that child would be.
However, there has been opposition to the new legislation. Seamus Mulconry, who is the general secretary of the Catholic Primary Schools Management Association (CPSMA) said that a lack of school places is the problem and not religion.
He told Morning Ireland: "95% of schools won't be affected. When this issue first arose, we conducted research and what we found was there were 17 schools out of 450 in the Dublin area which were impacted by this (baptism barrier).
"The really interesting thing is what we found was it was happening in a ring of high growth areas around the city. It was a lack of school places and not religion.
"We are a bit bemused as to why he's bringing in legislation in the first place. Catholic schools want to accept everybody who applies. When we have space, we literally do take everybody. If Damien from the Omen arrived in, we'd take him in. In a sense this legislation is redundant."
In response, Bruton said that there will always be schools that are more popular than others and that the new laws were needed to address an imbalance in the Irish educational system.
He said that the legislation would mean fairer rules for all involved and said it should we welcomed.