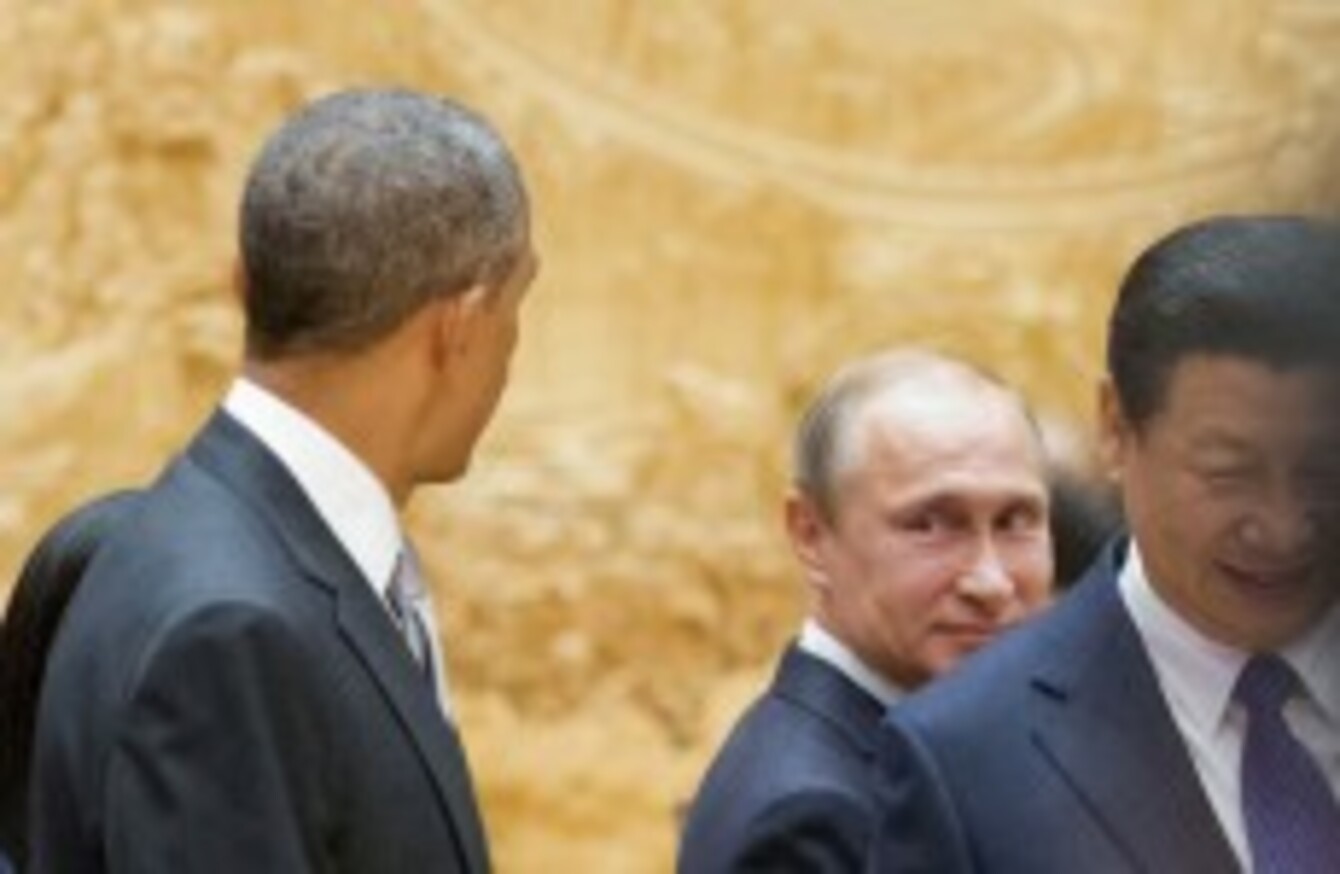 Image: Pablo Martinez Monsivais/PA Wire
Image: Pablo Martinez Monsivais/PA Wire
THERE WAS AN icy tension on display between Barack Obama and Vladimir Putin today at the Asia-Pacific Economic Co-operation (APEC) forum.
Reporters on the scene have described the meetings between the pair as brief and awkward.
The US and Russian leaders met for 20 minutes today but no details of the exchange were released by either country.
So, journalists have taken to reading the body language of two of the world's most powerful men.
It doesn't take an expert to figure out that Obama isn't at his most charming during this photocall.
According to reports from Beijing, he barely acknowledged Putin's remark that the room was "beautiful".
One commentator remarked that President Xi Jinping looked "like a man meeting his ex-wife's new boyfriend".
Not happy at all…
Meanwhile, Putin has had his own problems with the Chinese after what he supposed was a gallant gesture.
During the action today, the Russian leader wrapped a shawl around Xi Jinping's wife – something that made Putin seem like the gentleman and her husband, the inattentive host.
To the authorities dismay, jokes began to circulate on social media about the divorced President's real intentions. Remember here that Putin is seen as something of a heart throb in China.
The incident originally was broadcast on state broadcaster CCTV and spread online. But it was soon scrubbed clean from the Chinese Internet.
The machine around the First Couple like to portray them as a loving husband and wife, with the President being attentive and caring – he is often seen holding an umbrella over her head or picking flowers for her.
It does not do to have him chatting with the American president, while another man looks after her needs when she may be a bit chilly.
Xi's wife, Peng Liyuan, was once a popular folk singer more famous than her husband, and in contrast to her predecessors she has taken on a much more public role. However, she still took the shawl off seconds after Putin had put it on her shoulders, seemingly knowing the reaction it could cause.
Oh dear, this all got very messy. And that's before the economy was even mentioned.