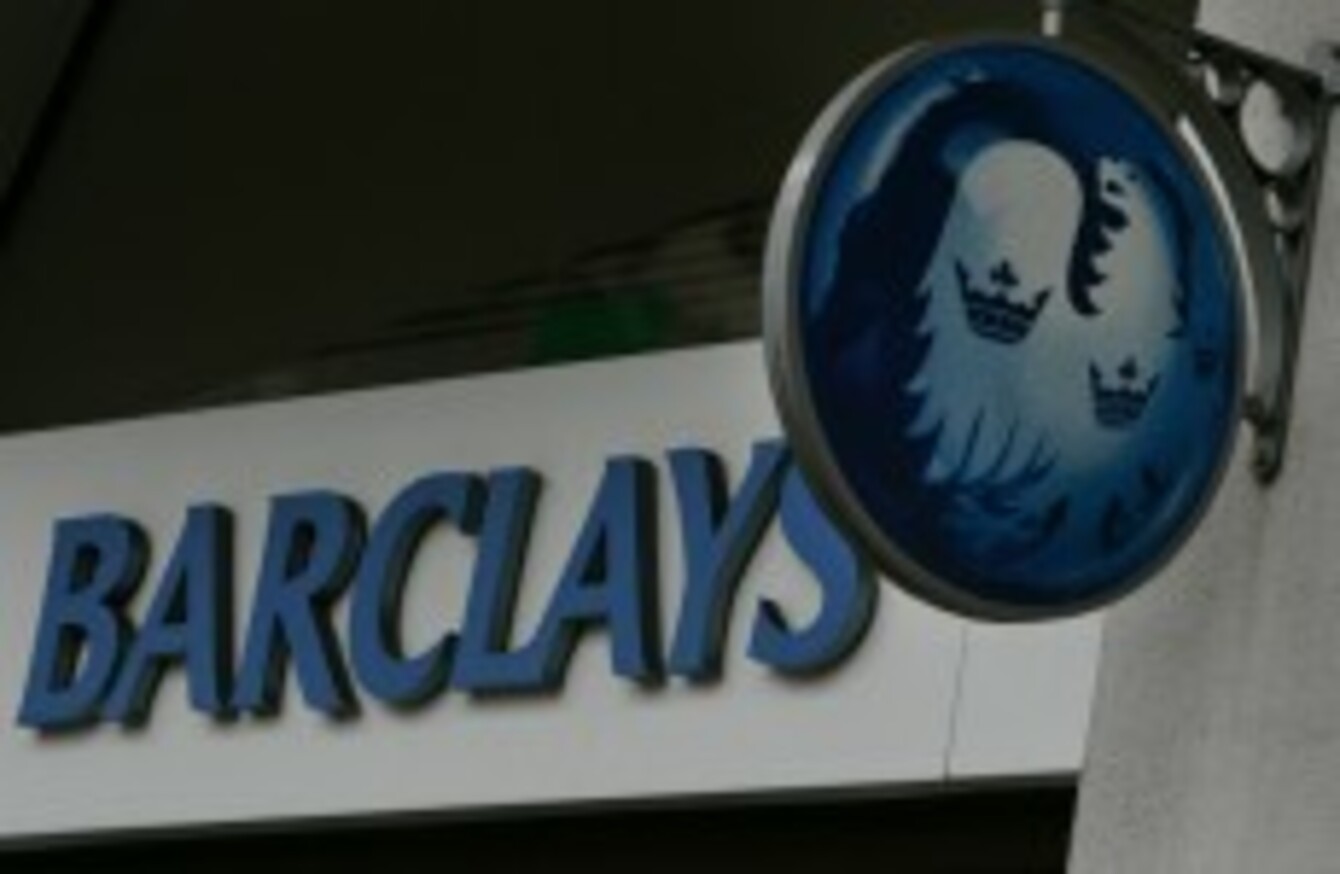 A Barclays bank branch in central London (file photo).
Image: LEFTERIS PITARAKIS/AP/Press Association Images
A Barclays bank branch in central London (file photo).
Image: LEFTERIS PITARAKIS/AP/Press Association Images
Updated 20:03
Barclays PLC HAS announced plans to cut at least 3,700 jobs in a major restructuring that follows a scandal-hit year for the UK bank.
The bank said today that it will cut at least 1,800 positions in the Corporate and Investment Bank unit and 1,900 retail and business banking jobs outside the UK.
A UK spokesperson told TheJournal.ie that while the 1,900 retail and banking jobs would be lost in France, Italy, Spain and Portugal, a decision had not yet been taken as to where the other 1,800 jobs losses would occur.
The company's Corporate and Investment Bank unit operates across Europe, Asia and the Americas, including over 100 employees in Barclays Bank Ireland.
It is hoped, however, that these jobs will survive any cuts, due to the fact that they relate to corporate and wealth management – as opposed to investments – and that the number of Irish jobs in this area has increased over the last number of months.
Consultations are currently underway with regards to where these further jobs will be cut, with the spokesperson confirming that the losses will take place before the end of the year.
The cuts come after the British institution was forced to pay a fine of approximately €336 million for manipulating a key market interest rate that serves as the basis for trillions in mortgage loans. A slew of executives, including chief executive, Bob Diamond, were forced to resign.
It also faced criticism for mis-selling of insurance and interest rate products to consumers and small businesses.
The bank's new CEO, Antony Jenkins, has warned his staff that making money won't be the only thing on which they'll be judged. Ethics count – and matter more in the long run than what happens in the fourth quarter.
"It's not complicated," he told the BBC. "It's about recognizing that we're in business to serve our customers and clients, to deliver return for our shareholders. But also to be good for the societies where we do business, particularly Britain, where we are a major bank."
He said the bank has already taken steps to back his words. Barclays has closed the structured capital markets business – which sought ways for its customers to pay less tax on their investments – as well as cutting bonuses and removing branch sales incentives.
Even so, he said it would take years before "people changed their impression of us."
"Believe me, I understand the cynics and the skeptics out there," he told the BBC. "But cynics and skeptics never built anything. This is about fundamentally changing Barclays. And we will be judged by our actions not our words."
Barclays recorded a loss of approximately €274 million for 2012 against a net profit of roughly €4.5 billion for 2011. It made around €2.8 billion available in provisions in 2012 for compensating clients for the mis-sold products.
- Additional reporting by Associated Press