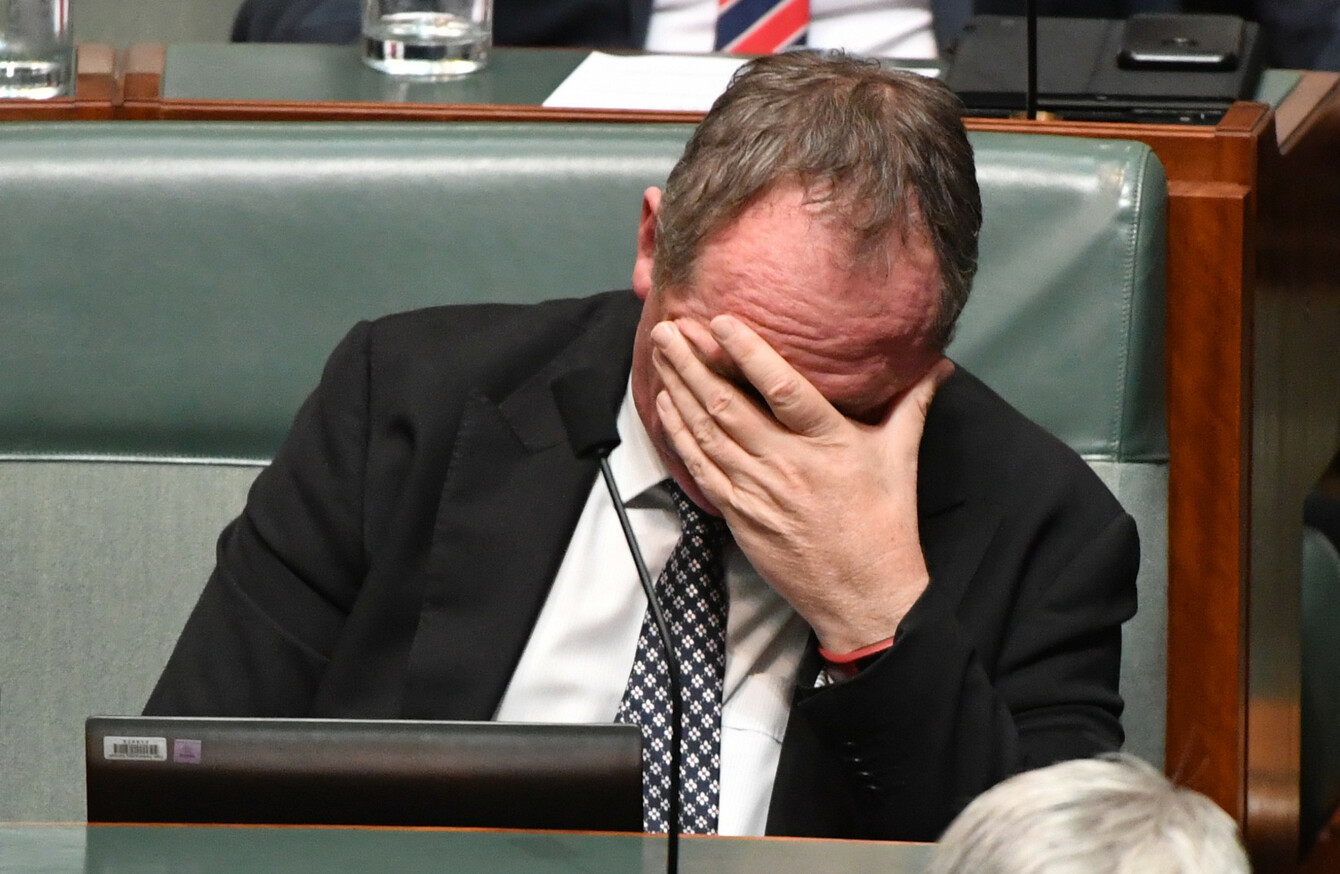 Former deputy prime minister Barnaby Joyce.
Image: AAP/PA Images
Former deputy prime minister Barnaby Joyce.
Image: AAP/PA Images
AN AFFAIR THAT led to the resignation of Australia's deputy prime minister took a bizarre twist after he questioned the paternity of the baby carried by his partner and former aide.
Barnaby Joyce quit and moved to the back benches last month after his affair with the younger ex-staffer made headlines for weeks and raised questions about whether he had breached ministerial rules.
The scandal led Prime Minister Malcolm Turnbull to impose a ban on sex between ministers and their staff, in an overhaul of the cabinet code of conduct.
Joyce was the leader of the National Party, which rules alongside Turnbull's Liberals in a governing coalition, and his resignation appeared to end the saga for the embattled government.
The coalition has a wafer-thin parliamentary majority and has been hit in recent months by a series of controversies that has shaken its grip on power.
But the issue flared up again when Joyce, who left his wife of 24 years for the former adviser, told Fairfax Media in an interview published late Saturday that the identity of the biological father was "a grey area".
He claimed Sydney's Daily Telegraph, which broke the story of the affair in early February, had "never even asked if it was Joyce's bundle".
Joyce believes he and the former aide, 33-year-old Vikki Campion, were apart for almost all of the conception period, but said he would not get a paternity test.
The baby boy is due in April, according to Joyce.
"It's mine, on the record, there it is," he told Fairfax. "And can I say, even if it wasn't, I wouldn't care, I'd still go through this, I'd still love him."
The Daily Telegraph reporter who revealed the affair said on Twitter that Joyce's claims that his office was not asked about paternity were untrue.
The affair sparked a rift between the Liberal and National parties, with Turnbull criticising Joyce's behaviour and voicing sympathy for his wife, four daughters and Campion.
Even though Joyce, who was replaced by Nationals MP Michael McCormack in both roles, has stepped down, his expenses during and after the period when he worked with Campion were under scrutiny in Senate hearings last week.