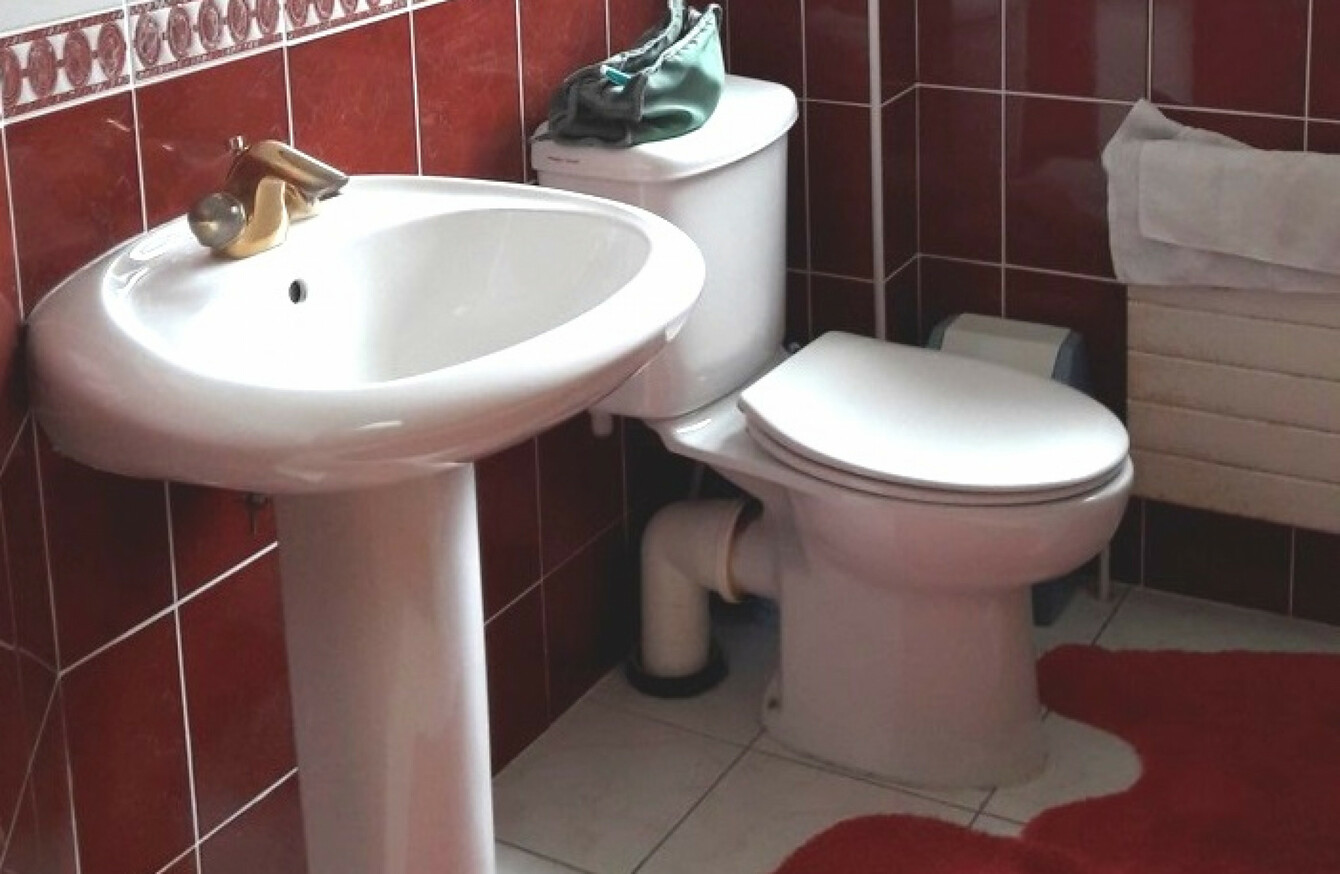 SO YOU'VE JUST got the keys to your new home, but it needs a little TLC. First up, the bedrooms: that floral wallpaper is giving you nightmares already. Then, the kitchen: those worktops are pure grot.
Or maybe you've been living in your place for a few years, and finally have some cash together to spruce things up, starting with that flaking magnolia paint in the sitting room.
When money is tight, it's usually the bigger rooms that make it to the top of the 'must-change' list, but designer Jackie Carton of Style My Room says that smaller spaces like bathrooms shouldn't be forgotten.
With some design consideration, a bathroom can become the most relaxing and calmest area of your house.
And by starting with a smaller room, you're eating into less of your budget, which is always a winner. Jackie's a pro at home transformations, and she took us through a recent refurb of a family home with two en suite bathrooms she's especially proud of.
Jackie's bathroom makeover: Before
This family home had no main family bathroom, but every bedroom had its own en-suite bathroom or shower room.  "They were installed around 15 years ago and the owners were regretting the strong tile colours," says Jackie.
That's "strongly-coloured" bathroom #1, above. And here's the blue-hued bathroom #2…
Unsurprisingly, this time around the owners were keen to keep things neutral. But colour wasn't Jackie's only concern. "The layout was poor, with small sinks and no storage," she says.
Jackie says that often bad layout can make a bathroom look much more cluttered than it really is.
Considering the glorious views of the Dublin Mountains outside, the windows needed to be re-sized, too, to let in natural light (and allow for some nature-gazing from the loo).
And… After!
Here's the formerly red bathroom:
And the blue one:
For both rooms, Jackie altered the layout just enough to make some extra floor space.
In the red bathroom, the toilet was moved to make room for a boxed-in sink with plenty of storage underneath for toiletries, towels and loo roll, all in distinctly Scandi-style neutrals. Jackie also replaced a small radiator under the window with a large heated towel radiator.
In the blue bathroom, the new sink and vanity unit were "hung" on the wall to maximise floor space, and the shower tray was changed from a square one to a round-edged one to add even more floor area.
As this was quite a small en suite bathroom, I suggested gloss tiles to reflect more light.
So what did the Jackie and her clients think of the finished product? "Everyone loved the calmness of both rooms. Those Dublin Mountain views are now on show and both bathrooms just look much more streamlined."
Stuck for cash? Here's how to change up your bathroom on the cheap
1. Borrow a steam cleaner: "If you can't afford to re-tile, steam cleaning the bathroom from top to bottom can revitalise the place," says Jackie.
2. Get a few tins of paint: "Tongue and groove panelling is an easy feature to add. Paint it one colour and paint above it in a contrasting one," suggests Jackie.
3. Deep clean the whole place: Bathroom cleaning is gross, but you'll feel better after a purge. Put towels and mats in a boil wash, soak and scrub the shower curtain, bleach-clean the sink, shower and loo and wipe down all accessories.
4. Splash out on a few plants: …Or just re-locate them from other areas of the house. "Small accessories like those make a big difference," says Jackie.
When you're making the decision to sell up or renovate, everyone will have their opinion – and won't think twice about letting you know what it is. But how do you block out the noise and get to the point?
At permanent tsb, we value finding a better way. If you're house-hunting, or even just saving for your deposit, you'll want to do things the right way. Head over to our Bring It Home Hub for the inside scoop.
Lending criteria, terms and conditions apply. Security and Insurance required. permanent tsb p.l.c is regulated by the Central Bank of Ireland.