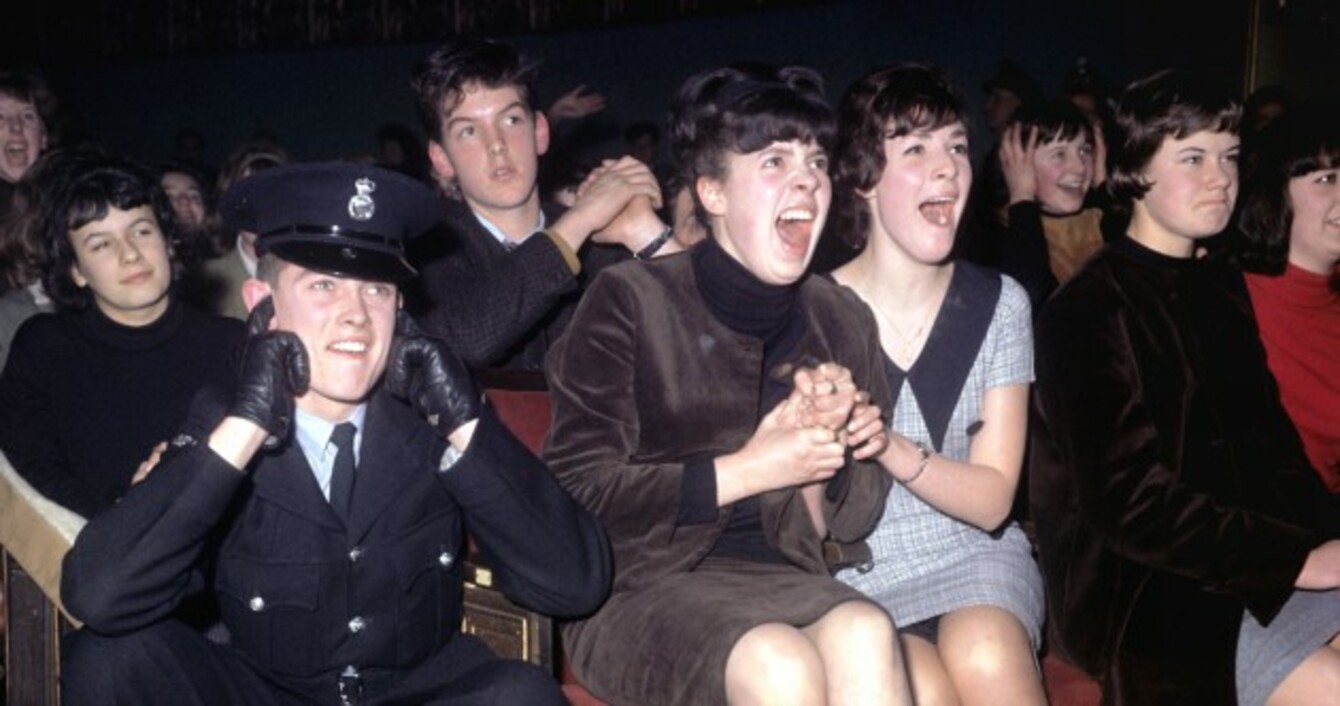 Frenzied Beatles watch the band perform in Manchester on the same tour that saw them visit Dubin and Belfast. November 1963.
Image: PA/PA Archive/Press Association Images
Frenzied Beatles watch the band perform in Manchester on the same tour that saw them visit Dubin and Belfast. November 1963.
Image: PA/PA Archive/Press Association Images
THEY MAY HAVE been on stage for all of fifty minutes at the Adelphi on 7 November 1963, and by all accounts no-one in the audience could make out a single perfectly-harmonised 'yeah' amid all the screaming — but the significance of The Beatles' Irish gigs continues to resonate fifty years on.
Fans who were luckly enough to have been there (along with masses more who claim to have been), alongside Beatles enthusiasts far too young even to remember Paul McCartney's 1980s collaboration with Rupert the Bear have been marking the occasion all week at the Dublin Beatles Festival.
The event runs until tomorrow night (in fact, many of the highlights of the four day event will be happening over the weekend) while in the list below, TheJournal.ie has also thrown in some a slightly less official (and occasionally incredibly tenuous) ways you can celebrate the foursome over the next 36 hours or so.
If you're prepared to eat, sleep and drink Beatles this weekend, you may just fit it all in…
1. Watch the lads being charming in this 1963 interview with Uncle Gay…
Fresh from miming 'I Want to Hold Your Hand,' The Beatles sat down (well, Paul and Ringo sat down, John stood up and George did some leaning) with Gay Byrne for a fifteen minute chat. This was November 1963, but it wasn't for RTÉ: Gay was going some work for Granada TV at the time — a show called 'Late Scene Extra'. Comedian Ken Dodd, who would have been a bigger star back then, was also on the show and dominates much of the proceedings — but there's plenty of banter. Lennon displays his characteristic quick wit as the six discuss possible 'Rock and Roll' names Dodd could adopt to appeal to teenagers… "Sod?" he suggests.

(Youtube:
OohSole
)
2. Get the look…
Reporter: "What do you call that haircut?"
George Harrison: "I call it Arthur."
— A Hard Day's Night.
You'll need plenty of growth to pull off the full Beatles mop-top cut — at least according to manager of The Barber's Room on College Street, Keith Fraher.
"It's a really technical haircut. Basically you need to grow it out, and then it's a very blunt cut all around — you don't texture it," he told TheJournal.ie.
Fraher says there isn't much demand for the cut these days, but that he would have done "one or two" over the past year or so. "You really have to have a lot of growth — a full head of hair for this to work. That's maybe one of the reasons why they changed their styles as they got older".
If you're interested, Keith says he can do a wash and mop-top cut for "around €23″.

(Youtube:
AnaLennon
)
3. Do some window-shopping…
Ultra-fashionable haircut in place, why not check out what the boys would have been wearing around the time?
There's a display the original suits worn by John, Paul, George and Ringo on their promotional tour for A Hard Days Night in Arnotts window at the moment. Original Beatles instruments and sheet music are also on show.
[Image: Dublin Beatles Festival]
4. Get MORE of the look…
Organisers of a '60s Extravaganza' Flea Market at the Grand Social on Saturday say there'll be a tonne of vintage clothes on offer, along with books, art and vinyl LPs from the era.
The folks from Beatles Days will also be offering free valuations of your memorabilia. (12pm – 6pm)
Reckon you can pull this off?… To be fair, neither could Ringo. [AP/Press Association Images]
5. Meet John Lennon's old bandmates…
No, not Paul and Ringo… Three surviving members of the original Quarrymen — the band formed by Lennon in 1956 that eventually evolved into The Beatles — will be answering questions at the Gresham Hotel from 2pm today. McCartney joined up with the group in 1957, and a 14-year-old George Harrison signed-on the following year (Ringo was a relatively late addition to the line-up, replacing Pete Best on the drum stool in January 1962). The band will be interviewed by Tony Clayton-Lea of The Irish Times, and there'll be Q&A session afterwards.
Tickets are a mere fiver, and the band will also be also playing live as part of a tribute gig in The Grand Social tonight.
[Image: Phil Noble/PA Archive/Press Association Images]
6. Visit the spot where Irish gigs happened…
Along with The Beatles, the stage of the Adelphi Cinema on Middle Abbey Street also played host to The Stones, Louis Armstrong and Marlene Dietrich over the years.
The two-thousand seater art deco cinema was build in 1939, and acted as both a movie theatre and a concert venue. It was later divided into four screening rooms. Unfortunately, apart from a section of the facade, the Adelphi is long since gone; the doors were closed for the last time in November 1995.
It's now the Arnotts car park — so if you really wanted to make a pilgrimage, you could always pay the €2.80 hourly charge and sit in your car with Anthology 1 (which features live tacks from the early years) playing on your stereo.
No? Alright, let's move on…
[Image: Google Street View]
7. Ask the expert…
Journalist Colm Keane probably knows more about foursome's visit here than anybody still around to tell the tale; he documented the frenzy created by their visit in the 200-page 'The Beatles Irish Concerts,' interviewing literally hundreds of witnesses — from fans and fellow reporters to gardaí and hotel staff.
A 12-year-old Bob Geldof and poet Patrick Kavanagh were amongst those in Dublin for the concerts, Keane notes in his book, with the latter writing at the time "So far the Irish have not produced a guitaring ensemble of sufficiently outrageous codology".
Keane will be talking to Tom Dunne at the Gresham (where the band stayed) at 3.30pm on Saturday afternoon as part of the festival. Tickets are €8, with the price including a copy of the book.

A live recording of a similar setlist from October 1962: This is what the Irish concerts
might
have sounded like
(Youtube:
TheLPsBox
)
8. Stage your own photo-shoot at the famous* Abbey Road crossing…
*Well, famous to the people of Monkstown.
Junction of Kill Lane near Kill of the Grange, if you're interested [Google Streetview]
9. Test your knowledge…
Don't let all the facts you've picked up over the weekend go to waste — use them to put other aficionados to shame at 'The Ultimate Beatles Quiz' on Sunday afternoon. It's in the Workman's Club at 2.15pm, with entry for a team of four costing €40.
Sample Question: Which Beatles session musician from their Hamburg days later went on to design an album cover for Wet Wet Wet? (Answer: This guy)
The Beatles in February 1968 [AP Photo]
10. Enjoy a pint at the spot where an Irish soap opera actress once told George Harrison to 'shag off'…
The cast of musical called 'Carrie,' which was being staged at the Olympia, were enjoying a few post-show pints in Groome's Hotel, across from the Gate Theatre, on 7 November when the four Beatles walked in, fresh from their two sold-out shows at the Adephi.
Writer Wesley Burrows, creator of The Riordans and later Glenroe, was the author of the musical, and was in the hotel bar with the cast.  "One thing I remember very well was that we had a wee girl with us in Carrie who used to be in The Riordans as well," Burrows told Colm Keane in an interview for his above-mentioned book.
"George Harrison came over to her and asked her would she like to dance. She told him to 'shag off'.
"Afterwards, when she realised who it was and what she had just turned down, she was very mortified."
Groome's is long gone, but another hotel, Cassidy's now stands on the same spot, and there's plaque marking the occasion (of The Beatles' visit, not necessarily George striking-out) beside the bar.
[Image: Google Streetview]