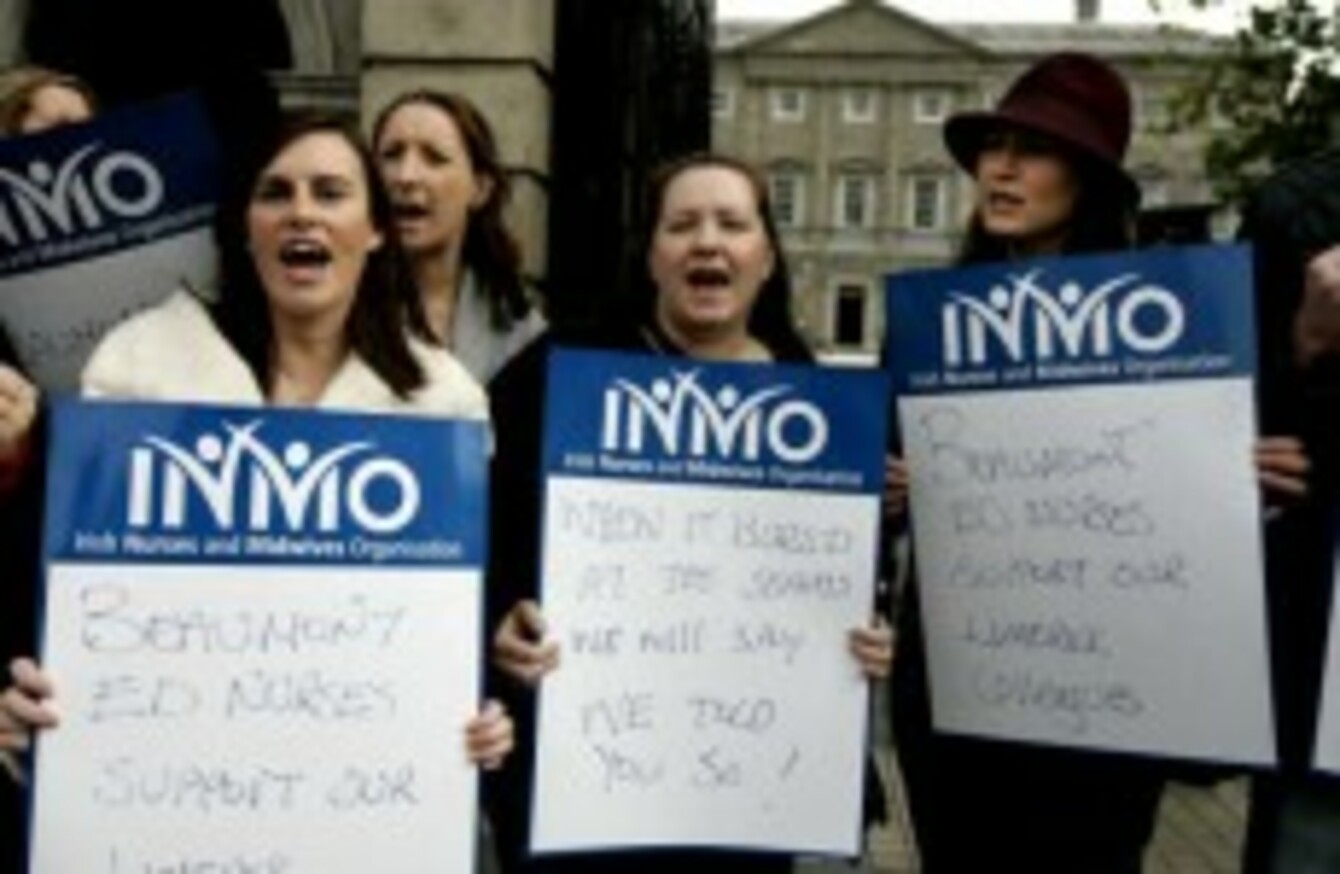 Members of the INMO protesting in 2011
Image: Eamonn Farrell/Photocall
Members of the INMO protesting in 2011
Image: Eamonn Farrell/Photocall
NURSES AT BEAUMONT Hospital will today stage a protest against overcrowding and staffing shortages in the hospital's emergency department.
The action will take place at lunchtime today (1 -2pm) and is accompanied by 'work-to-rule' industrial action where essential care for patients is continued while all non-essential administrative work will be stopped.
Earlier in the week, members of the Irish Nurses and Midwives Organisation (INMO) voted 100% in favour of taking the action.
Patients on trolleys 
This comes in a week when numbers for patients on trolleys in emergency departments and inpatient wards around the country passed 600 for the first time.
Beaumont Hospital is one of the worst affected by this. Yesterday the hospital had 35 patients on trolleys in its emergency department and a further seven patients on trolleys, beds or chairs in its inpatient wards.
In an statement on today's action, the INMO's Industrial Relations Officer, Lorraine Monaghan, described the situation as being "beyond tolerable for patients and staff" and that "major change is required to bring an end to the untold suffering of patients."
Reaction
Speaking about today's action, Socialist Party TD, Ruth Coppinger, criticised the Minister for Health Leo Varadkar, saying:
The Minister is now asking nurses to pick up the slack and get him out of a hole is ironic considering the Government and the previous one have slashed nurses wages, driven many from the country, introduced yellow pack wages for new nurses and have seriously undermined their working conditions.
Yesterday leader of Fianna Fáil, Micheál Martin, also hit out at the Varadkar, saying "he needs to stop being a commentator and some sort of detached analyst."
Speaking about the crisis on Wednesday, the Health Minister said that he was "sick to death" of the overcrowding problem, and that he anticipated it getting worse coming into this week.
Last month the Emergency Department taskforce was establish to attempt to find a long-term solution to the overcrowding issue.