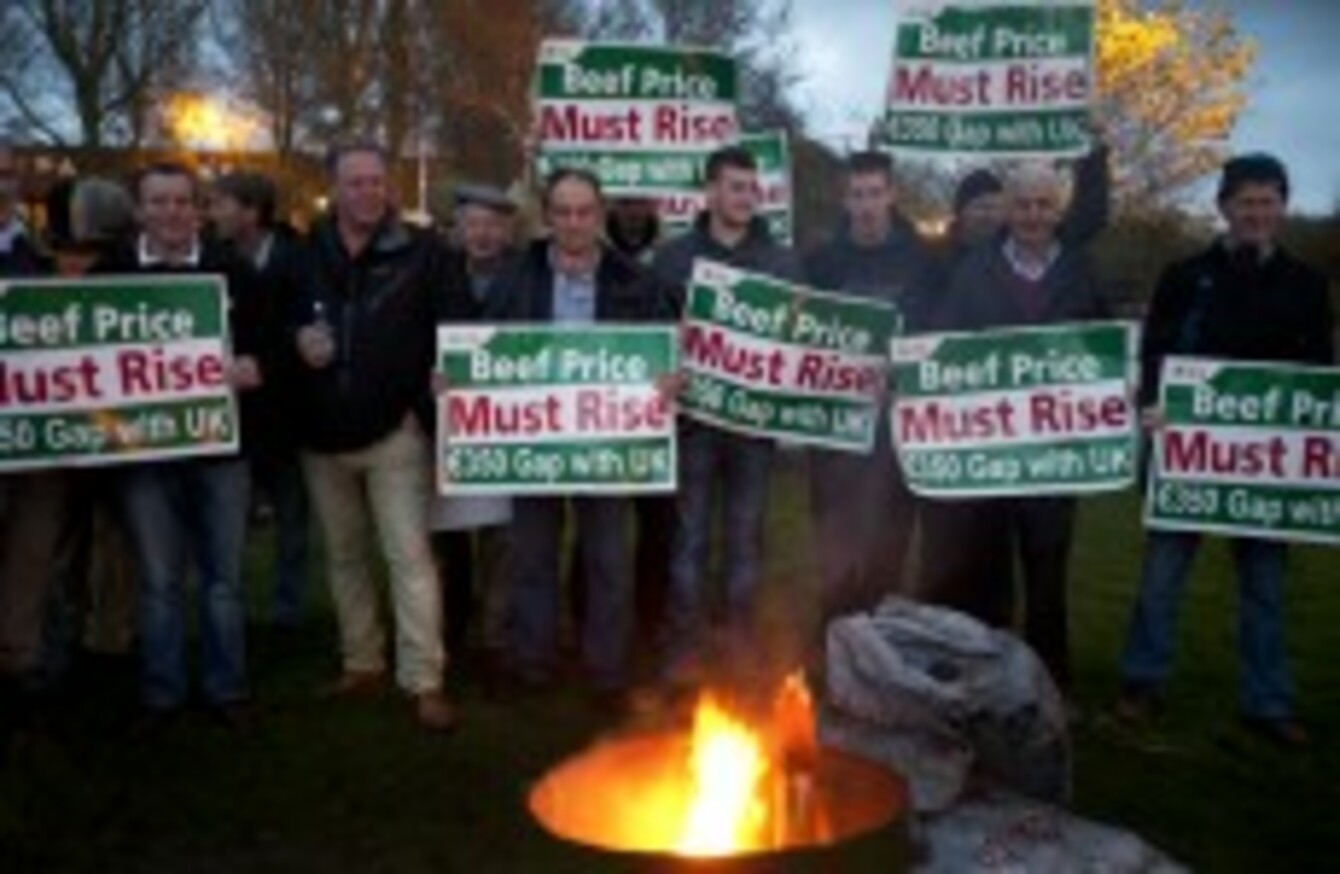 Image: Eamonn Farrell/Photocall Ireland
Image: Eamonn Farrell/Photocall Ireland
Updated 8.44am
BEEF FARMERS WILL today end a 48-hour blockade of meat factories across the country over a dispute on beef prices.
Thousands of disgruntled farmers took park in the protest, which meat industry representatives claimed was putting 10,000 factory workers out of jobs for the two days.
The blockade, organised by the Irish Farmers' Association (IFA), started at 3pm on Sunday and farmers have been camping out ever since. Some 10,000 of them took part in a similar 24-hour protest at the end of last month, bringing factories to a standstill.
Representatives of farmers and the meat industry met yesterday aiming to end the crisis, and the Irish Cattle and Sheep Farmers' Association (ICSA) said afterwards that there were signs some progress had been made.
Farmers claim that that prices in the UK have risen and an increase in Ireland should follow.
They want meat processing factories to reflect the improved market situation in the prices they pay to farmers.
Yesterday ICSA president Patrick Kent, said "price is obviously a source of huge anger", but added that quality assurance violations had cost farmers €170 million in a year.
The ICSA says they want:
 An increase in the 30-month age limit on discounted cattle
A "realistic" weight and age limit for suckler bull beef 
A Quality Assured bonus for all cattle coming off Quality Assured farms
An end to the 70-day residency requirement and maximum four moves 
First published 10/11/2014 – with additional reporting by Michelle Hennessy.