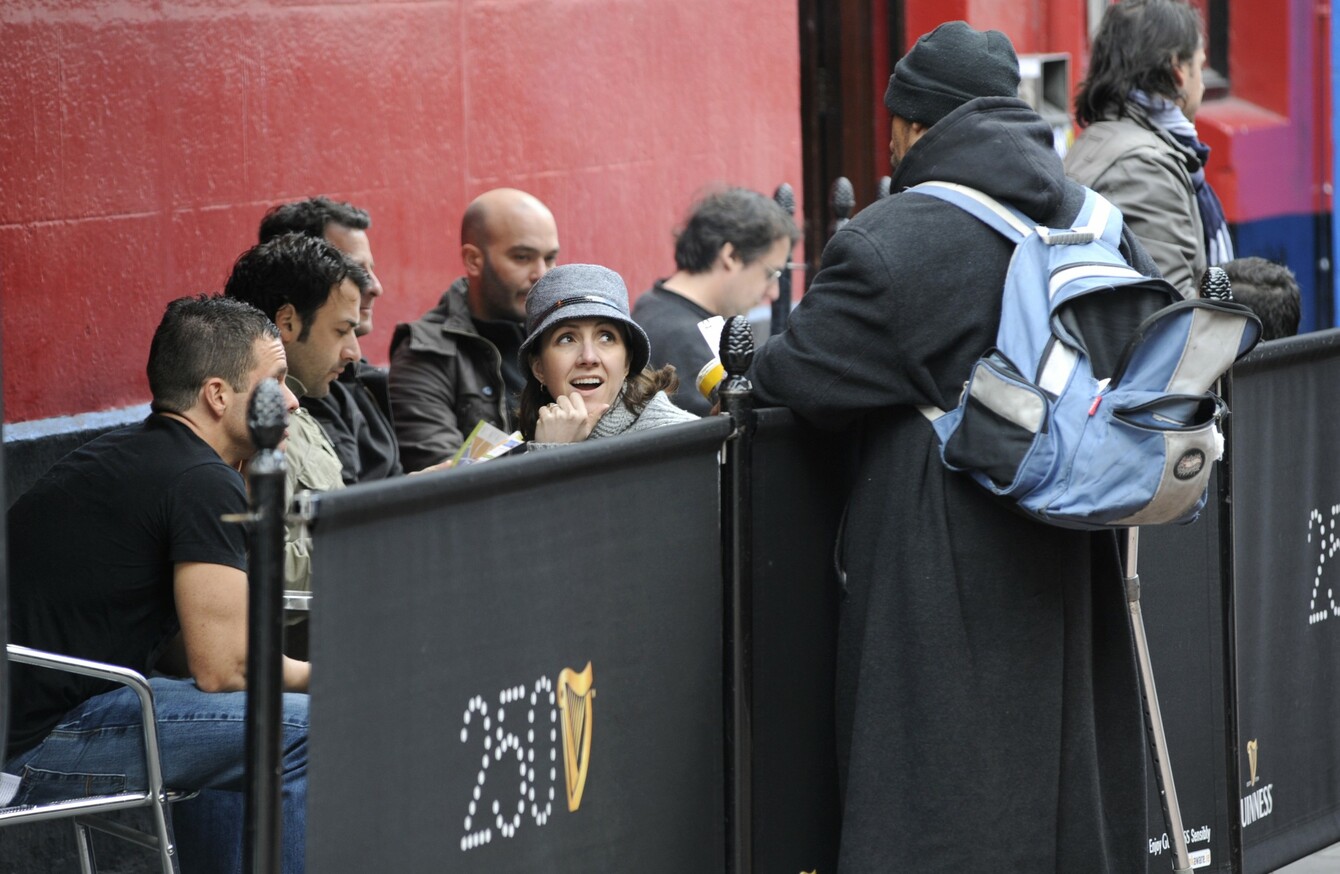 A beggar pleads for money in Dublin.
Image: Sasko Lazarov/Photocall Ireland
A beggar pleads for money in Dublin.
Image: Sasko Lazarov/Photocall Ireland
THERE IS A cohort of around 80 men and women begging in Dublin city centre, a new report has revealed.
According to the research, conducted by the Ana Liffey Project and presented to the Joint Policing Committee yesterday, there are many people who are sympathetic to those on the streets but there is a feeling that not enough is being done to fix the root causes of the problem.
Most respondents wanted to differentiate between aggressive, sporadic begging and non-aggressive, organised profiteering.
Of the 270 people surveyed, more than 85% think that the begging problem is getting worse while just 3% thought it had remained the same. The rest of the respondents were unsure.
The study found that of the 80 regular beggars, there are about 10 to 15 at any one time who beg short-term for a specific reason or amount of money. This could be to pay for fares or a fine or to fill a prescription for medicine. Those begging on a regular basis often ask for money to put towards a hostel bed, a B&B, their rent, for drugs or for alcohol.
While it is a criminal offence to aggressively beg for money, it is not illegal to request money from someone on the street.
Some of those surveyed queried if organised begging was in operation in Dublin while other respondents mentioned feeling intimidated.
A recurring theme was the extent of places where people are begging, including all over the city centre and further out – not just on the main streets but laneways, side streets, outside many public buildings including churches, train stations and car park paying machines.
According to the report: "There is a definite perception that begging has increased in Dublin city centre evident from both interviews and survey.
Homelessness and addiction are the main reasons people are begging. Both interviewees and survey respondents are concerned that people have to beg and want something done which tackles the root causes and not just the symptoms.
"Direct action is being taken by people who go out on the streets with friends/neighbours to feed and bring shelter to those on the streets. There is also a view that some begging is organised and is an effective means to make an income. Regardless, begging is viewed as a social issue, it is not a criminal matter and should be addressed accordingly."
The beggar on the street asking people to help them get food and the organised criminal gangs profiting from on-street harassment need to be tackled, according to the Chair of the Joint Policing Committee at Dublin City Council.
Cllr Daithí De Róiste said there needs to be a "two-strand approach" to dealing with beggars in Dublin.
"Those begging for money or food and those looking to profit from the kindness of strangers are two very different things and need to be treated as such.
Gardaí need to clamp down on organised professional beggars that are being run by east European gangs and are involved in aggressive begging at ATMs or outside pubs.
"Then there is the beggar who is on the street due to social circumstances such as homelessness, alcohol or drug addiction. These are people who need our help and the last thing they need is to be punished for trying to survive. One law doesn't cover everything. This is not a black and white issue."
Tony Duffin, CEO of the Ana Liffey, said: "The report found that people are generally sympathetic to people who beg. A visible police presence on the streets is important for a feeling of safety, but begging is not perceived as a problem which can be solved by policing."
He said that people do not see all begging as equal and that a line is drawn between aggressive and non-aggressive begging. He added that there is also a difference between begging during the daytime and nighttime.
"Importantly, people do empathise with the situations of many people who beg. The situation in Dublin with regards to begging can be improved – broadly, by addressing the underlying causes of begging for individuals who beg; and continuing to police the issue of aggressive begging."