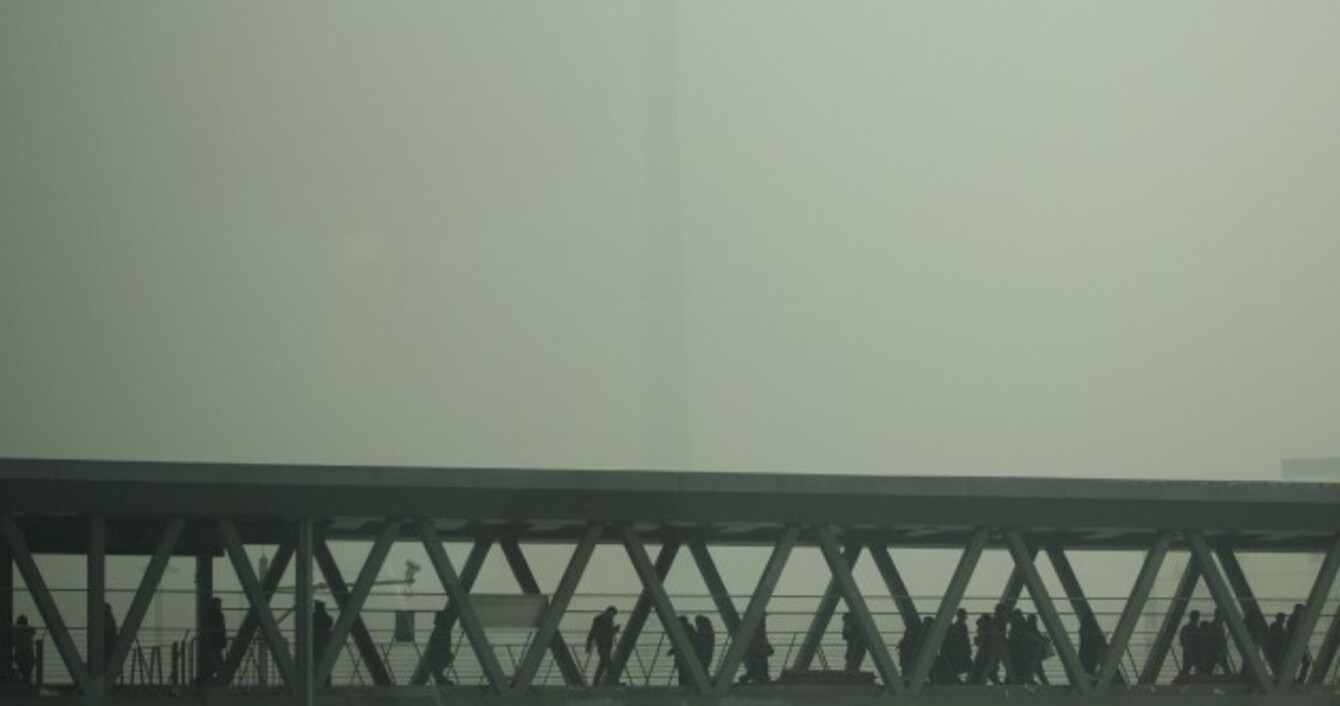 Image: Alexander F. Yuan/ AP/Press Association Images
Image: Alexander F. Yuan/ AP/Press Association Images
SCIENTISTS IN CHINA have likened the current toxic air pollution to a nuclear winter.
Beijing – and much of the northern provinces – has been engulfed in thick smog for the past week, with levels so high that the World Health Organisation has described it as a crisis.
The city's official reading for PM 2.5 (small airborne particles which easily penetrate the lungs and have been linked to hundreds of thousands of premature deaths) stood at 501 micrograms per cubic metre this afternoon.
The WHO's recommended safe limit is just 25.
The situation improved somewhat today with readings falling to 100 in some places.
The capital is on its sixth day of an 'orange' smog alert (the second highest on a scale). According to reports, the air tastes gritty and visibility is down to just a few hundred metres.
As residents rushed to buy face masks, China's biggest online seller began to run out of stock.
Of the 29 models of face-masks provided by US industrial and equipment supplier 3M's flagship store on Tmall.com, a business-to-consumer shopping platform, 26 were sold out or unavailable on Wednesday.
Residents have been asked to remain indoors. Many schools, fearing for their pupils' health, have also kept their doors locked during class and break times. One school shut down completely, despite education authority instructions.
"Due to the city's air quality forecast… the junior high section will continue to use the online study and question and answer model on February 26," the Affiliated High School of Peking University said in a statement.
Following an interview with Bernhard Schwartlander, the WHO representative in China, ABC News in Australia reported that the smog is threatening crops because of the lack of sunlight, which is causing a slowdown in plant photosynthesis.
"Of course, on days where pollution levels reach or even exceed the scale we are very concerned and we have to see this as a crisis," he said.
"There's now clear evidence that, in the long term, high levels of air pollution can actually also cause … lung cancer."
Much of the smog has been caused by emissions from coal-burning power stations.
President Xi Jinping paid a rare visit to one of Beijing's smog-hit streets Tuesday – without a face-mask – drawing praise from Internet users for his latest apparent attempt to portray himself as close to ordinary citizens.
One widely shared online headline read: "Breathing the same air, sharing the same fate".
All pics: PA; Additional reporting by AFP