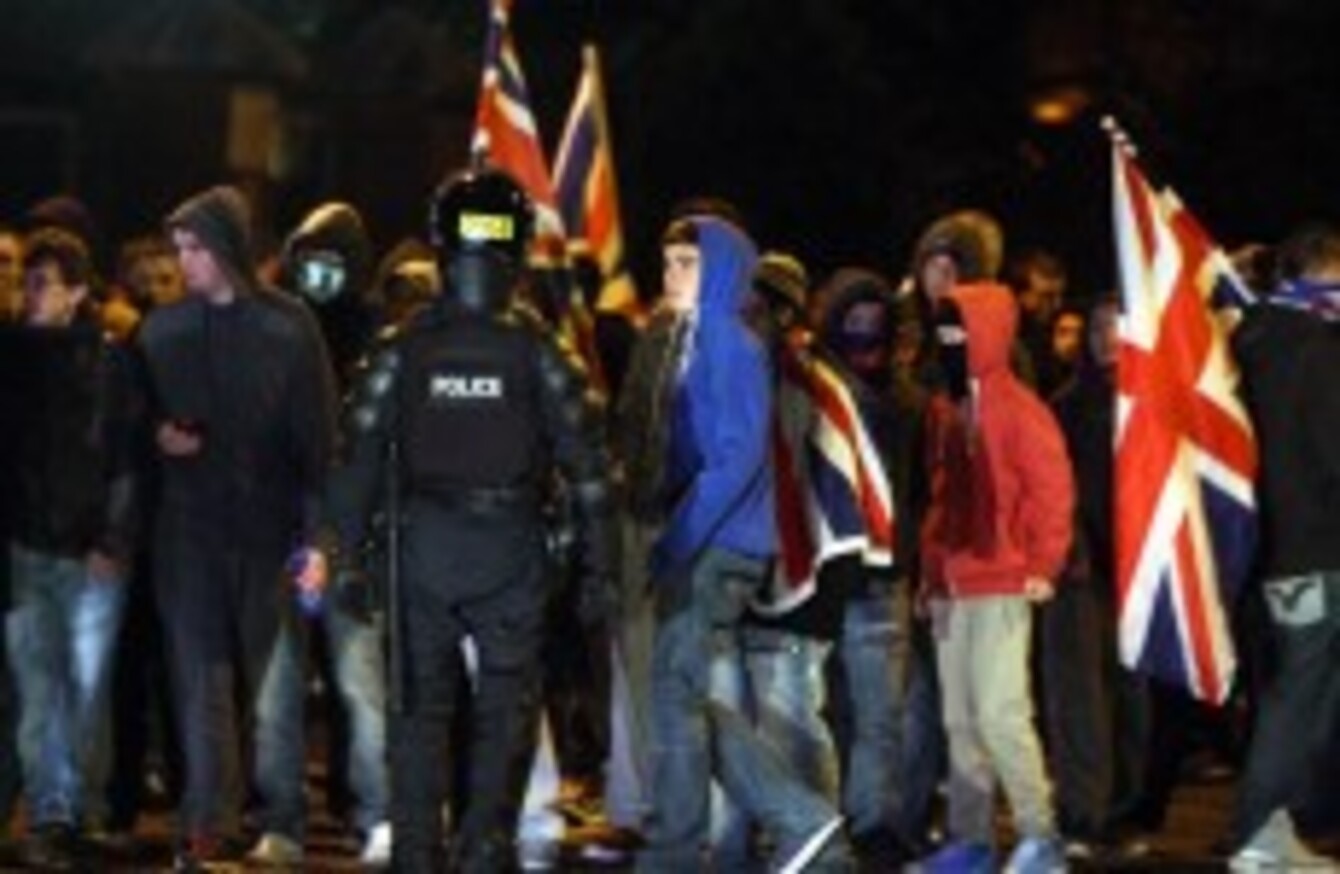 Image: Paul Faith/PA Archive
Image: Paul Faith/PA Archive
AS VIOLENT PROTESTS erupted again last night, nine PSNI officers were injured in Belfast as demonstrators angered by the recent Union flag dispute pelted them with petrol bombs, bricks and fireworks.
The PSNI said today that 18 arrests were made overnight in relation to the disorder. Over 30 petrol bombs were thrown at police officers while they dealt with the incident and a range of other missiles such as ball bearings, fireworks and masonry were also thrown.
This resulted in eight police officers being injured. None of the injuries are life threatening however one female police officer required medical treatment at the scene by ambulance.
Three attempted vehicle hijackings were reported in the Beersbridge Road area and 14 arrests were made in the area during the disorder. A water canon was also deployed to the scene but was not used.
Another three arrests were made in the Robbs Road area of Dundonald, close to the Ulster Hospital, at approximately 6pm last night.
A protest also occurred in the O'Neill Road area of Newtownabbey which lasted for several hours. Missiles such as bottles and bricks were thrown at police for a time, resulting in one police officer being injured.
Police received a report that an attempt was made to hijack a bus in the area and a commercial premises on the O'Neill Road was broken into by several masked men who damaged the property and stole a sum of money. One person was arrested during this disorder.
On Thursday night ten police officers were also injured during loyalist street protests in Belfast.
The PSNI said it will be seeking further arrests in the coming days in relation to the disorder.
Anyone with any information about any of these incidents is being asked to contact their local police station on 0845 600 8000. Or if someone would prefer to provide information without giving their details, they can contact the independent charity Crimestoppers and speak to them anonymously on 0800 555 111.