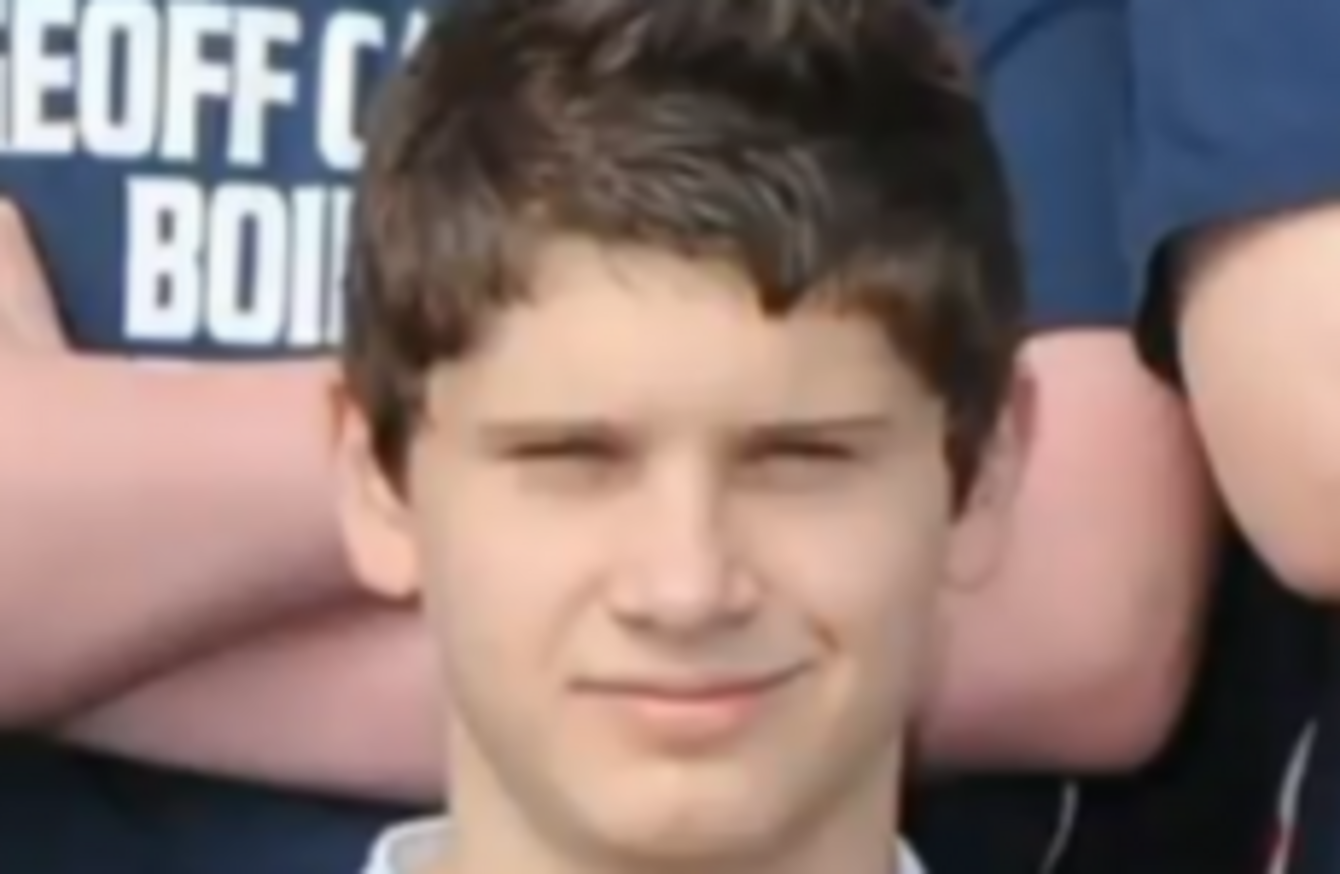 Ben Robinson
Image: BBC News screengrab
Ben Robinson
Image: BBC News screengrab
ON 29 JANUARY 2011, 14-year-old Benjamin Robinson was playing in a rugby match for his school during which he was hit on the head several times.
The teenager was treated for concussion but was sent back on the field to continue playing.
The decision was to prove fatal. Towards the end of the match Ben collapsed on the pitch and subsequently died from his injuries in hospital, in what a coroner later confirmed was second-impact syndrome – where a person suffers a second concussion before a first one have subsided. An inquest was told that it was probably the first death of its kind in the UK and Ireland.
Speaking about his death on RTE Radio One's Today with Seán O'Rourke, his parents described what happened during the match and the devastating impact of his death on their lives.
'This was a big game for him'
His mother Karen spoke how her son had been one of the leading players on his school's Under -15 team at Carrickfergus Grammar school. Originally a football player, it wasn't until he went to the school that he grew into rugby.
She and Ben's father, Peter, described their son as "the most loyal, loving kid ever", who "loved a joke and a laugh and talking" and was a huge Manchester United fan.
The night before the fatal match, he had spoken to her about not letting anybody down and making sure that he did the best he could. "This was a big game for him," she said.
Karen gave him a lift to the rugby grounds and arrived back just after the match had started. She said from the beginning she felt anxious about seeing him on the pitch.
"He was taking a tackle running into a group of boys, and just the sheer physicality and the force," she said. "He hit the group of boys and it was the whiplash movement. I just saw his head come right back, and I'd never seen him play like that before. It just seemed far too physical for me. This is schoolboy rugby, this is what it is. As a mum I was concerned".
There was a stoppage during the first half after Ben was injured for the first time. Karen didn't want to embarrass Ben by coming onto the pitch to see if he was ok, so asked his stepfather to talk to the referee at half-time.
'I don't feel right'
When the second half began, Ben was hurt twice within the first few minutes. In one of the incidents, a video taken of the match showed four or five players on top of him while he doesn't move.
"When he does move, he puts his hand to the back of his head… and he gets up and resumes," said Karen. "I don't know how he gets up from that, and I don't think the tape shows it. I don't know how he gets up from that".
Concerned, she began to follow his movements from the side of the pitch. "I could see him, he wasn't that far from me," she said.
I thought that at one stage he was gauging the ball cos he was moving from left to right, but he was staggering and he was holding his head. And then I realised that the ball was nowhere near him.
"I called out to him again and he turned around, just with his hands upwards, and he said 'I don't feel right'. And I'm about to say [come here], but he's sucked back in to the game".
The game moved to the far side of the pitch when another stoppage was called.
"I asked my husband, is that Benjamin, and I started running," said Karen. "I got halfway across the pitch, and his captain met me and he said 'it's Ben, he's out cold'. And I just ran as fast as I could".
When she got to Ben, he was lying on the ground. "The whites of his eyes were staring back up at me".
She spoke to him and told him she was there and put her coat over him. "I tried to put him in the recovery position and he kept slumping forward. He was making this awful rasping noise".
First-aiders began putting tinfoil over him to keep him warm, while a doctor, who was the parent of one of the players, treated him.
"The doctor was working with him, and I was aware of the coach ringing for an ambulance and I was just very much aware of 'it's over. It's done'. And I stepped away from him and I picked up his mouthguard and a woman came past and she touched me on the arm and she said 'I'm sorry about your son'.
Her thoughts were replaced "by sheer panic" as Benjamin was put in an ambulance and brought to the Royal Victoria Hospital in Belfast.
Gone 
Peter, his dad, described how he initially assumed Ben was ok when he received a phone call to say that he was unconscious.  "Unfortunately, when you've played rugby all your life, you get accustomed to the terminology being used, and I thought, ok, he'll come out of this".
When he arrived at the hospital, a consultant told him that Ben's brain injuries were like something they would usually see following a car accident.
Two days after the match, Ben's life support system was turned off.
After his death, his family got a copy of a video which had been taken of the match by the opposing team which let them see what had happened to Ben throughout the game. They began analysing it to look for evidence of what happened to him.
#Open journalism No news is bad news Support The Journal

Your contributions will help us continue to deliver the stories that are important to you

Support us now
"We came across three incidents in the second half where he's clearly thrown on the ground, clearly holding his head," said Peter.
Ben's parents began to campaign to rugby's governing bodies in Ireland and Britain to recognise the possible effects of concussions, particularly on young players whose brains are still developing.
"People talk about the rare case of Second-Impact Syndrome, but I suppose I think about it as, well, concussion isn't rare," says Peter. "Put it this way, if Ben had been taken off, second-impact wouldn't have happened."
They spoke to all the Education and Sports ministers across Britain and Ireland, with leaflets launched to focus on concussion. The leaflets use phrases such as "If in doubt, sit them out," and "Concussion can be fatal".
"If we can get the message out there to parents… the more eyes and ears around the pitch, the safer the environment for the child playing," said Peter.
"We did meet with the IRFU at our insistence, we went down to Dublin and we told them attitudes have to change," said Karen. "I think when you hear rugby on TV and commentators [say] 'oh, he took a big hit', they play concussion down. Concussion is a brain injury. That's what it is".
"I would say there is still that old schoolboy mentality of 'suck it up. Get on with it'. That is wrong".
The aftermath
Karen said that their lives have been 'shattered' by Benjamin's death.
"Not only did we lose Benjamin that day, we lost a part of ourselves," she said. "[He was] a son, a grandson, a cousin, a big brother, a wee brother. The impact has been enormous. There are so many triggers. The house is quiet .
Peter described how walking into the RTE studio, he and Karen had been behind a group of boys walking out of school.
"And you're just looking for your boy to turn around and it to be his face," he said.
"People say time's a healer. I don't agree with that. It just adds to the pain 'cos you realise 'no, this is real. He's gone'".