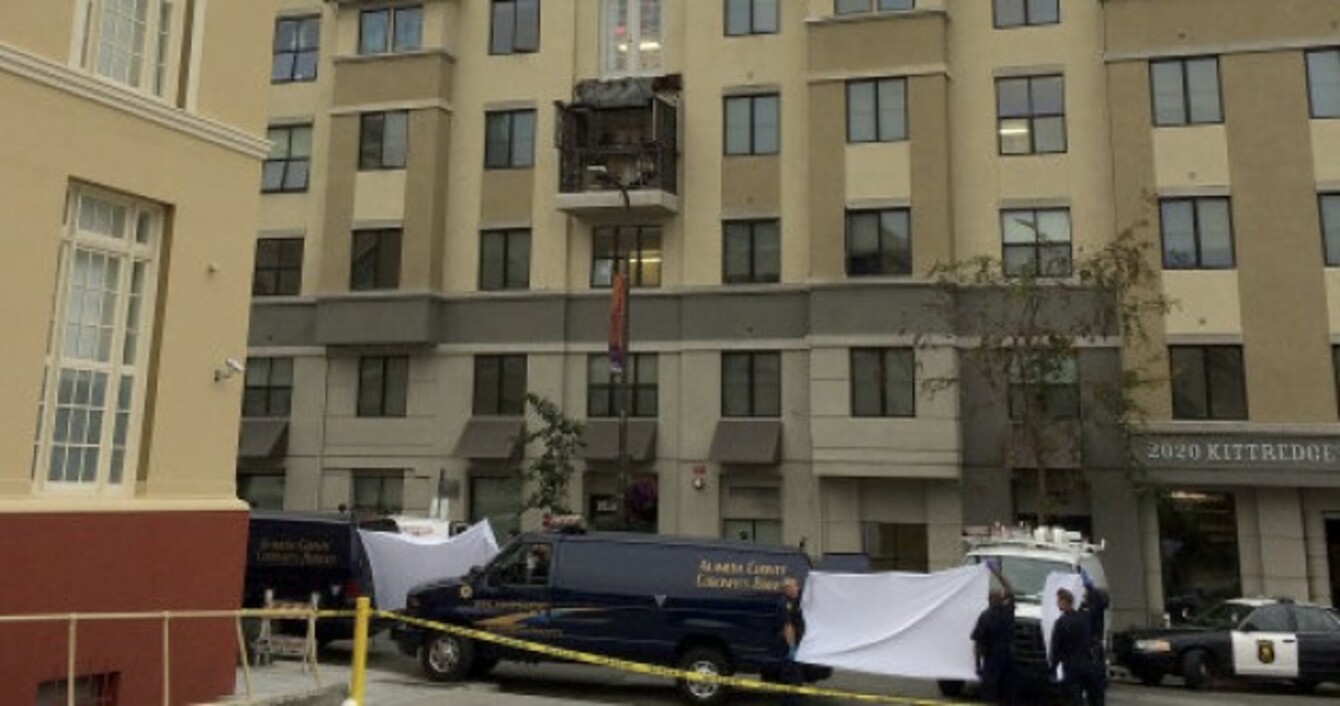 Police and officials stand outside of the Library Gardens apartment complex.
Image: Associated Press
Police and officials stand outside of the Library Gardens apartment complex.
Image: Associated Press
THE NAMES OF the Irish students killed in California following after a balcony collapse have been released.
A press conference held by the Office of the Coroner in Oakland confirmed the names of the six people who died as:
Ashley Donohoe (22) Rohnert Park, California
Olivia Burke (21) Ireland
Eoghan Culligan (21) Ireland
Niccolai Schuster (21) Ireland
Lorcan Miller (21) Ireland
Eimear Walsh (21) Ireland
Another seven people were injured in the incident.
The Irish students were over in the states on J-1 visas. The first family members are due to arrive in California this evening.
Speaking at the press conference, Counsel General of Ireland to the western US Philip Grant said that it was a traumatic time for everyone concerned, including all the people back in Ireland.
He thanked the deep gratitude to the people of Berkeley and the emergency services.
He said that thousands of Irish students come here every year, and it's a wonderful time for people where they gain invaluable experience, he said.
"It's a formative experience and to have this happen at the start of this season is something that has left us all frozen in shock."
"Very few of us have been left untouched by this tragedy."
He said that counsellors were being put in place to deal with the bereaved students.
Grant said the majority of the students in the area would know the people who attended the party.
It's understood that the majority of students are students at UCD. The university issued the following statement:
It is with deepest sadness that I speak of the tragic accident involving UCD students and their friends in San Francisco.
 On behalf of the entire University community, I wish to extend our condolences to the families and friends of those who died and to those who were injured.  We cannot comprehend the desperate shock and grief they are feeling and we are heartbroken at their suffering and loss.
The City of Berkeley said it has ordered the property owner to immediately remove the collapsed balcony and to perform a structural assessment of the remaining balconies within 48 hours.
First published 21.20pm