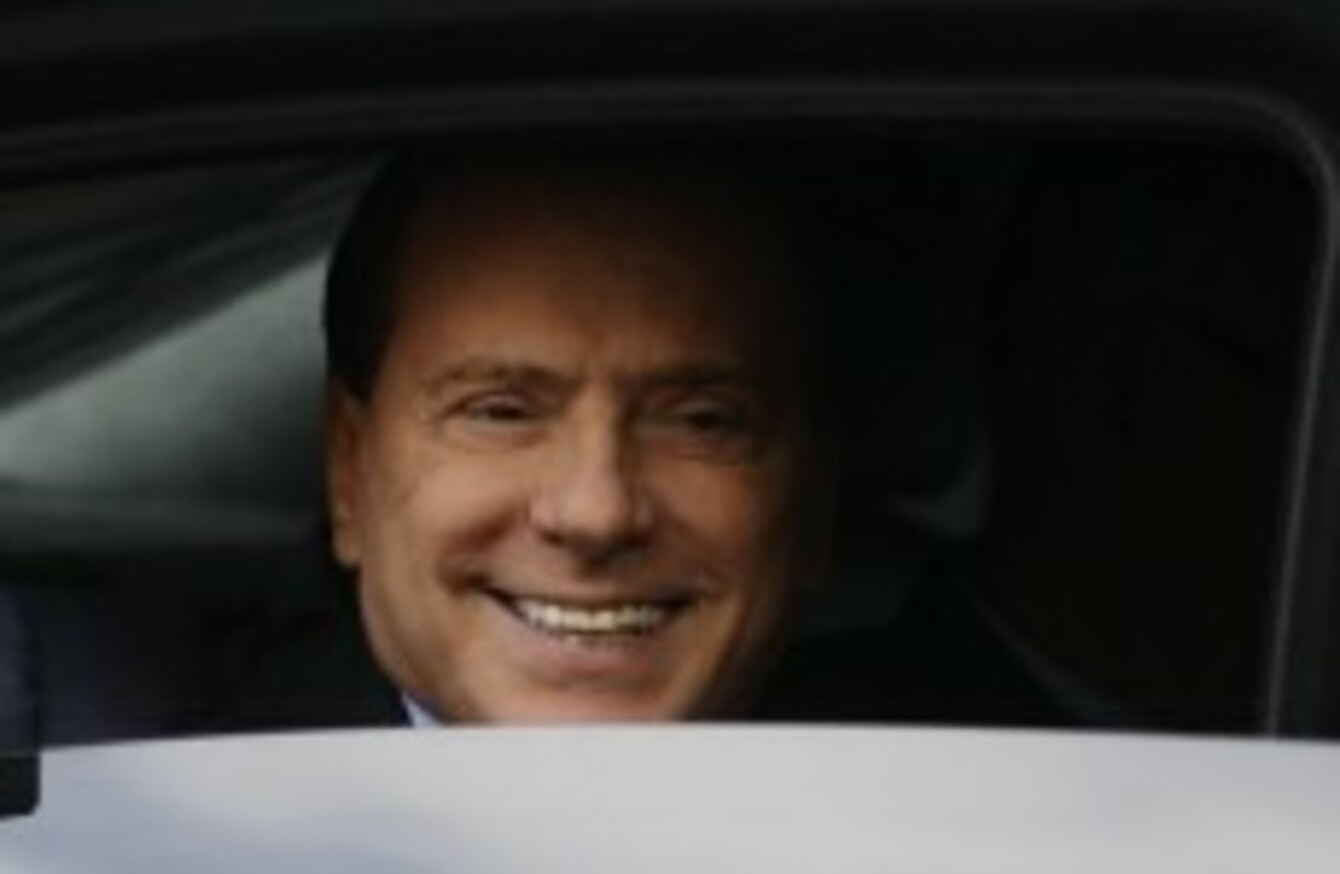 Image: Luca Bruno/AP/Press Association Images
Image: Luca Bruno/AP/Press Association Images
AN ITALIAN JUDGE has told prosecutors in Naples that they should begin an investigation into whether Silvio Berlusconi paid a Bari businessman to lie to magistrates about his now infamous "bunga-bunga" parties.
According to the ANSA news agency, the case was turned on its head yesterday when the judge recommended that prosecutors should probe the Premier for inducing Gianpaolo Tarantini to lie.
Up to that point, the case focused on Tarantini – who was accused of extorting large payments from Berlusconi in exchange for his cooperation in a prostitution case.
Prosecutors in Naples had said that the businessman had extorted hundreds of thousands of euros to ensure minimal publication of wiretaps of embarrassing conversations about the wild parties.
The wiretaps, which eventually were splashed across Italian newspapers, featured Berlusconi boasting after one party he "only did eight of them" and that he was only premier in his "spare time".
Tarantini is suspected of providing women to attend the prime minister's parties in his homes outside Milan. According to prosecutors, he recruited the women in the hopes of exchanging sex for public contracts from Berlusconi's government.
The Italian PM does not deny making the payments but insists he thought he was helping a family in financial need.
Tarantini also claims that Berlusconi did not know he was paying women to attend the "bunga-bunga" parties with an aim to advance his business interests.
The Naples tribunal ruled that Berlusconi was fully aware the girls were escorts and ordered that Tarantini should be freed from jail.
However, the businessman faces further probes in Bari for allegedly aiding and abetting prostitution. Prostitution is legal in Italy but profiting from it is not.
From victim to suspect
The judge has only made a recommendation to prosecutors and the PM is not yet under investigation. Previously, authorities had said he was a victim in this case.
The 74-year-old is already entangled in four separate court cases. Two concern accusations of suspected fraud at his Mediaset business empire, while another relates to charges of  paying for sex with an underage prostitute and then using his position and power to cover it up.
The fourth case deals with suspicions that he bribed a British tax lawyer to perjure himself in court during a corruption trial in the 1990s.
According to ANSA, a fifth trial could also be imminent for involvement in the publication of illegally obtained wiretaps in his brother's daily newspaper.
Berlusconi claims that the numerous trials are part of efforts by prosecutors to topple him from power.
-Additional reporting by AP