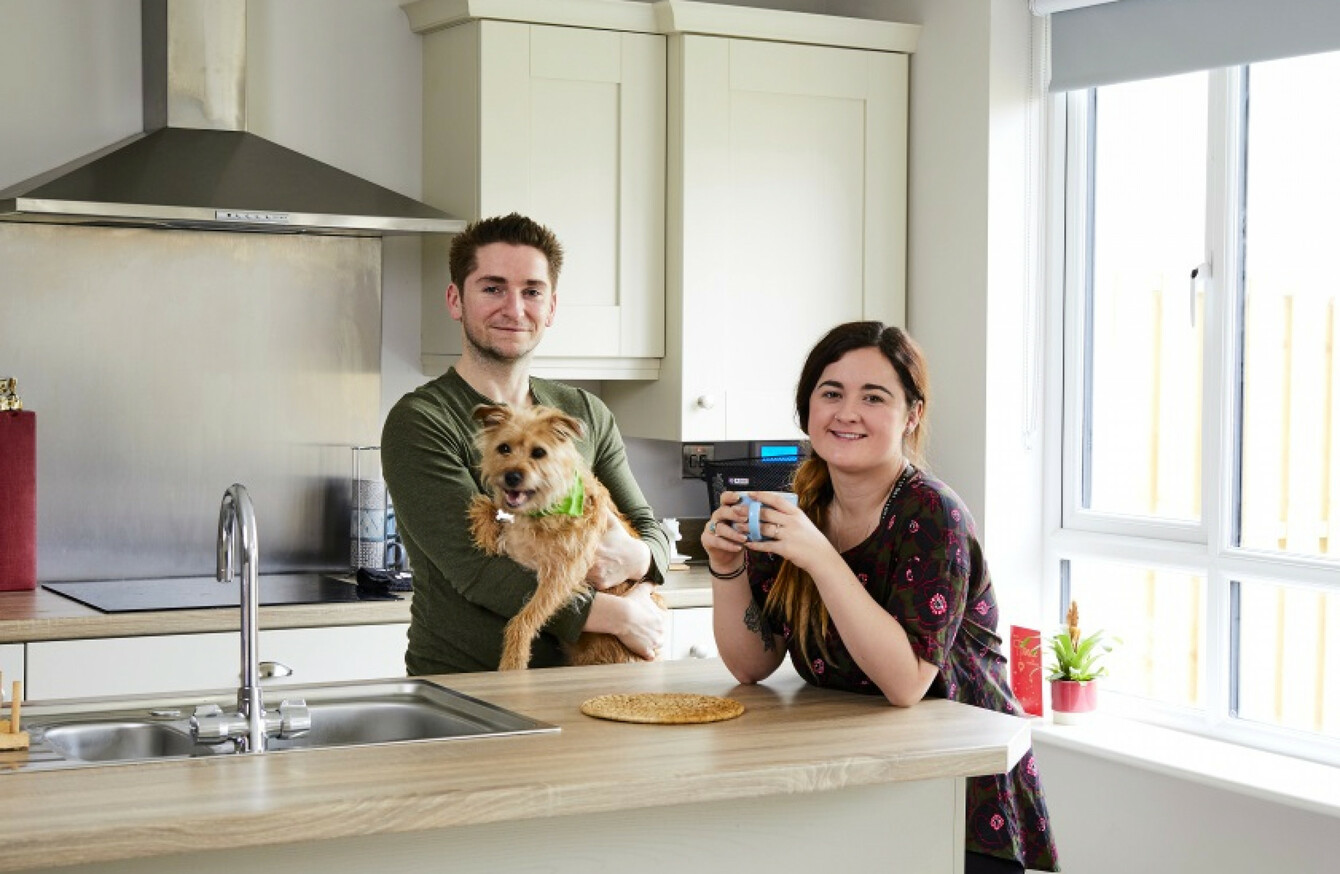 Bernard, Kim and Daisy in their kitchen at Taylor Hill, Balbriggan.
Image: Ken Walsh/Glenveagh Homes
Bernard, Kim and Daisy in their kitchen at Taylor Hill, Balbriggan.
Image: Ken Walsh/Glenveagh Homes
"WE WERE LIVING in a houseshare, and the rent was reasonably cheap, but it was time to get a place of our own."
When client trainer Bernard Faulkner, 38, and tour guide Kim Thomas, 27, first discussed moving out of their Blanchardstown rental, they decided their next move would be to a more permanent place. 
"Once we had the idea we knew we'd have to make sacrifices to save up enough," says Bernard. "We cut down our grocery bill, stopped going out, cleared our credit card bills and cancelled any holidays we had been thinking about."
The sacrifices paid off in December 2018, when the couple moved into a brand new home in Taylor Hill, Balbriggan. It was a busy year: the pair got mortgage approval, put an offer in on their new place, got the keys and moved in, all in just over six months.
The location was a no-brainer, says Bernard:
Once we started house-hunting, my sister mentioned Taylor Hill straight away. I was raised in Balbriggan and Kim moved there were she was 12, so both our parents still live in the area.
As well as the family ties, Balbriggan has an easy commute to Dublin city centre – a must for the couple, who didn't want to have to spend hours in the car every day. "I work in the IFSC and so I can get a bus at 8.20am to be at my desk before 9am", says Bernard. 
One must-have for the couple when house-hunting was a home with plenty of space. "We weren't looking for a starter home, we wanted a lot of space starting off. We weren't sure if we'd get one in our budget, but we thought we'd aim high."
Bernard and Kim's four-bedroom semi-detached home has an open plan design downstairs, another dream feature for them.
"We had actually looked at another house elsewhere and were talking about converting the design to an open plan one. The design of this place is fantastic."
The couple are a couple of months in the door now, and are working on putting their personal stamp on their new place:
We spend most of our time in the kitchen area, so we've put some money into making it a space that feels like ours. It was Kim's birthday the other weekend and we had a gang of friends over, and the kitchen is where everyone was gathered, which was great to see.
Taylor Hill launched in February 2018 and over 90 residents have moved in so far. There's already a "strong sense of community" around the place, says Bernard, with meet-ups, lots of interaction between neighbours and a residents' Facebook page.
Residents at Taylor Hill also benefit from aftercare from the Glenveagh team – and there's constant support for buyers during the earlier stages too. "We didn't know much about Glenveagh before coming across Taylor Hill, but we have been so impressed every step of the way," says Bernard.
The care they have given us has been amazing.
Bernard and Kim received a gratuity from Glenveagh Homes for their participation in this piece.
Glenveagh Homes understands that buying a home is possibly the biggest decision you will ever make in your life – but we want to make it your easiest. That's why we produce high-quality homes in great areas at competitive prices. Click here to find out more about homes at Taylor Hill for yourself, or learn more about other Glenveagh developments.