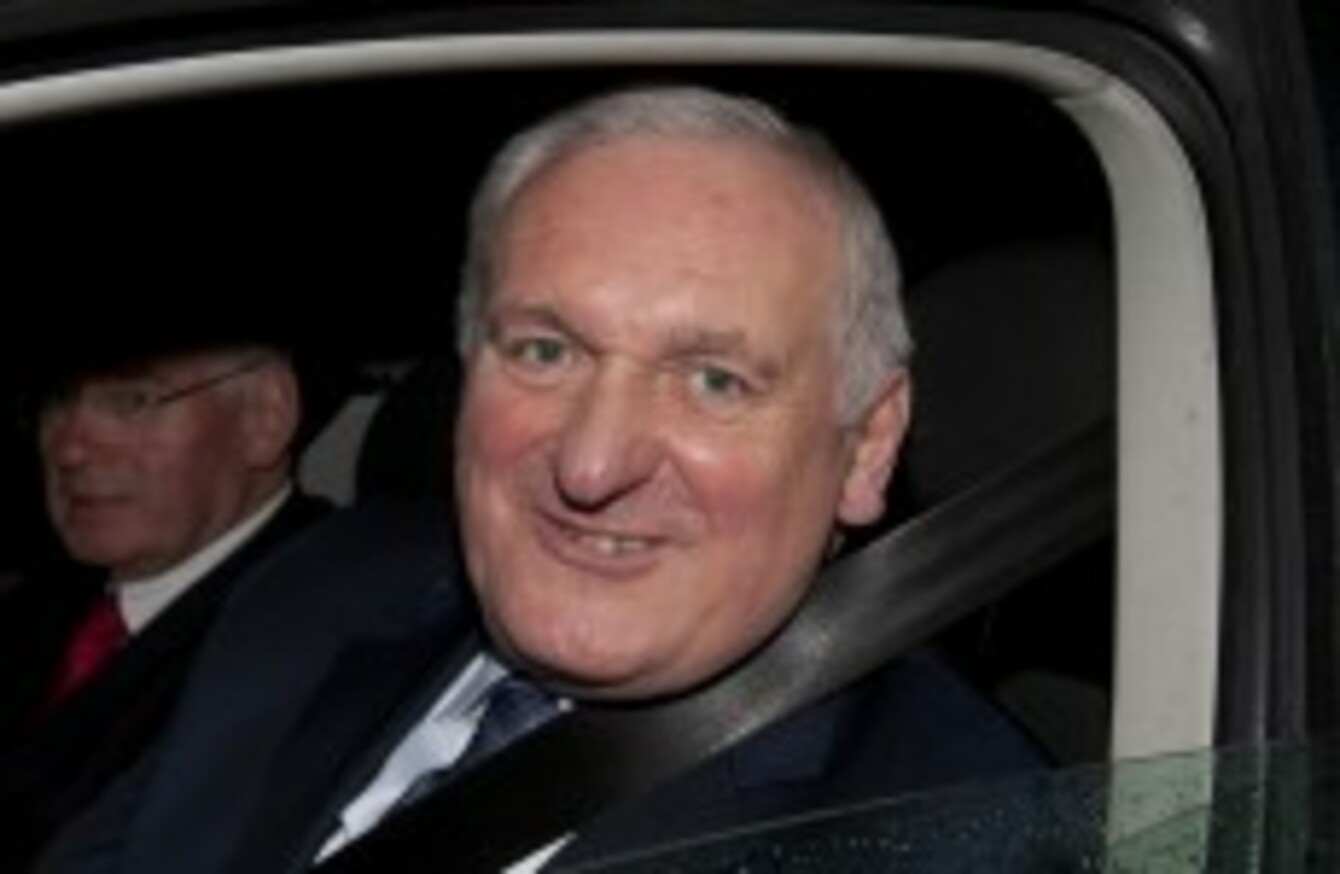 Bertie Ahern
Image: Eamonn Farrell/RollingNews.ie
Bertie Ahern
Image: Eamonn Farrell/RollingNews.ie
Updated 7am
ONE OF THE more intriguing internal Fianna Fáil battles is underway in the constituency of Dublin Central, the former stronghold of ex-taoiseach Bertie Ahern.
Ahern is no longer a member of the party having quit in the wake of the Mahon Tribunal findings in 2012, but members of his old constituency organisation remain active.
Three local Fianna Fáil activists have been nominated to contest the selection convention including failed Dáil and MEP hopeful Mary Fitzpatrick, failed local election candidate Brian Mohan and long-time local member Denise McMorrow.
This follows Finglas councillor David Costello's decision not to seek the party nomination despite previously being tipped to put his name forward at convention.
As TheJournal.ie reported in May, Costello was said by several local Fianna Fáil sources to have the backing of Ahern's old constituency organisation.
Ahern's supporters still hold sway in the local Fianna Fáil organisation and could account for around 60% of the vote at any selection convention.
Local Fianna Fáil sources now believe Costello's withdrawal, and the nomination of McMorrow, a long-time member of the party, is also linked to Ahern. Some see it as an effort to hamper Fitzpatrick's efforts to get on the Fianna Fáil ticket.
Dublin Central is the constituency where Fitzpatrick famously claimed she had been "shafted" by the former taoiseach. In the 2007 election a late leaflet drop saw Cyprian Brady elected off a huge transfer from Ahern despite getting fewer first preferences than Fitzpatrick.
Needing to boost its contingent of female candidates, it's believed Fianna Fáil headquarters is keen that Fitzpatrick win the nomination and run for the party in the general election.
But those close to Fitzpatrick believe McMorrow's presence could scupper this.
A source close to the former Dublin city councillor said: "I don't think it's any secret that there is a group of Bertie's supporters who don't like her and never liked her.
They have also, over the last 12 months, dedicated themselves to try and find another candidate that's not her.
Speaking to TheJournal.ie, McMorrow said she has always been involved in local politics and has an "interest and passion" in the area of Dublin Central.
She denied claims she has the backing of Ahern supporters for the purposes of undermining Fitzpatrick.
I don't know where that came from at all. I don't think it has anything to do with that. People would nominate me in my own right.
Mohan, whose father Noel is close friends with Ahern, dismissed claims that the former taoiseach or his supporters were influencing the current contest.
#Open journalism No news is bad news Support The Journal

Your contributions will help us continue to deliver the stories that are important to you

Support us now
"People over-estimate his influence on the party who are involved in Dublin Central are loyal to Fianna Fáil," he told this website.
Mohan said that he was happy to accept the nomination by members in Dublin Central and said he would be guided by whatever they wanted him to do.
He added: "I've been working on the ground the last three or four years. My whole agenda is to try and rebuild the party locally."
Fitzpatrick declined to comment beyond saying she was delighted she had been nominated for the forthcoming convention.
She added: "I think it's really important that the people of Dublin Central have strong representation and the key issues that this government has failed to address, like homelessness and housing, and the cost of living, are addressed."
Fianna Fáil said that no date has been set for the Dublin Central selection convention. However it is expected to take place in the coming weeks.