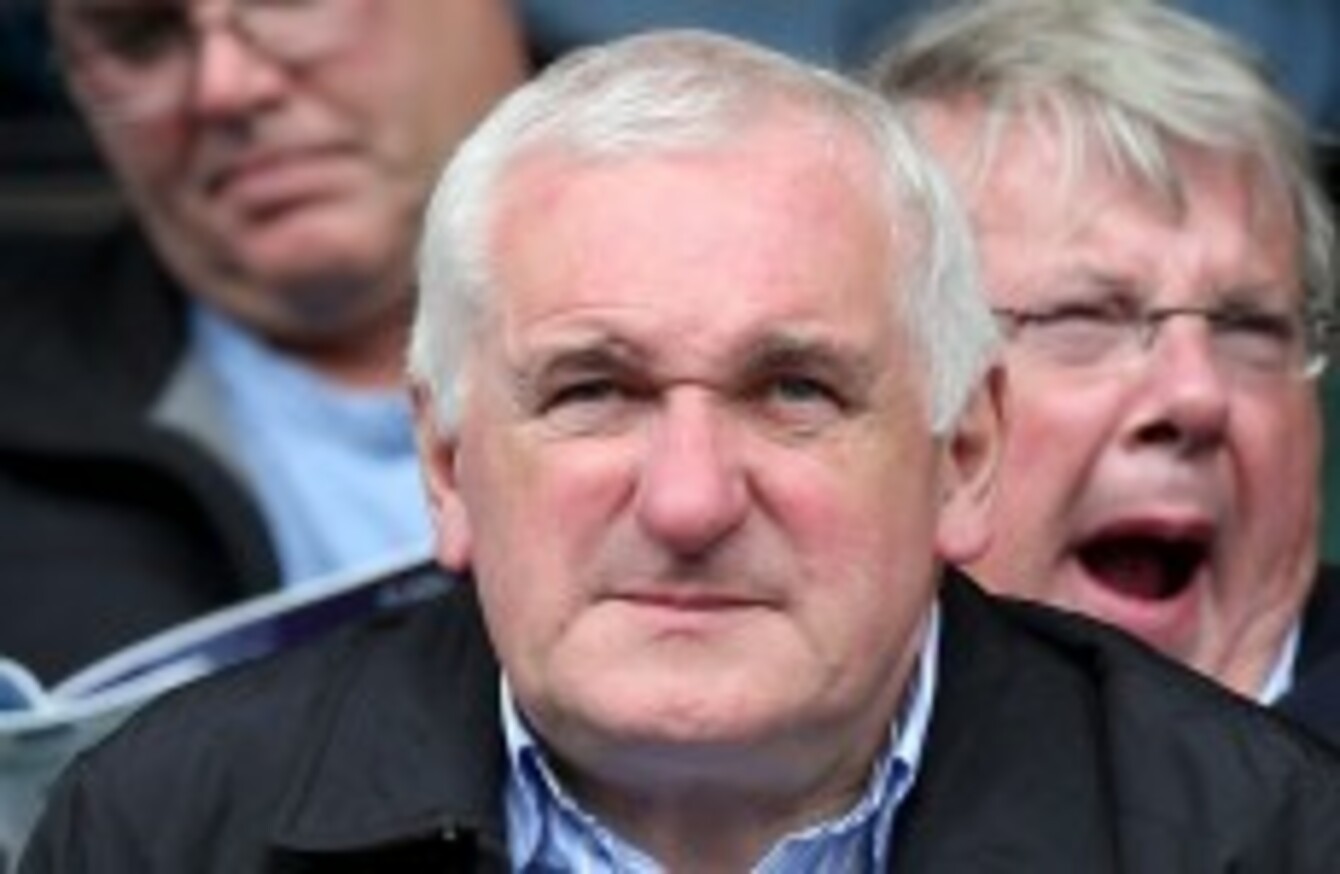 Bertie Ahern doing one of his favourite things
Image: Donall Farmer/INPHO
Bertie Ahern doing one of his favourite things
Image: Donall Farmer/INPHO
YOU MIGHT HAVE a lot of questions for Bertie Ahern.
For example, the former Taoiseach has yet to give an in-depth interview about matters arising out of the damning Mahon report three years ago.
But they'll have to wait because on Newstalk this morning, Pat Kenny was principally interested in talking to the controversial former Fianna Fáil leader about the current political impasse in the North.
Then, of course, they chatted about the Dubs' chances against Kerry in Sunday's All Ireland Senior Football Final.
After a lengthy Q&A on the Northern situation (which we won't bore you with), Kenny asked GAA-mad Bertie about his hopes for Sunday.
Unfortunately the Bert isn't too confident.
I suppose around these parts at the moment, Pat, all the suspicions start. All the people telling me all week that Kerry have never lost three championship matches to Dublin in a row, Kerry always won when there was a five in the final. (We think he means a five in the year of the final)
But it's not just the omens, Ahern thinks Eamon Fitzmaurice's Kerry are an excellent side with an "unbelievable panel" that has strength in numbers on the bench.
He listed off the likes of Aidan O'Mahony, Brian Sheehan – "one of the best dead ball kickers in the game" – and Paul Geaney
"They have a huge team," said Ahern before admitting he was worried.
Really worried. 
"I would be fearful of Kerry. I think they have really a strong side. They're the All Ireland champions. I hope I am wrong, but I have to say I fear them.
I think anyone who believes Dublin are on a handy road… I will go very worried on Sunday and be happy at the end but I am not very confident I have to say.
Other matters 
Ahern was also asked about Fianna Fáil's decision to issue a gender directive in his old constituency of Dublin Central which means members can only pick a female candidate for the general election.
The former taoiseach wasn't happy about it, describing the whole idea as "zany" while noting he had served in cabinet with some "very formidable ladies".
Imagine it was the other way around. If it was only a male person being allowed through. I bet your programme this morning would be exclusively on that issue.
"Some genius thought it up," Ahern said sarcastically before dismissing the whole thing as "mad".
Finally, on that current political crisis in Northern Ireland, Ahern said he hoped the parties would "get together and solve this". He there should be bilateral talks prior to any roundtable meetings.
He also added that one of the problems with the peace process and the Good Friday Agreement is that there is "no real democratic opposition in Northern Ireland".
He said this would have to change in the coming years but not immediately.