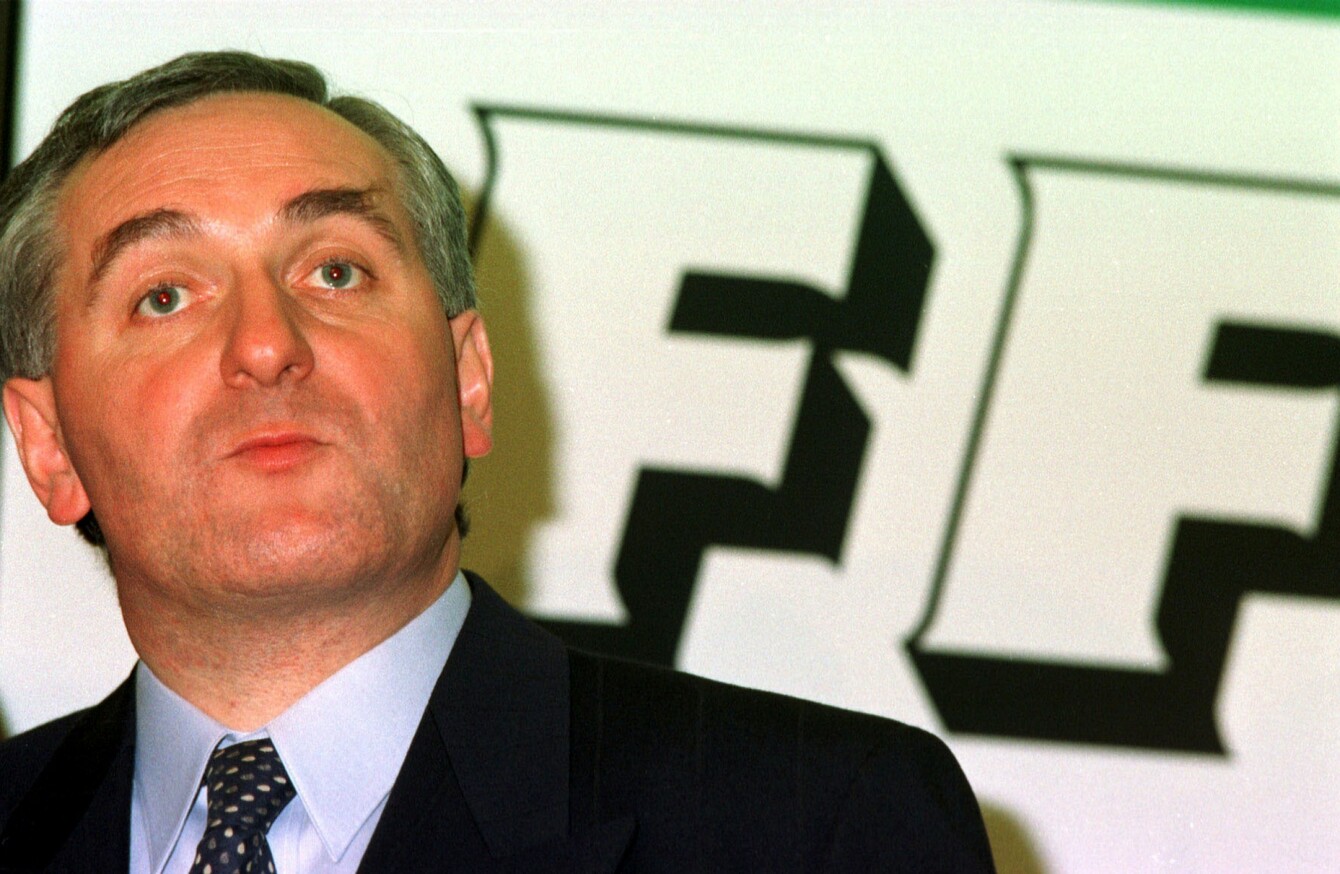 Image: Eamonn Farrell/Photocall Ireland
Image: Eamonn Farrell/Photocall Ireland
IT'S BEEN AN unusual political year, to say the least.
The news last night that Bertie Ahern could be about to make a comeback to the political scene with Fianna Fáíl was another unexpected development.
However, the move is not completely out of the blue. TDs with the party have been lobbied by die-hard supporters of the former Taoiseach to allow him back into the fold ever since he left in 2012.
And the former leader, who led Fianna Fáíl to three successive general election victories, has remained close to his support base in Drumcondra since leaving the party – maintaining an office on the main street, and hitting the trail in support of local candidates.
So why did Bertie Ahern and Fianna Fáil part company in the first place? And what happens now?
Your questions, answered:
Why is Bertie in the news?
His local branch has asked the former Taoiseach to rejoin the party, Dublin Central chairman Brian Mohan told TheJournal.ie last night, after a motion was unanimously backed at a meeting.
About 30 people were at the meeting and the motion was voted on after "a deep, meaningful discussion," he said. It's understood two party members in their 80s kicked off the discussion.
Mohan said he expected a letter to be drafted at Fianna Fáil headquarters this morning, which would be delivered to Ahern.
He added that while Ahern is "controversial in some people's eyes" he had been nothing but loyal to Fianna Fáil and deserved a second chance.
Why and when did he leave the party anyway?
Ahern resigned from Fianna Fáil in March 2012 following the publication of the Mahon tribunal report that month. He stepped down as Taoiseach in 2008 and as a TD in 2011.
The tribunal (officially the Tribunal of Inquiry into Certain Planning Matters and Payments) found that he did not truthfully account for payments of IR£165,000 made to accounts connected to him.
It was scathing in its treatment of the former Taoiseach, rejecting much of the evidence he provided in connection to a substantial number of lodgements made in the 1990s.
Although the tribunal did not make findings of corruption against Ahern, it proved hugely damaging to his reputation. He has disputed the findings.
Tendering his resignation from the party four years ago, he said it was merely a "political" move, not an admission of anything.
Writing in the Sunday Independent at the time, he said he was deeply saddened by a motion to expel him proposed by his successor, Micheál Martin.
"I appreciate the support that party members have pledged to me unprompted in the past week," he said. "I have decided the best way that I can now serve Fianna Fáil is to tender my resignation as a member of the party."
Martin said that Ahern had betrayed the trust placed in him by the country.
What's he been up to since?
Ahern still has a strong reputation as a negotiator and mediator among the international political community, as a result of his involvement in the Northern Ireland peace process.
He's been involved in conflict resolution and peace processes in several countries in recent years – and spoke of his roles in Ukraine and Spain in an interview with RTÉ's Miriam O'Callaghan last year.
In the same interview, he said he had had some "horrendous mail and threatening calls" and that one person had sent him a noose in the post.
He wouldn't be drawn, at the time, on whether he would be interested in getting back into politics, but said he believed Micheál Martin was doing a good job as party leader.
#Open journalism No news is bad news Support The Journal

Your contributions will help us continue to deliver the stories that are important to you

Support us now
He's been involved in local campaigns, despite not being a member of Fianna Fáil any longer, and has been out canvassing in advance of elections.
More recently, he's been making more media appearances as a commentator – including a turn on the panel on Marian Finucane's RTÉ Radio 1 show a few weeks ago, where he weighed in on the US election, public pay and other issues.
What happens now?
It's expected a letter will be drafted by Fianna Fáil HQ informing Ahern of the local branch motion.
According to a person familiar with the process, it would then be up to the former Taoiseach to send in an application to join, much like any other member of the public.
The application would be first accepted, and if there was any issue with it, that would then be addressed by the party. Considering the application is from a figure as high profile as Bertie Ahern, it's likely the issue will be dealt with by the National Executive.
Speaking on RTÉ's Late Debate, Fianna Fáil TD Éamon Ó Cuív said the issue will "come to the national executive, and it'll be debated there", adding: "I'll make my views known at the national executive debate."
Do they really want him back?
Fianna Fáil HQ has yet to respond to last night's developments – but it's unlikely there'll be much appetite among the leadership to have Ahern back on the scene.
Martin and his team have spent the years since their disastrous 2011 election showing attempting to rebuild and rebrand the party – occasionally adopting policies from left-wing rivals.
The former Taoiseach, for many voters, is a figure linked with the excesses of the Celtic Tiger and the financial crash – not a period Fianna Fáil want to remind people of.
- With reporting by Orla Ryan