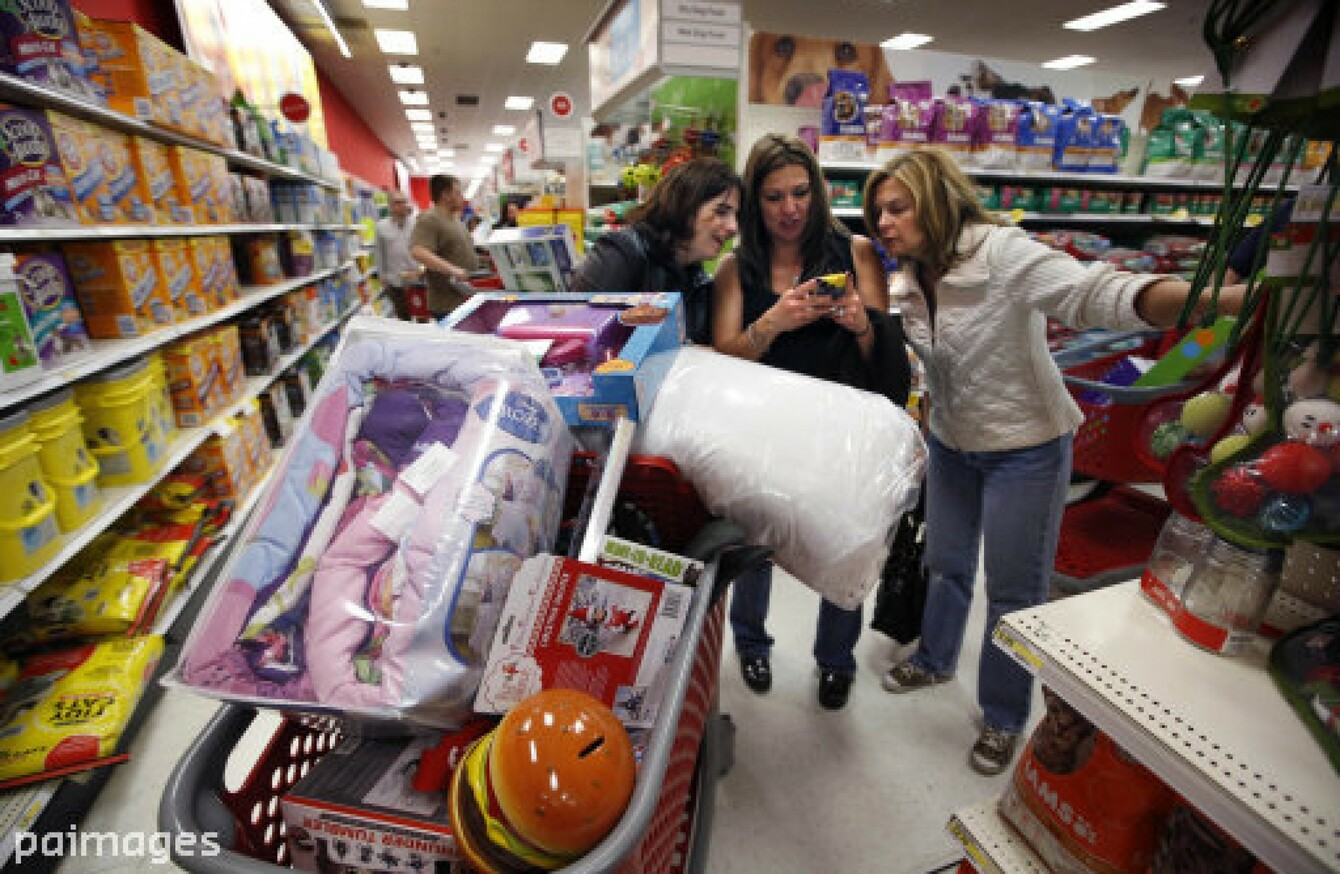 Shoppers in the US looking for bargains on Black Friday
Image: Associated Press
Shoppers in the US looking for bargains on Black Friday
Image: Associated Press
IT'S THAT TIME of the year again.
We're in the run-up to Black Friday, the post-Thanksgiving Day sales bonanza that sees retailers slash prices and whip up a spending whirlwind in the US.
While Ireland and the rest of Europe used to just sit back and enjoy the show as frenzied Americans fought battles over discount toasters, the day has become increasingly popular over here and now thousands of shops are offering discounts on a huge number of products.
"Last year, in some ways it took people by surprise in Ireland," says Lynn Drumgoole, Head of Communications with Retail Excellence Ireland.
"Some of the smaller retailers weren't as prepared as they are this year
"They've definitely taken it on board more and are much more aware of the impact of the day and what could happen in terms of sales."
With big and small names offering discounts online and in-store, there will be plenty of deals for shoppers to take advantage of across Ireland this Friday.
TheJournal.ie looks at a selection:
Harvey Norman
While it may be known as Black Friday, a lot of the bigger retailers have dedicated themselves to a week of discounts.
Harvey Norman is now offering discounts across its entire range, with reductions on everything from televisions and washing machines to bed linen.
Expect discounts of up to 40% on televisions, 25% on laptops and 50% on bedroom furniture among others.
The LG 55" Curved Oled TV – €2099 down from €2699
Designed to give you "the most realistic and natural viewing experience ever", this TV would be a big addition to the life of any sports or action movie fan.
Lidl
The giant global supermarket chain is staying true to form and offering cheaper prices on blenders, laptops, cameras and more starting this Friday.
11.6" Toshiba Cloudbook €199.99, down from €279.99
A near 30% discount means that this lightweight laptop is fantastic value for the day that's in it.
Aldi
Not to be outdone by its competitors (or maybe getting the jump on its competitors), Aldi is not taking part in Black Friday but is opting for a Tech Thursday instead.
There are going to be discounts on DVD players, radios, televisions and headphones (and lots more).
48" 4K Ultra HD TV - €499.99  
This super-slick cinematic television could set you back almost double the amount in some other retailers. Could be just the not-ridiculously-expensive TV you need for Christmas.
Amazon
It will come as no surprise that Black Friday isn't contained to in-store retailers, with a lot of companies offering significant online discounts. True to form, Amazon has been offering slashed prices on all kinds of products all week.
The Countdown Timer
Amazon is offering big discounts on DVDs, accessories, televisions and lots more. Their discounts all have countdown timers, however, so deals only last for certain times. Keep an eye out for ones that suit you.
Towns across Ireland
Okay, not exactly a big name retailer, but town centres all across Ireland are embracing Black Friday in a big way. From Longford to Killarney and everywhere in between, smaller retailers and towns in Ireland are refusing to be caught on the hop this year.
One to watch out for…
Athlone Town Centre's Ode to America sums up everything the US has given to the world:
"Thank you America. In 1994 you gave us Friends, in 2004 it was Facebook, and in 2014 Ireland discovered Black Friday and it was the biggest shopping day of the year!"
That's not all folks…
So there you have it.
The above is only a tiny example of some of the offers that will be floating around this Friday (and all week) in stores and online. Keep an eye out for smaller retailers jumping more on board this year, as the country gears up for what will hopefully be a great Christmas.
So whether you like clicking "Add to Basket" on your phone, or getting into a tug-of-war over a discounted toaster, there promises to be something this week for everyone.