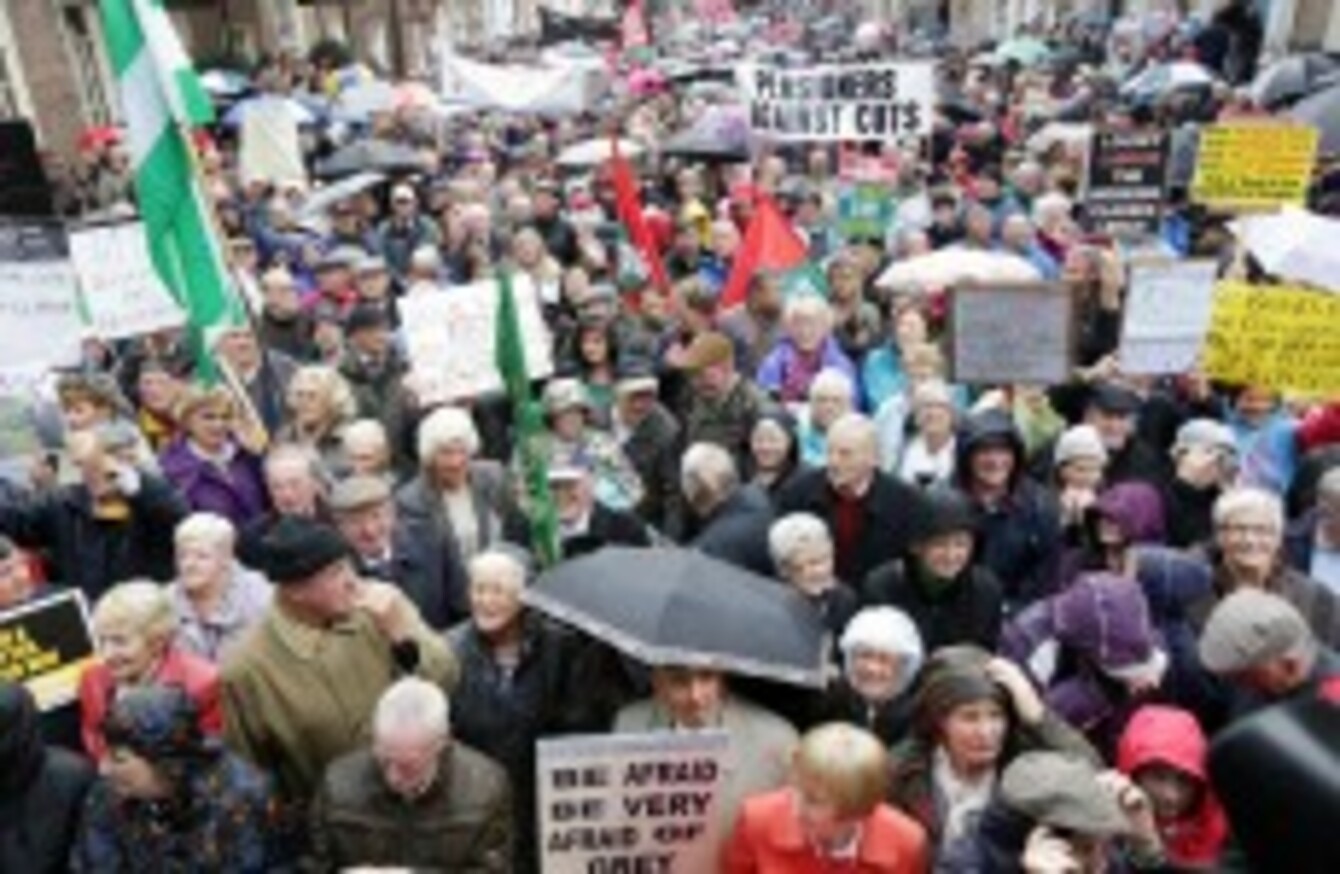 Thousands of protesters gathered outside the Dáil this week in opposition to the cuts in Budget 2014.
Image: Laura Hutton/Photocall Ireland
Thousands of protesters gathered outside the Dáil this week in opposition to the cuts in Budget 2014.
Image: Laura Hutton/Photocall Ireland
EVERY SATURDAY MORNING we take a look at all the best comments left on the site by our readers over the past seven days.
This week there was a lot of talk about Roma families and State authorities, pensioner protests, public transport fares, nuclear power, cannabis legalisation and citizenship in Ireland.
So here, in no particular order, are the standout comments from the week that was.
The top 5 articles which received the most comments this week
1. DNA test proves girl taken from house in Tallaght is related to Roma family (429 comments)
2. 6 things we learned from Luke 'Ming' Flanagan's Cannabis Regulation Bill (263 comments)
3= 22 things Irish people hate (256 comments)
3= Cannabis legalisation: Where do the parties stand? (256 comments)
5. Poll: Should cannabis be legalised in Ireland? (252 comments)
Some of the best comments left on the site this week
(Sam Boal/Photocall Ireland)
In the middle of what was a particularly dark week for news, this exchange between Gordy Wilson and Michelle McLoughney was some light relief:
A man in my area has got black hair, and his wife is blonde, but they've got a red headed child. Should I phone the guards or The daily star?
Phone the postman.
The cut in dole for people under 25 was still getting people exercised this week. Brian Ó Dálaigh was strongly critical of the cut:
100 Euro per week is only enough for rent and food. Nothing else. The average electricity bill per person is roughly 15 per week. Telephone expenses (to keep in contact for emergency and job prospecting purposes) is roughly 5-10 per week. Internet access to allow for job hunting is another 5-10 per week. Clothing, replacing things such as kettles, dishes, etc. I know a few people on 100 per week. They spend a lot of the week in soup kitchens and eating at friends' houses. If they didn't have support networks I can imagine they'd turn to theft. Stealing is better than dying any day.
Five hundred clowns at the Intenational Clown Convention have denied any involvement in the killing of a drug cartel leader in Mexico. No, seriously. From Eoghan Kelly:
Did all 500 clowns show up to the convention in the same volkswagen beetle?
A lot of commenters were criticial of the 3,800 people who became Irish citizens at a mass citizenship ceremony in Dublin's Convention Centre this week. Celina Vieites got a lot of  thumbs up for this view from the other side:
Some of the comments here make me really sad. I'm an immigrant, I'm married to an Irishman and have two wonderful children. I'm a teacher, I do not take advantage of the system, I've no medical card and pay all my taxes. My oldest speaks Irish and plays in the local GAA club. I love Ireland and naturalisation to me is a way of putting on paper the feeling of belonging that I have for this country, that is my home. Don't put all immigrants in the same bag.
It's a tough time of year for Irish Rail: the train company apologised to passengers this week for leaves on the line, saying it's their 'least favourite season'. Jason Downes works on trains and he explains how difficult it can be:
I worked for irish rail for years and its just a part of the gig. Its not the companies fault and there may indeed be things to fault them on but this isn't one. I work for Amtrak now and its the same thing here. And they even cut away the trees near the tracks, the thing is the wind blows and the leaves ride on it and their going to end up there one way or another. Short of cutting down every tree there is in the vicinity it's always going to be there every year. Even with the rail adhesion trains it is what it is.
The mother of The Calvanists bassist Taidhg Burke who died after a car crash last weekend wrote a heartbreaking message to his friends and fans, describing how his "glorious heart was flown to Dublin" to be donated to someone who needed it. Catherine Sims was impressed by her bravery:
What an absolutely fantastic family. He cared enough to carry a donor card and here we have his mother in her darkest hour speaking out and trying to create massive positives from a horrible tragedy. These are people that make me proud to be Irish and have restored my faith in mankind.

Get your donors card folks. I am making sure mine is always in my purse from today and just do rake care on the roads over the bank holiday and in fact every day.
Random fact of the week comes from Hammy Ballinclea, who is presumably in Australia, on an article about a venemous spider found at a school in England, and concerns – shudder – wasps:
Houses in Perth are well populated with redbacks, white tails and other venomous spiders and no one really bats an eyelid. But if you find a European wasp in your garden you have to ring the council so they can destroy the nest and warn the neighbourhood.

That's right, folks, what really scares an Australian is an Irish wasp.
The 5 most popular comments this week
(Brian Lawless/PA Wire)
1. The most popular comment this week was one of the minor but universal things that drive EVERYONE crazy. Linda Nolan got 2,402 thumbs up for this anger-inducing suggestion:
Packets of ham that have "peel here" you CANNOT peel here! Or resealable! No its NOT resealable
2. Shane Hickey got 1,885 green thumbs for this comment as the story broke about the 7-year-old girl taken from a Roma family home in Tallaght over concerns about her identity:
This is getting a bit worrying
3. On the same article, Lesley Hennessy got 1,723 thumbs up for this comment:
Why is it always madeleine? There are so many other missing children. That campaign has major publicity driving it but others don't and are struggling to be heard.
4. Lloyd Christmas got 1,475 thumbs up for this comment arguing in support of the 79-year-old Kilkenny man who had a birthday cake with a picture of Adolf Hitler on it and who made controversial comments about the Holocaust on local radio
He's allowed have whatever cake he wants, why is it that I can't find a hitler costume anywhere but there are loads for bin Laden
5. Finally, Run amuck was unimpressed with the story about how an email with sensitive and confidential information about a teenage girl found in a distressed state outside the GPO in Dublin was accidentally sent to a member of the public. He got 1,315 thumbs up for this comment:
Just delete the email you clown and don't be running off to the press !!! FFS