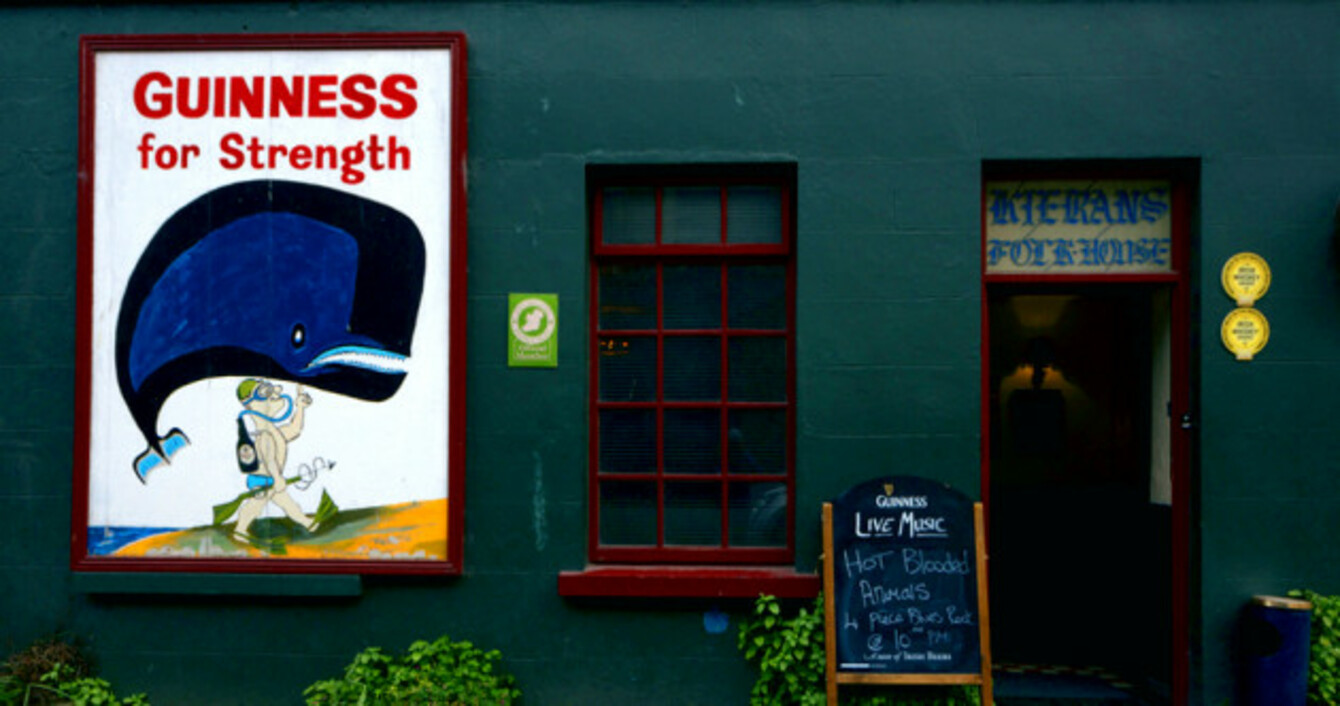 The Folk House in Kinsale, Co Cork
Image: Shutterstock
The Folk House in Kinsale, Co Cork
Image: Shutterstock
YEARS AGO, SHANE O'Donoghue was living in Temple Bar where every night he saw tourists flock to nearby bars and get fleeced for pints.
As both an avid traveller and someone who worked in the tourism industry, it frustrated him to see so many overseas visitors go to Temple Bar and miss out on the authentic pub experience. 
Having grown up in the foothills of the Dublin Mountains, he knew of countless quality pubs around Co Dublin and Co Wicklow. Wouldn't it be great, he thought, if people would visit the pubs he knew and loved?
He conducted some research online, noticed a gap in the market for a guided rural pub tour and decided to set up Rural Pub Tours. That was eleven years ago and it's been going strong ever since.
These days, O'Donoghue spends his days ferrying groups around the country and bringing them to charming pubs around the country. They get to enjoy a few pints, mingle with locals, and experience a side of Ireland you just don't find within Temple Bar. Plus they don't need to worry about a designated driver.
With Christmas just around the corner and people planning their festive get-togethers, we decided to ask Shane for his favourite rural pubs for a warm, cosy tipple.
1. Glenmalure Lodge, Co Wicklow
A popular spot with walkers, this family-run pub and lodgings is situated at the centre of Glenmalure Valley. Hidden away in the mountains, it's as isolated a pub as they come. It boasts an impressive fireplace, breathtaking views and comfortable seating. The perfect spot for a winter constitutional followed by a restorative pint.  "It's like heaven on Earth," says O'Donoghue.
2. Brewery Tap, Tullamore, Co Offaly
The Brewery Tap is O'Donoghue's go-to whenever he's passing through Tullamore. It's your standard country town pub with friendly staff, a super selection of beers and whiskeys, and a lively atmosphere. Fun fact: the men's bathrooms have beer keg urinals. 
3. Katie Lowe's, Kiltegan, Co Wicklow
It may look pretty basic from the outside, but O'Donoghue describes this pub as a proper hidden gem. Step inside and you'll be treated to a small, quaint pub/restaurant where you can enjoy fireside pints and a spot of grub, which comes highly recommended from O'Donoghue. 
4. Green's, Kinvara
A delightfully old school pub situated on Kinvara's Main Street. From its striking front to its wonderfully higgledy piggledy shelves stacked with whiskey, they don't make them like this anymore. An ideal spot for a winter's pint and 'How are you getting on?' chats. 
5. Flannery's, Athlone, Co Westmeath
When it comes to Athlone, everyone tends to big up Sean's Bar, also known as the oldest bar in Ireland. Flannery's might just give it a run for its money, though.
O'Donoghue recalls stopping in a few years ago and being floored by the atmosphere and the craic. Singalongs, friendly vibes, and liquorice allsorts on the counter – what more could you want?
6. The Folk House, Kinsale, Co Cork
If you're looking for a pub with good whiskey and a roaring fire, look no further than Folk House Bar. It didn't win Irish Whiskey Bar of the Year for Munster last year for nothing. "It ticks all the boxes if you're meeting over winter," says O'Donoghue of the Kinsale pub.
7. The Harbour Bar, Bray
Daytripping from Dublin? The Harbour Bar in nearby Bray is always a safe bet with its abundant couches and fireplaces. The perfect for a warming pint of plain and a catch-up at this time of year particularly during the day or early evening before the nighttime crowd ventures in.
Many thanks to Shane O'Donoghue of Rural Pub Tours for his recommendations. Visit his website for more information on his tours.