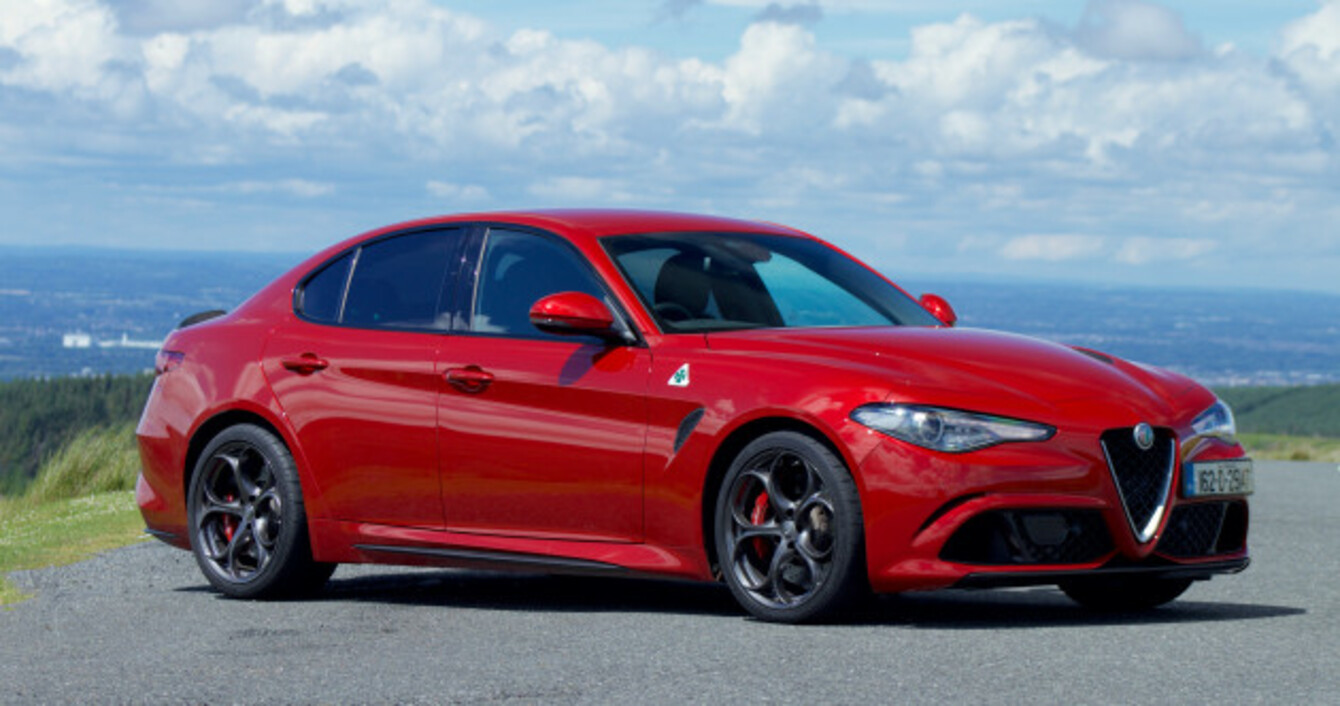 THIS YEAR I have had the absolute pleasure of test-driving a lot of new cars. Fifty nine to be exact – which, weirdly enough, is exactly the same number as last year.
After spinning an Audi R8 V10 plus off the track at Mondello Park in 2016, my choice of cars and routes was deliberately a bit more sedate this year. I only ventured back down to Mondello once and that was to test out the new BMW 5 Series M Sport models… but my right foot was a little lighter this time round.
This is in complete contrast to my colleague Dave Humphreys who spent a lot more time on-track and off-road. He put the new BMW X3 through its paces on an epic adventure through the Sahara Desert, drifted the Volvo V90 Cross Country around a frozen lake in northern Sweden, sampled the future of electric vehicles with Mitsubishi in Tokyo and then competed in a six-hour Ford Fiesta endurance race around Mondello.
But apart from the track fun we (um, Dave) had, which cars did we rate on Irish roads? Which ones were the best to drive, had the best tech and impressed us the most? And which ones would we spend our hard earned cash on? Let's find out.
Best to drive:
Melanie: The car that handled the best for me and that was a real pleasure to drive was the Mazda MX-5 RF. It was very engaging to drive and fun too especially as it really comes alive at speed and when pushed hard and it is nice to get the chance to push a car hard! This car really did put a smile on my face.

Dave: Choosing the outright best car that I drove from a performance perspective wasn't easy. But for sheer smiles per miles it was the Alfa Romeo Giulia Quadrifoglio. The Italian super saloon combined great looks with an intoxicating engine and exhaust note and performance that constantly left me giggling.
Best tech: 
Melanie: For me, I'm going to say the best tech is the BMW 5 Series Parking Assistant – which detects empty spots and parks the vehicle automatically – and the Remote Parking system, which allows the car to be manoeuvred into even the tightest parking spaces remotely using the car key.
Yup, you don't even have to be in the car. You can get out and stand by the car and park it by pressing a button. I've tried it and it really does make tight parking a lot easier and a lot less likely that you'll kerb the alloys. Ouch.
Dave: This new Audi A8. Leaving aside its autonomous driving capabilities as that hasn't yet been made legal, the car has an impressive AI Adaptive Air Suspension. It reads the road ahead and raises or lowers the suspension in just the right places to effectively isolate the car's body from the road, resulting in a supremely smooth ride.
Safety-wise the car can also anticipate a potential side impact and raise the car's side in order to better dissipate the energy into the floor of the car.
Most expensive:
Melanie: The most expensive car I drove this year was the Tesla Model S P100d which is priced at €178,499. It was also one of my favourite cars of the year and it handled way better than I thought it was going to. It was actually pretty fun to drive and it was quite a rush knowing how much power you had to play with.
Dave: The BMW M760Li xDrive, with a starting price of €248,810, which is aimed at petrolhead plutocrats who presumably have access to roads capable of stretching the legs of the twin-turbocharged 6.6-litre V12.
I was lucky enough to have a closed runway to myself for an afternoon and can confirm that this 610hp 7 Series really can hit 100km/h in 3.7 seconds.
Most impressive:
Melanie: Hands down it was the Tesla Model X. I didn't think I was going to be as impressed as I was when I got into this car but actually, it blew me away with how good it was.
Apart from the obvious Ludicrous Mode and Autopilot 2.0, I was also impressed with the battery technology, the Smart Air Suspension and the design technology too – those flacon doors and the flush door handles that pop out are sweet and the way the rear seats move is mesmerising. I loved the quirky Easter eggs too.
What also impressed me was the speed at which Tesla is improving and upgrading its cars and how it is changing the model of car purchasing and ownership.
Dave: The Lexus LC 500h was one of the real stand-out cars for me this year. Its styling is just gorgeous and the interior is just as well-finished.
But what impressed me the most was the hybrid powertrain – it delivered a drive that was just as enjoyable as the V8 version I drove through the Swiss Alps, but with half the fuel consumption.
Most sensible buy: 
Melanie: For me, the most sensible cars are the ones that are safe, have enough space for your needs and give you some sort of pleasure when you are behind the wheel be that how comfortable they are, how they handle or how nice the interior is. Out of the cars that I've driven this year, the Alfa Romeo Giulia ticks those boxes as does the Citroen C3 Aircross and Skoda Octavia RS.
Dave: Given the vast number of crossovers and SUVs dominating the market now one of the most sensible buys is the Citroen C3 Aircross, which was recently voted as the 2018 Best Buy Car of Europe by the Autobest, for which I am a jury member.
It has great style, lots of customisation and sensible engines. But, most importantly, it's great to drive compared to its rivals. The new SEAT Ibiza also impressed me as did the new Suzuki Ignis and Swift.
Shut up and take my money: 
Melanie: If money was no object, I would have the Volkswagen Golf R which is priced from €46,570. This car is the perfect size for me and Irish roads and multi-storey car parks, and its hatchback shape makes it practical too. Oh, and there just happens to be 310hp and 380Nm of torque to play with.
This car is super fun to drive and it is brisk and is very good at putting a smile on your face.
Dave: One of my favourite cars from 2017 was the revised Volkswagen eGolf, which now has a more usable real world driving range. But I can't ignore how much I love performance cars, and while it isn't the fastest car that I drove all year, the one I would most like to have kept is the BMW M2. Perfect size and just enough performance to satisfy the everyday driver.
Melanie's full 2017 test-drive list: 
Presented in chronological test order…
Nissan X-Trail
Nissan Leaf
Renault Megan Grand Coupe
Renault Grand Scenic
Citroen Grand C4
Mazda MX-5 RF
Nissan Juke
Citroen Spacetourer
MINI Countryman
Audi Q2
Honda Civic
Citroen C3
Peugeot 3008
BMW 5 Series M
Volkswagen Golf
Suzuki S Cross
Audi Q5
BMW i3
Honda C-RV
Tesla Model X
Tesla Model S
Suzuki Ignis
Volkswagen up!
Toyota C-HR
Mazda CX-5
Alfa Romeo Giulia
Volvo XC60
MINI Cooper SD
Nissan Micra
Nissan Qashqai
Nissan X-Trail
Skoda Octavia RS
Opel Insignia Grand Sport
Toyota Yaris Hybrid
Ford Fiesta
Renault Zoe 4.0
Toyota Prius Plug-in
SEAT Ibiza
Volkswagen Golf R
Audi A5 Cabrio
Renault Clio
Renault Koleos
Mercedes-Benz E-Class Estate
Dacia Duster
Volkswagen Arteon
BMW 5 Series
Honda Civic Type R
Ford Kuga ST-Line
Volkswagen T-Roc
Volvo V90
MINI Countryman PHEV
Suzuki Swift
Opel Crossland X
Subaru Forester
Peugeot 5008
Citroen C3 Aircross
Kia Stonic
Volvo XC40
Kia Stinger