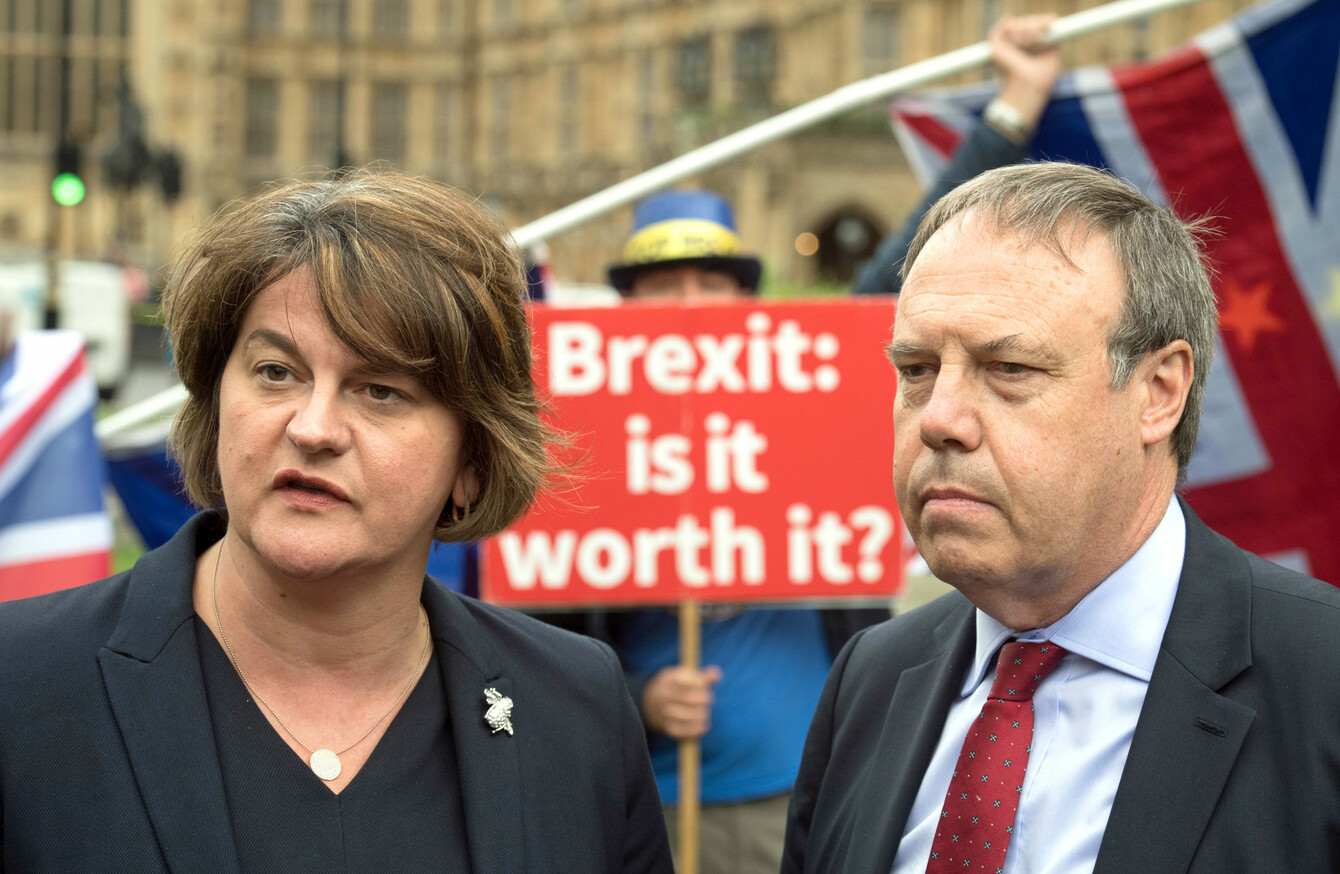 The DUP's Arlene Foster and Nigel Dodds.
Image: Stefan Rousseau/PA Images
The DUP's Arlene Foster and Nigel Dodds.
Image: Stefan Rousseau/PA Images
Updated Oct 8th 2018, 11:05 PM
NORTHERN IRISH UNIONISTS from both the DUP and UUP are set to meet the EU's Brexit negotiator Michel Barnier in Brussels tomorrow, with both parties pledging to argue against an effective border down the Irish sea.
DUP leader Arlene Foster and UUP leader Robin Swann will both meet with Barnier alongside their parties MEPs. 
Foster's party is propping up UK Prime Minister Theresa May's government in the House of Commons and the DUP has refused to rule out voting against any Brexit deal it is not satisfied with.
Technical discussions resume in Brussels this week, with both sides racing to bridge their differences over the toughest issues of the Irish border and future trading ties.
The EU summit on 18 October has been characterised by the bloc as a "moment of truth" in the divorce talks, just months before Britain leaves on 29 March, 2019.
Foster has said her party will reject any Brexit deal that would effectively have Britain leave the EU customs union while Northern Ireland remains in alignment with EU trade rules.
This arrangement is what's referred to as the 'Brexit backstop' and May has said that her priority is to avoid such a situation.
Speaking today ahead of her meeting with Barnier, Foster said that her party's "only red line" has been "no new borders between Northern Ireland and Great Britain".
"This red line is recognising that Great Britain is Northern Ireland's biggest market. Over 70% of all goods leaving Belfast port are destined for Great Britain," Foster said.
To create a barrier to that trade would be catastrophic. We want to see an exit deal which means Northern Ireland has unfettered access to and from the GB market but also fully beneficiaries of any new trade deals with the United Kingdom after Brexit. Our red line also respects and protects Northern Ireland's constitutional place in the United Kingdom.
"Many who claim to respect the Belfast Agreement, fail to respect the principle of consent which was part of that Agreement. Indeed, they would happily redraw the border and annex Northern Ireland away from the rest of the UK."
Last week, Foster suggested that the Belfast Agreement could be changed in the context of the UK's withdrawal from the EU. 
The DUP said on its website that Foster is to travel to Brussels for "an intensive three-day round of meetings" with Barnier. 
The European Commission's website lists one meeting between the pair tomorrow, alongside DUP MEP Diane Dodds. 
Barnier's schedule also lists a meeting tomorrow with UUP MEP Jim Nicholson. The party has said that its leader Robin Swann will also be present.
Speaking ahead of travelling to Brussels, Swann said that there is "a significant cross section of society in Northern Ireland" who are "deeply concerned about the proposed backstop.
"As unionists it is vital to us that the constitutional integrity of the United Kingdom is preserved throughout this process, but it is also clear that in terms of the economic well-being of Northern Ireland any border along the Irish Sea would be as harmful as a no-deal Brexit," he said. 
Meanwhile, the UK government warned today that there were still "big issues" to resolve in Brexit negotiations with the European Union, even as hopes grow in Brussels of a breakthrough just days before a crucial summit. 
European Commission President Jean-Claude Juncker said at the weekend that the chances of a deal are now rising.
British Prime Minister Theresa May's spokesman said the government was "working hard for a deal this autumn and that continues at pace".
But he added:
There remain big issues to work through and as the prime minister has said, this will require movement on the EU side.
"There is a difference between people talking optimistically about a deal, and a deal including both the withdrawal agreement and the future framework actually being agreed," he said.
'Precise' trade declaration
As months of negotiations come to a head, tensions erupted last month at a summit in Salzburg where the EU roundly rejected May's plan for close economic ties after Brexit.
#Open journalism No news is bad news Support The Journal

Your contributions will help us continue to deliver the stories that are important to you

Support us now
But she is sticking to her proposal, which she argues would protect cross-border trade while also resolving the problem of how to keep open Britain's land border with Ireland.
The first sign of any common ground will come on Wednesday, when EU negotiator Michel Barnier will present the first draft of his proposed statement on post-Brexit economic and security ties to ambassadors of the EU's other 27 member states.
A senior EU official involved in the Brexit negotiations told AFP that the document may be intentionally vague, in case Britain wants to change its red lines in the future.
However, May's spokesman said Britain was seeking a "precise" declaration on the shape of the future relationship.
He noted that MPs in the House of Commons will have to approve the statement alongside the Brexit divorce deal, and would want to do so "on an informed basis".
The divorce deal covers the issues of Britain's financial settlement and EU expatriates' rights, which are largely resolved, as well as the issue of Ireland.
London and Brussels agree they want no return to physical border checks between British Northern Ireland and EU member Ireland, but disagree on how to achieve this.
Britain believes checks can be avoided through a new trade deal, but accepts the need for a fall-back plan — a backstop — to ensure this until that deal can be agreed.
London has rejected the EU's proposal but has yet to put forward in full an alternative, promising only it will be published "shortly".
The problem stems from Britain's desire to leave the EU's single market and customs union after Brexit, which would inevitably mean the reintroduction of checks in Ireland.
With reporting from - © AFP, 2018