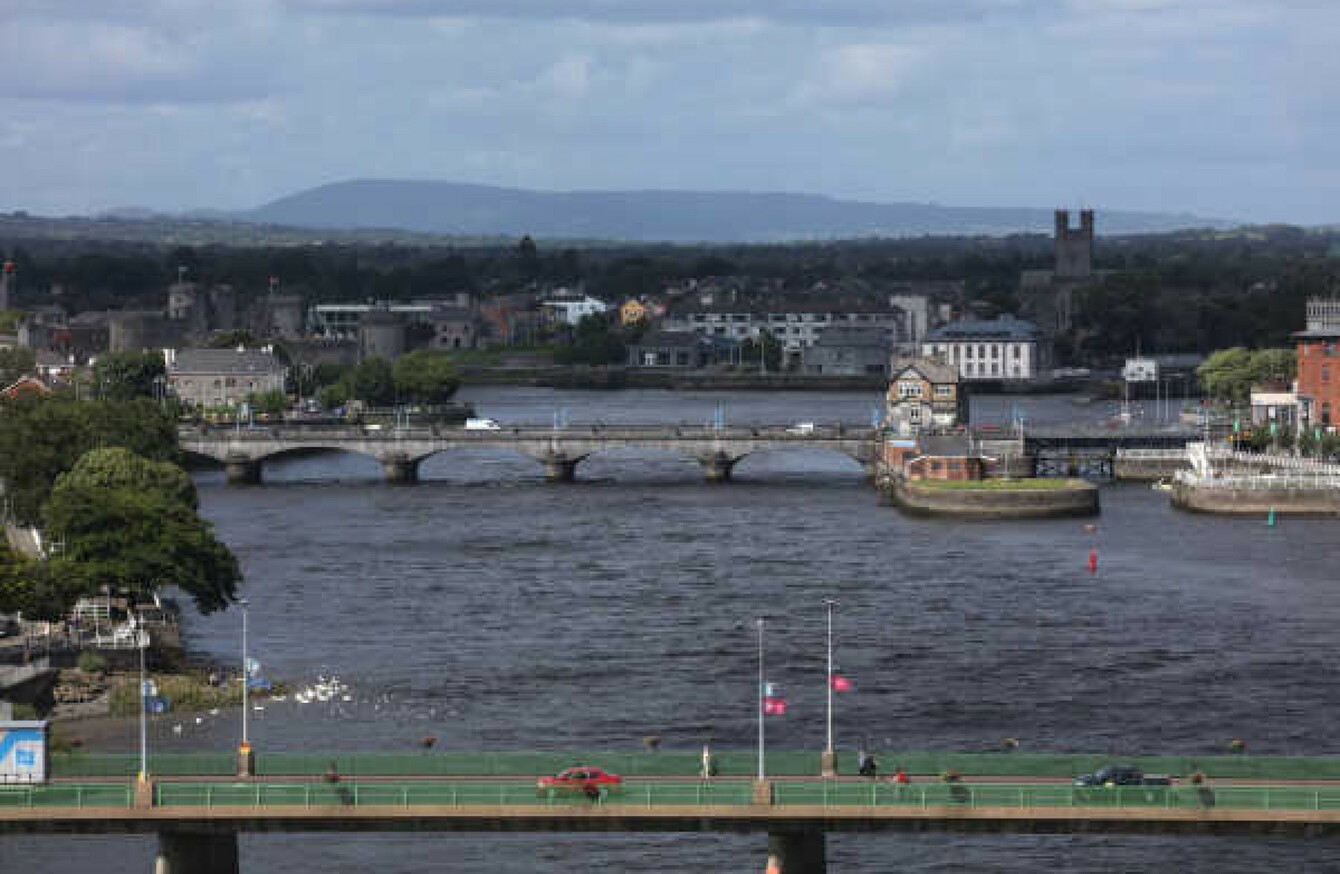 File photo of Limerick city.
Image: Rollingnews.ie
File photo of Limerick city.
Image: Rollingnews.ie
Updated 7.05pm
A MOTHER OF six was fined €100 at Limerick Circuit Court after she admitted marrying a man while still married to her first husband.
Ivita Visnevska, originally from Latvia but with an address at Berberis Court, Ilford, London, pleaded guilty to one count of bigamy today, and to one count of knowingly providing false information on a marriage certificate application form.
The court heard the marriage registry office in St Camillus Hospital, Limerick, discovered they had serviced the false marriage five years later after they were contacted by authorities in Latvia.
Bigamy carries a maximum seven-year jail sentence on indictment, the court heard.
On 22 August 2005, at St Camillus Hospital registry office, Visnevska (34) married fellow Latvian Alexandrs Limanovics with whom she has two teenage daughters. The "relationship ended" in October 2008, the court heard.
A year later, on 16 October 2009, and while still married to her Latvian husband, Visnevska wed Pakistani man, Mirza Azam Baig, with whom she has two sons.
Baig had no knowledge Visnevska was married at the time, the court heard.
Latvian authorities contacted the Limerick registry office in 2014 informing them the marriage between Visnevska and Baig was not legal.
The court heard Visnevska is currently in a relationship with a third man with whom she has two young children, and is due to give birth to her seventh child next May.
"She has converted to Islam and changed her name to Esala Kana," John O'Sullivan, prosecuting, said.
On 13 July 2009, Visnevska and Baig gave notice to the Limerick marriage registry office of their intention to wed. Visnevska signed a declaration form, recording her marital status as 'single', despite still being married to Limanovics. She signed three separate forms indicating there was no legal impediment to marrying Baig.
Interpol 
In 2014, gardaí, through liaisons with Interpol, located Visnevska in London, and detectives travelled to interview her by appointment at a police station in Stratford.
O'Sullivan, senior counsel for the state, said Visnevska initially told gardaí she wired €800 from a Western Union outlet in Limerick to a Latvian legal advisor in order to arrange to have her first marriage annulled.
Detective Garda Oliver Foley, from Henry Street, told the court gardaí found "no record" of any transaction. He agreed with O'Sullivan that Visnevska had claimed she believed her first marriage was annulled when she wed Baig, however she "could not produce any documents" to show this.
"She declared she was free to marry," Mr O'Sullivan said.
The court heard that the offence of providing false information on a marriage certificate application form carries a maximum sentence on indictment of five years in prison and/or a fine of up to €10,000.
Gardaí could not find any clear motive for the two offences before the court.
Foley agreed with Visnevska's defence barrister Brian McInerney that she was not involved in "sham marriages" nor "marriages for sale".
#Open journalism No news is bad news Support The Journal

Your contributions will help us continue to deliver the stories that are important to you

Support us now
'Talk of the town' 
Foley also agreed Visnevska did not gain any financial benefit.
He said Visnevska, "saved the state a lot of hassle" by travelling from London to the court in Limerick by appointment. "We would have had to obtain an European Arrest Warrant otherwise," he added.
The court heard Visnevska was caring for four of her children in London, and she is estranged from Baig and their two children.
Visnevska divorced Limanovics on 17 March 2014, the court heard.
Appealing for leniency on behalf of his client, McInerney said Visnevska had suffered the loss of a future relationship with two of her children, and would also "suffer" from publicity surrounding the case. "The offence of bigamy would be the talk of the town," he added.
"It's very, very unusual to say the least," judge Tom O'Donnell remarked.
"It's quite clear what this lady did was wrong and she knew it was wrong, and she knew it was a lie – full stop."
Noting he was "assured" by Garda Foley's evidence the false marriage was "not a sham marriage", the judge took into account the bigamy offence and fined Visnevska €100, allowing her six months to pay, for providing false information on a marriage cert.
Comments have been disabled due to ongoing legal proceedings.