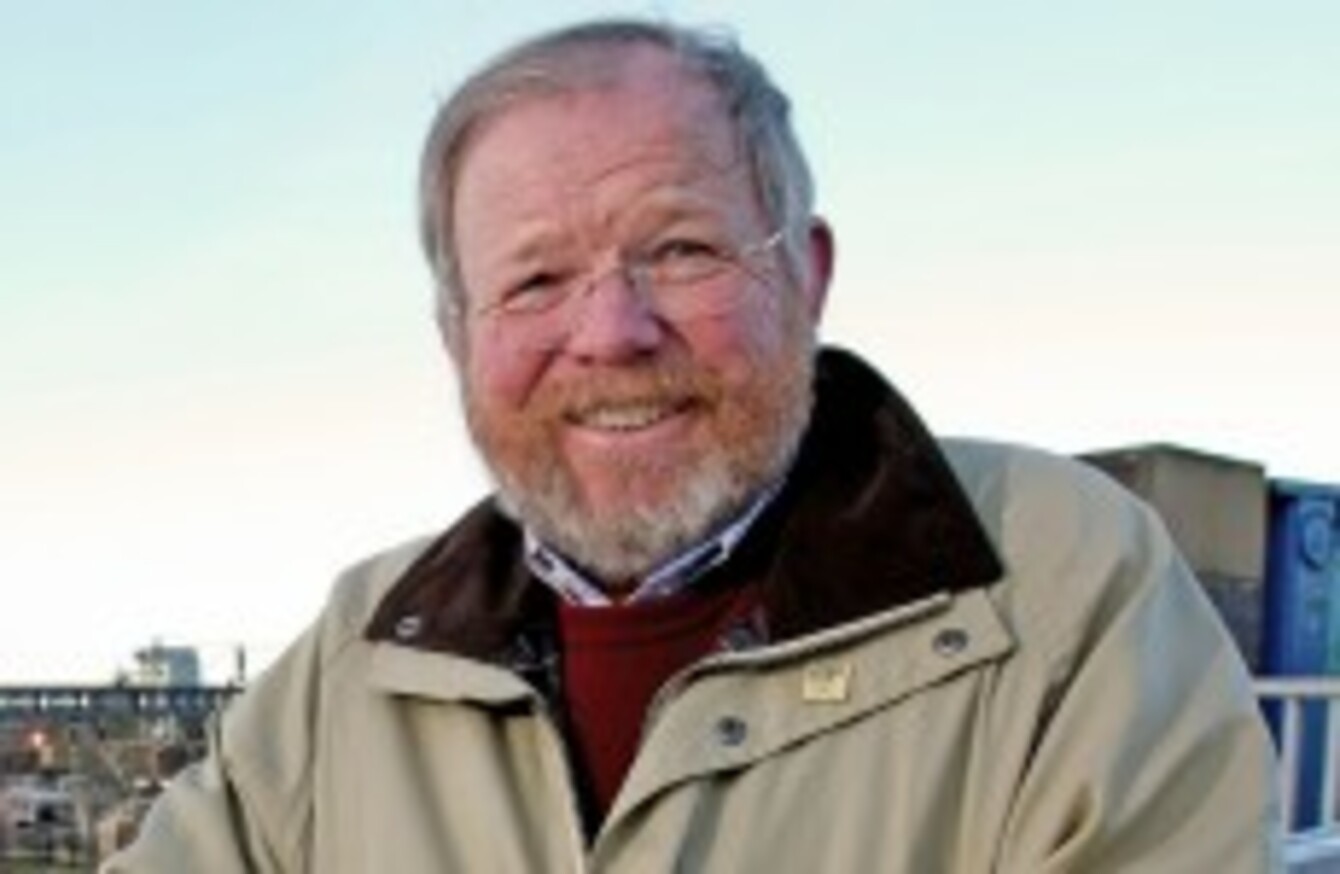 Bill Bryson
Image: Chris Radburn
Bill Bryson
Image: Chris Radburn
HE HAS TREKKED the Appalachian trail, wandered across Britain, and even compiled a short history of everything, so it's surprising to hear that best-selling author Bill Bryson has never spent much quality time in Ireland.
It's not for want of trying – he's been glad to get to Dublin many times for events, he tells TheJournal.ie, he just hasn't gotten a chance to do his signature rambling. But he'll be here in Dublin to receive the International Recognition Award at the Bord Gáis Energy Irish Book Awards on 25 November.
"It's genuinely thrilling, I haven't won that many awards in my life," says Bryson of the accolade.
The board of the Bord Gáis Energy Irish Book Awards describes Bryson as having "an unerring eye for the foibles and customs of the countries he's written about".
In his writing he can be acerbic, biting and hilarious but has also said that 'the world is crazy but more and more I've tried to balance the negatives with some positives because there is also a lot of good in the world'. There, surely, speaks the voice of sanity.
Irish links
The 63-year-old author of 21 books grew up in the USA (in his book The Lost Continent, he famously said, "I come from Des Moines, Iowa. Somebody had to."), but he has made his home in the UK. He moved there in 1973, and soon fell in love with a nurse called Cynthia Billen whom he worked with at a now-defunct psychiatric hospital.
After they married, the couple stayed in the UK, and a number of years ago Bryson got UK citizenship. He has also taken on the British accent, retaining just a dash of his American twang. It turns out, though, that he also has links to Ireland.
"I've been in Dublin a few times, but to my great shame I haven't spent as much time in Ireland as I would like to have," Bryson says. "I really ought to because all of my family come from Ireland originally. My mother's side of the family, like so many people, left during the Famine. They were Irish Catholics; my father's side were Irish Protestants so they were all from the north."
Bryson, who was a journalist (like his father) until 1987, didn't lick his love for travel and heritage off a stone. His parents would travel to the north frequently: "My father was huge into genealogy; he could tell you where every Bryson grave in Ulster was. He loved to do all that stuff."
Happily for his Irish fans, he doesn't rule out the possibility of writing a book about Ireland in the future.
Going his own way
As a travel writer, Bryson is known for taking his own route through countries, and he says that if he visited Ireland he would "really like to go completely quietly, just pay my own way and secretly look around and just enjoy the city".
That's pretty much what he did for the book that made him famous in his adopted home of the UK, Notes from a Small Island, where he traversed the isle and wrote about what he found.
For his latest book, The Road to Little Dribbling, Bryson takes a similar journey, but 20 years later. Little Dribbling, like all of Bryson's books, is crammed full of information you didn't know you needed to know – like how Mount Everest was named after an Englishman who never scaled it; and where Bognor Regis got its name.
Does the research start before the writing, or after? It depends on the circumstance. "Sometimes I go and I don't know much of anything at all, and then I get interested in it when having the experience and I want to learn about it," says Bryson.
While on the Appalachian trail for Walk in the Woods (which was recently released as a film, starring Robert Redford and Nick Nolte – more about that later), he researched the mountains on his return. When Bryson was out walking the trail, all he wanted to think about was the walking.
In Little Dribbling, he finds himself walking through gritty urban parts of the UK, visiting often-mocked areas like Bognor Regis, and walking paths that no one seems to have walked in years. In his signature style, he mixes humorous anecdotes and experiences (like wondering what the purpose of gossip magazines are, and what they say about modern life in Britain) with fascinating facts about the areas he visits.
"Why do people choose to live here?"
What interests him so much in finding out the little things about the places he visits?
Because even the most unlikely places – we've all been in really grotty places – even then I think, why do people in a free society choose to live here, why do people live in some horrible mining town in Pennsylvania or the North of England when they could go and live in Cape Cod or Bournemoth or somewhere lovely?
He is curious about how and why people live the way they do, and finds "even the most unpromising places" fascinating. He is also interested in routine, and how people across the world have "all the different ways of doing the same things", from getting up in the morning to eating dinner.
Bryson is similarly fascinated by differences in speech and accent, and also with attitudes and politics. "I find that endlessly fascinating," he says, noting that Des Moines was a "place in the middle of nowhere where everybody was like everybody else and there wasn't that kind of variety".
His relationship with his home state is "kind of strange", he admits. "I really love Iowa – I am proud of it, I am very patriotic towards my home state."
But he hasn't lived there in 40 years, and attests that there is "no way" he would go back and live there now. That's not least due to the fact that his own children are mainly based in the UK – at one point in Little Dribbling, he finds himself in London with two daughters due to give birth there at around the same time.
"I haven't rejected America"
He says he's glad to be an American, and glad to have had the "great upbringing" he had. "My life is over here now," he says.
It's not because I've rejected America - you marry into the nation that way and because of that all my kids were automatically British. It's not just 'I live in Britain', but my whole life is in Britain.
Does he consider himself an insider or an outsider, after four decades in Britain? "I'm always going to be a little bit of both," he says, adding that what he found difficult when travelling for Little Dribbing was that "nothing I was going to see was going to surprise me".
That meant the book wasn't a voyage of discovery. But "at the same time I did always feel, always have felt I am kind of an outsider – I am definitely a foreigner".
This means he is allowed "praise Britain in ways they would find embarrassing".
But at the same time I've found that when I'm critical about things in Britain, people sometimes get prickly about that because they feel even though I've been there so long I don't have the right to be critical about it.
He's even been told "if you don't like it, why don't you go home" on more than one occasion. That sort of reaction is, as he describes it, "bizarre", but it sums up how even after forty years in Britain, Bryson is still seen by some as an outsider.
A Walk in the Woods
Source: FilmIsNow Movie Trailers/YouTube
Bryson's 1998 non-fiction book A Walk In the Woods: Rediscovering America on the Appalachian Trail was recently made into a film. It stars Robert Redford as Bryson, and Nick Nolte as the pseudonymous Stephen Katz, a recovering alcoholic who is overweight, unfit, and not well versed in hiking.
Turning the experience into a humorous buddy movie meant that Hollywood took some liberties with the real-life situation, but Bryson says that he didn't mind that so much – because it didn't really feel like a true depiction of him on the screen.
"It was very strange, because the very first time I saw the movie I saw it with Robert Redford," says Bryson. "[At the premiere] I had Robert on my right and my wife on my left so it was a super surreal moment for me. Once the movie started, the first couple of times he used my name I thought 'wow, this is crazy'. But then it became obvious to me it wasn't really me up there – it was Robert Redford imagining me playing a role."
It was strange. These were events I lived through but it didn't feel he was portraying me. The book and the movie weren't my life story; they were one small fragment of my life. If it had been a whole life story of me growing up, that would possibly be different.
Bryson says he "didn't mind at all" that this was the case, though he did wonder why his wife's name was changed to Catherine. "They changed a lot of it; inevitably they had to make a lot of adjustments. I really thought they captured the spirit of it well, the chemistry of it, the buddy aspect of it. I thought they got that really well."
He was particularly impressed by Nolte's turn as Katz. Is Bryson in contact with Katz? "We're still in touch. I just emailed him two days ago," says the author, adding that Katz has been having some health issues. "Usually we're in touch pretty regularly."
The Road to Little Dribbling has only recently been released, but I ask if the prolific Bryson is already thinking of his next project.
He says it's time for a break. "I promised my wife once I got all this publicity out of the way, we would just relax a little while, and do a little bit of travelling," he says.
Once he doesn't get a book out of it, that should count as a holiday indeed.
RTÉ Television will be broadcasting the highlights of the Bord Gáis Energy Irish Book Awards on RTÉ One on Saturday 28 November. To vote for your favourite books on the shortlist, visit the Bord Gáis Energy Irish Book Awards site.