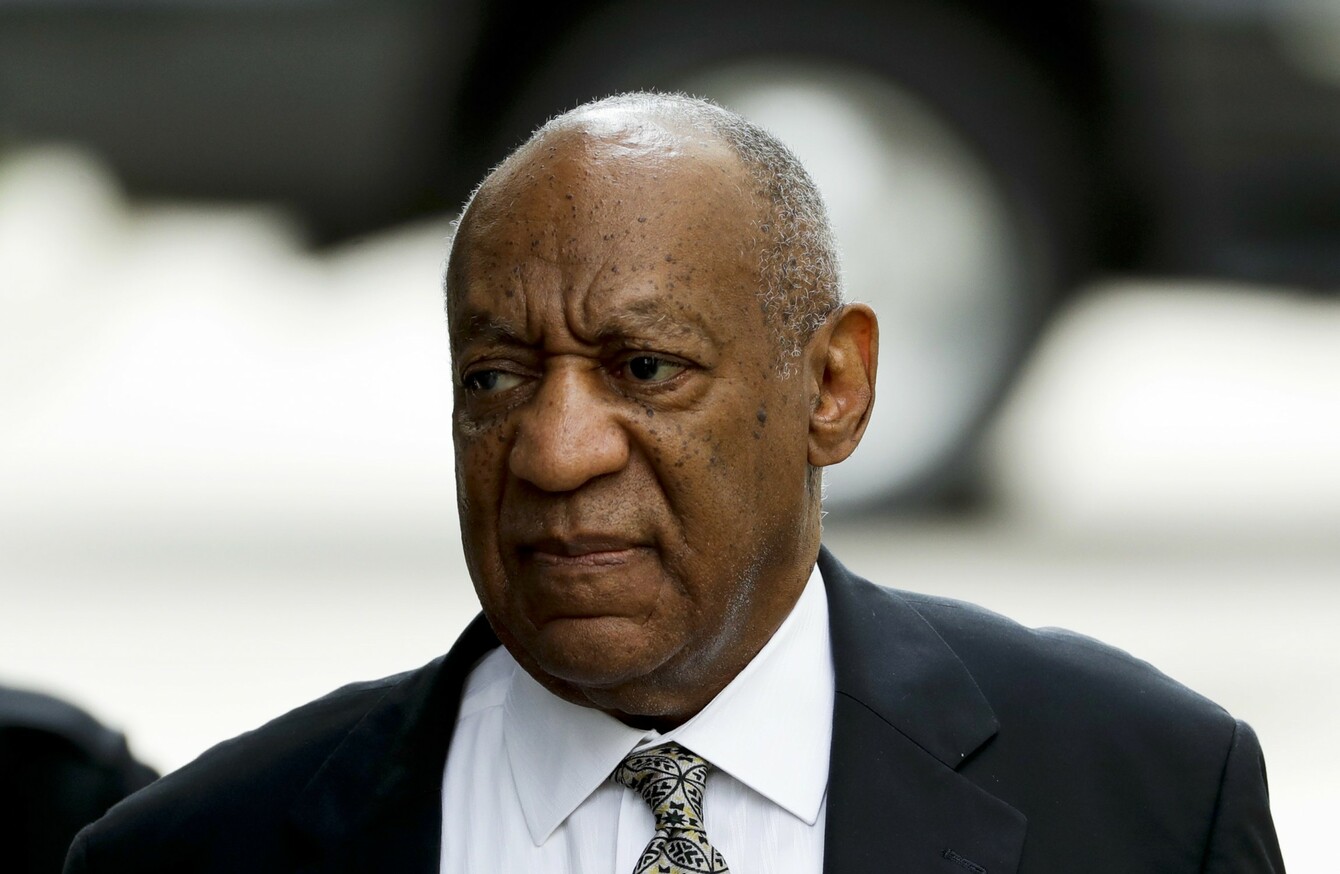 Image: Matt Slocum
Image: Matt Slocum
THE US JURY tasked with finding Bill Cosby guilty or innocent of committing sexual assault have announced that they are deadlocked, as frustrations mount among alleged victims.
The 79-year-old pioneering black actor could face the rest of his life in prison if convicted on three counts of aggravated indecent assault for allegedly drugging and molesting a woman at his Philadelphia home in January 2004.
The 12-member jury, who were selected 480 kilometres away from the trial in Norristown, Pennsylvania, have now been sequestered for 10 days in one of the biggest US celebrity trials in years.
Today they informed the court after nearly 30 hours of deliberations that they were deadlocked on reaching a unanimous decision.
Judge Steve O'Neill however instructed them to return to their chamber to continue deliberations.
If the seven-man, five-woman panel ultimately remains unable to reach a verdict, O'Neill will be forced to declare a hung jury, leaving the prosecution with the option of requesting a re-trial.
Around 60 women have publicly accused the legendary entertainer of being a serial sexual predator in remarkably similar accusations that span four decades, ending his career and pulverizing his reputation.
This trial concerns the allegations of just one woman – Andrea Constand – as under US law, most of the alleged abuse happened too long ago to prosecute.
Several of Cosby's accusers were on tenterhooks today in the corridors of the Montgomery County Court House, anxiously awaiting a verdict.
Hints from questions
"I'm very frustrated. Extraordinarily frustrated," said Victoria Valentino, 74, a former Playboy playmate who says Cosby drugged and raped her in 1969.
It took a California panel 30 hours to acquit Michael Jackson of child sex abuse in 2005.
By comparison a Los Angeles jury acquitted American football star OJ Simpson in four hours in 1995 of murdering his ex-wife Nicole Brown and her friend Ron Goldman.
Cosby himself has appeared almost serene, exhibiting no outward sign of fatigue, frustration or impatience.
During breaks, and his comings and goings from the court house, the former TV star flashed a smile and exchanged pleasantries with representatives.
Outside in the street, a handful of onlookers have shouted out support as he has passed by, to which he has responded with a word or gesture.
Yet the trial marks a crushing fall from grace for an entertainer for decades loved by millions as "America's Dad" for his seminal role as a lovable father and obstetrician on hit TV series "The Cosby Show."
In closing statements, the prosecution portrayed the actor as a sexual predator who deliberately drugged 44-year-old Canadian Constand so she would be unable to resist his advances at his Philadelphia home.
Cosby refused to testify and his lawyers called just one witness, a police detective, before resting their case in minutes on Monday.
Elephant in room
If convicted Cosby faces a maximum penalty of 10 years in jail and a $25,000 (€22, 435) fine on each charge. But there is no mandatory minimum, meaning that the judge overseeing the case could also allow him to walk free.
Nothing has filtered out about the state of the deliberations, with only hints to be gleaned from questions they have asked judge O'Neill.
They appear to have been drilling down into the testimony, asking the judge to re-read statements from Constand and the police, as well as Cosby's original deposition in 2005, in order to compare the he-said, she-said allegations.
"Many of us think there's one holdout keeping things from moving forward," Valentino told AFP.
If Cosby is convicted, even on one count, prosecutors will probably petition for his $1 million (€896,000) bail to be overturned so that he be taken into custody immediately.
Valentino says she is prepared for anything, even an acquittal. Neither does she believe "there's ever closure in trauma."
But she says she is grateful that the Cosby case has revived conversation about rape and consent, which she sees as a kind of victory. She told AFP:
It was the elephant in the room. It was there but nobody really wanted to talk about it. And now people are speaking out.
"It makes you think that if nothing is resolved here in a positive way at least there's been some transformation in society thanks to the conversation."