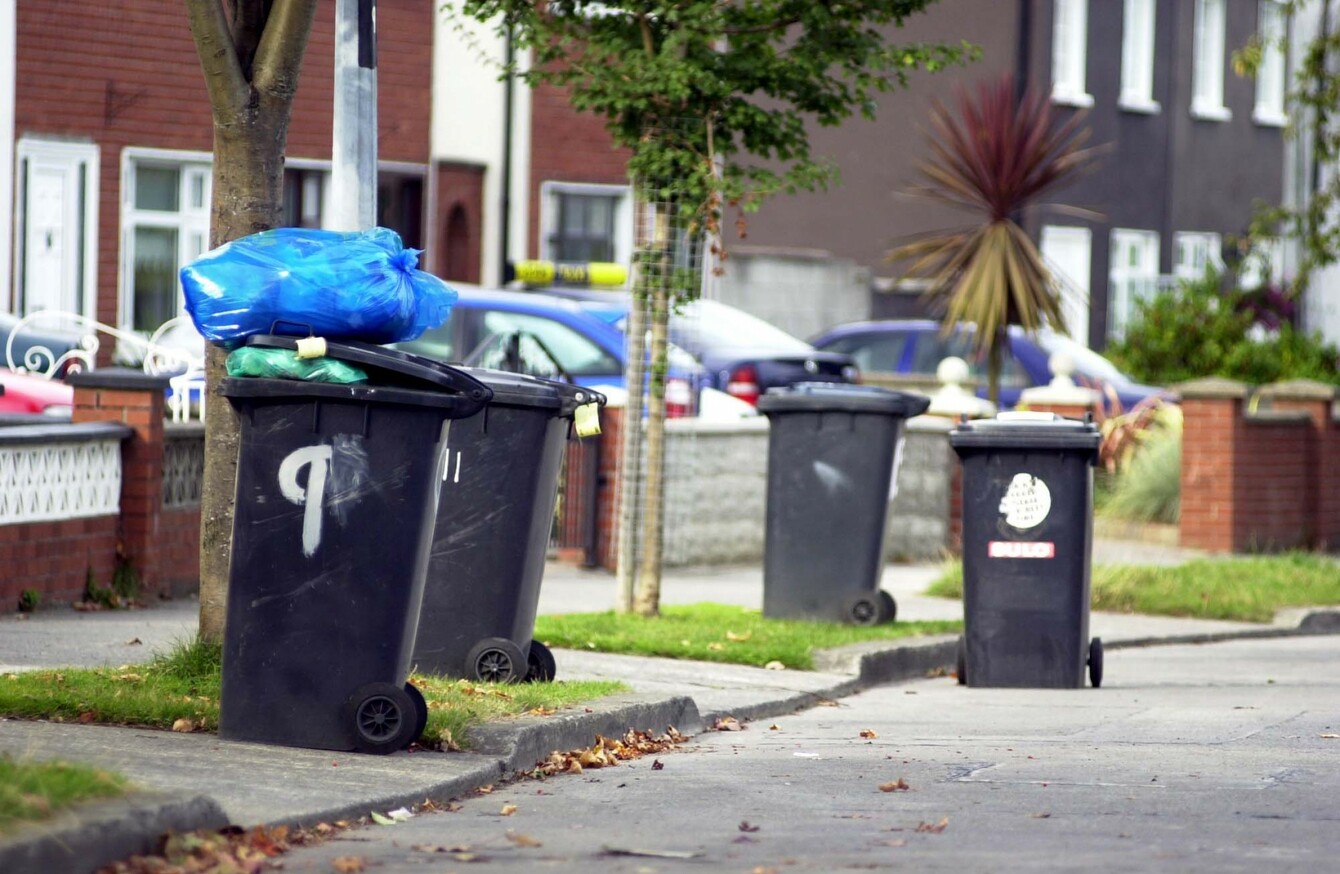 Image: RollingNews.ie
Image: RollingNews.ie
WASTE OPERATORS HAVE four months to roll out brown bins to thousands of people around the country.
A brown bin is used for the collection of all your household food waste.
Yesterday, Minister for Communications, Climate Action and Environment Denis Naughten announced that the mandatory pay-by-weight scheme is to be abandoned and flat fee charges are to be scrapped.
The pay-by-weight scheme, which was due to come into place from 1 January, was delayed in the eleventh hour last December amid controversy around bin companies abusing the system.
Flexibility in charging 
Under the new scheme, waste collectors will be given the flexibility to continue to offer, or to introduce a range of pricing options to their customers which the government hopes will incentivise recycling.
These options include the choice of standing charges, per-lift, per-kilogramme, weight-bands, as well as weight allowance charges.
"We are going to provide flexibility for operators to ensure that if people segregate more or produce less waste, they will pay less," said the minister.
Encouraging recycling
The minister told TheJournal.ie that the objective of the new scheme is to move away from the reliance on landfill sites.
He said in just three years, there is going to be a 17% shortfall in landfill.
"Effectively meaning we will have no landfill capacity for two months of the year," he explained.
Naughten said too much food and organic waste is ending up in the regular black bins.
In order to ramp up recycling, all waste collectors will be required to start rolling-out food and organic brown bins to all localities nationwide with a population greater than 500 people.
Currently, the threshold where brown bins must be supplied is 1,500.
"We are bringing that down to 500 giving the operators four months to do that, so every population with 500 or more will have to have a brown bin," he said.
Whether customers will have to pay for the brown bin is another matter for the operators, with the minister pointing out that some waste companies supply the bins for free.
Cost
Naughten stressed the government has no role in price setting for companies, but added that competition between operators would offer competitive costs for consumers.
Both Sinn Féin and Fianna Fáil have called on the government to ensure that costs should not increase because of the new scheme.
"We have no control over them. I have put in place a situation to allow us as much flexibility as possible and to allow operators to put in place as many types of charging regimes as possible," he said.
Naughten urged customers to "shop around" in order to get a good deal on their bin charges.
With 67 waste operators in Ireland, he said households should compare prices and what's on offer.
#Open journalism No news is bad news Support The Journal

Your contributions will help us continue to deliver the stories that are important to you

Support us now
Apartment blocks
While tackling the waste management of the 1.2 million people who have curb-side collection was his key priority, Naughten said work is also underway to tackle the waste that is generated by people living in apartment blocks.
"We have been talking to the Apartment Owners Association, so we are engaged with that at the moment," he said.
Naughten said his department hope to issue brown bins for apartment blocks, as well as communities where fewer than 500 people live.
He explained that while apartment blocks generates domestic waste, it is actually classed as commercial waste due to the commercial contract between waste collectors and apartment owners and management companies.
The minister said his department are engaging with apartment owners and those in the industry, while also looking at how other countries deal with the issue.
In addition to the new scheme, the minister said a new awareness campaign will also be rolled-out to educate people how to segregate their recycling.
A third of recycling waste is contaminated, he explained, stating that nappies are a big problem.
Just recently, the minister said 160 containers of cardboard en route to China for reprocessing had to be sent back from Rotterdam because of dirty nappies found with the cardboard.
The new campaign aims to create a better awareness among consumers about what can go into the recycling bin.