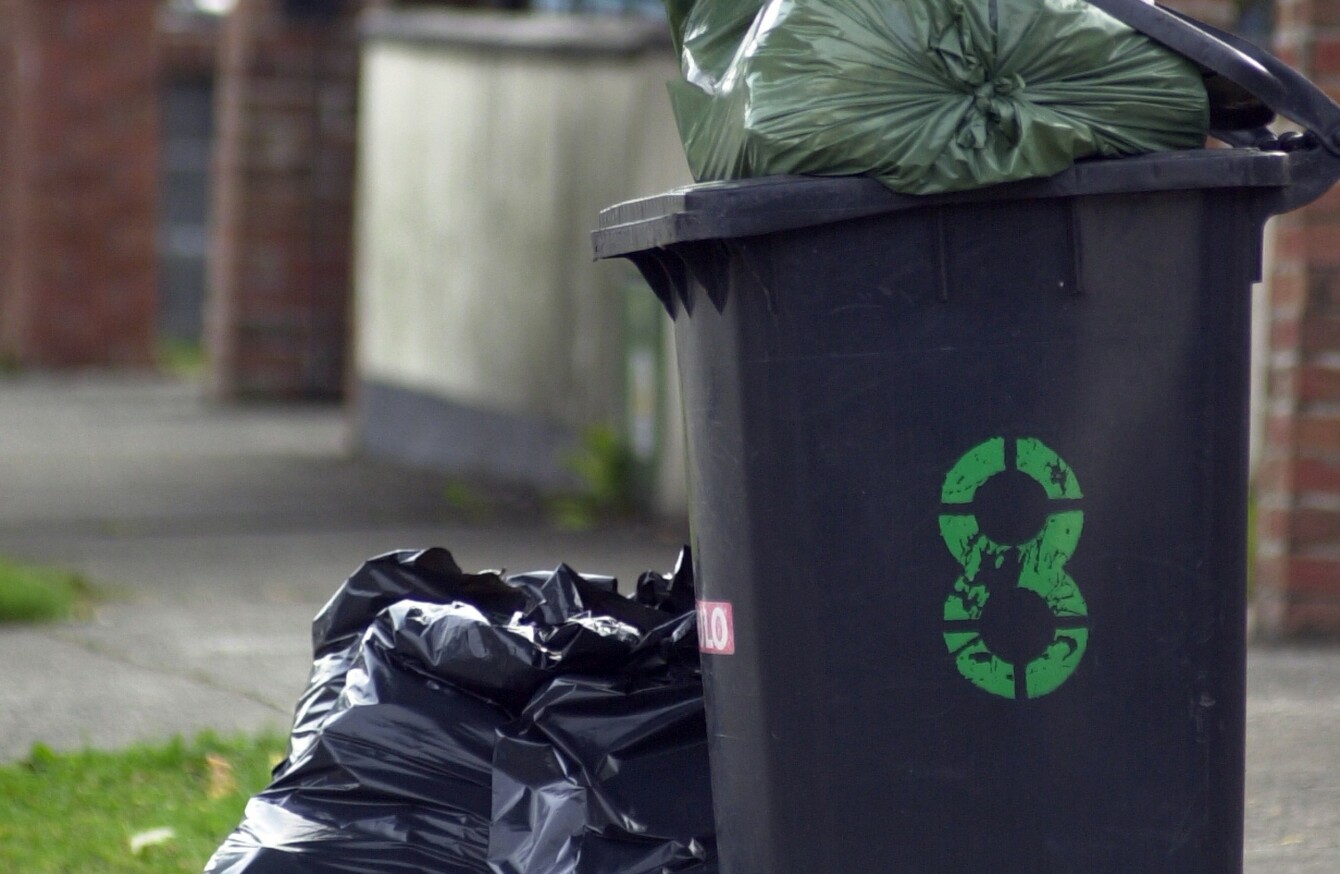 Image: Leon Farrell/Photocall Ireland
Image: Leon Farrell/Photocall Ireland
Updated 2.30pm
FINANCE MINISTER PASCHAL Donohoe has hit out at those trying to block the new bin charges regime today.
It was announced on Tuesday that flat fee bin charges are to be scrapped in a shaking-up of the waste charging regime.
But both Sinn Féin and Fianna Fáil are not happy with the announcement made by Minister for Communications, Climate Action and Environment Denis Naughten, with both parties tabling motions on the issue.
Having sat on local authorities before becoming a minister, Donohoe said questions must now be asked as to what decisions were made "that got us to a point where no local authority will pick up waste".
Hitting out at the parties that want to delay the new charging scheme, he said:
The same people made it impossible for local authorities to be able to afford to pick up waste. They made it impossible because they opposed local authorities charging rates to allow waste collection to be affordable for local authorities.
That is one of the reasons now why not a single local authority picks up waste. These are the same people that having created a role in creating an environment, in which local authorities nowhere in our country can now pick up any waste, they are now the same people who are saying the private sector has no role in it either – well, if that is the case, who is going to pick it up?
Donohoe said he supported Naughten's new approach to waste management, stating that it aims to encourage recycling and encourage greater awareness of waste.
The minister warned that if the industry is seen to bump up prices significantly for customers, there will be consequences.
"If he [Minister Naughten] sees practice taking place over the next period that he is unhappy with he will consider other options in relation to all of that," he said.
Opposition to new scheme 
Yesterday, Sinn Féin deputy leader Mary Lou McDonald TD accused Taoiseach Leo Varadkar of demonstrating a "breath-taking level of indifference towards hard pressed citizens, consumers and families who are struggling to make ends meet".
She accused the Taoiseach of living "in a world where ability to pay isn't an issue".
"This new system will undoubtedly mean higher collection charges for householders," she said.
Now Sinn Féin has announced it will bring a motion to the Dáil during its Private Members time next week which will call on the minister to stop the changes to bin charges.
The party wants the minister to create a model that takes account effectively of the more vulnerable households, such as those with disabilities, which produce more waste, low income households and large families.
It will also call on the minister to consider waste reduction systems to reduce packaging at first instance at producer level, and prevent this being passed on to the individual for disposal.
Frozen
Fianna Fáil, meanwhile, is calling in a motion for waste charges to be frozen until a waste regulator is established. The party's spokesperson on Communications, Climate Change and Environment Timmy Dooley said that there is "deep unease" that the changes "will lead to rocketing prices".
Dooley said that a waste regulator "is desperately needed to ensure that there is no price gouging and fixing in the industry", and so that consumers have someone to complain to if they have issues with their operator.
He also warned that Minister Naughten needs to ensure there is consumer buy-in on the issue, "otherwise he risks seeing further increases in the number of instances of fly-tipping in our communities".
The motion will probably be dealt with on Tuesday, before Sinn Féin's motion. Sinn Féin can then chose if they want to back Fianna Fáil's motion – though the party may not feel it goes far enough.
#Open journalism No news is bad news Support The Journal

Your contributions will help us continue to deliver the stories that are important to you

Support us now
Naughten said that the new scheme will see the "one-size-fits-all" mandatory, nationwide per-kilogramme charging system scrapped.
He told the Dáil the old scheme was unfair and penalised those that recycled.
The 'all-in flat rate' charging for household waste will start to be phased out as customers renew or enter new service contracts. So if your contract is up in August, the new scheme will kick in for you at that time.
Instead, the minister said the customer will be able to control their own bin charges through a number of options.
Under the new arrangement, waste collectors will be given the flexibility to continue to offer, or to introduce, a range of incentivised pricing options to their customers.
These options include the option of standing charges, per-lift, per-kilogramme, weight-bands, as well as weight allowance charges.
All waste collectors will be required to start rolling-out food and organic "brown" bins to all localities nationwide with a population greater than 500 people.
In addition, under the new scheme, annual support of €75 will be introduced for persons with lifelong/long-term medical incontinence. Details on this will be finalised later this year.
But Mary Lou McDonald said that "nowhere within the new charging scheme has the government provided meaningful waiver or alleviation measures for those who will find it difficult to meet the increased charges".
- With additional reporting from Christina Finn