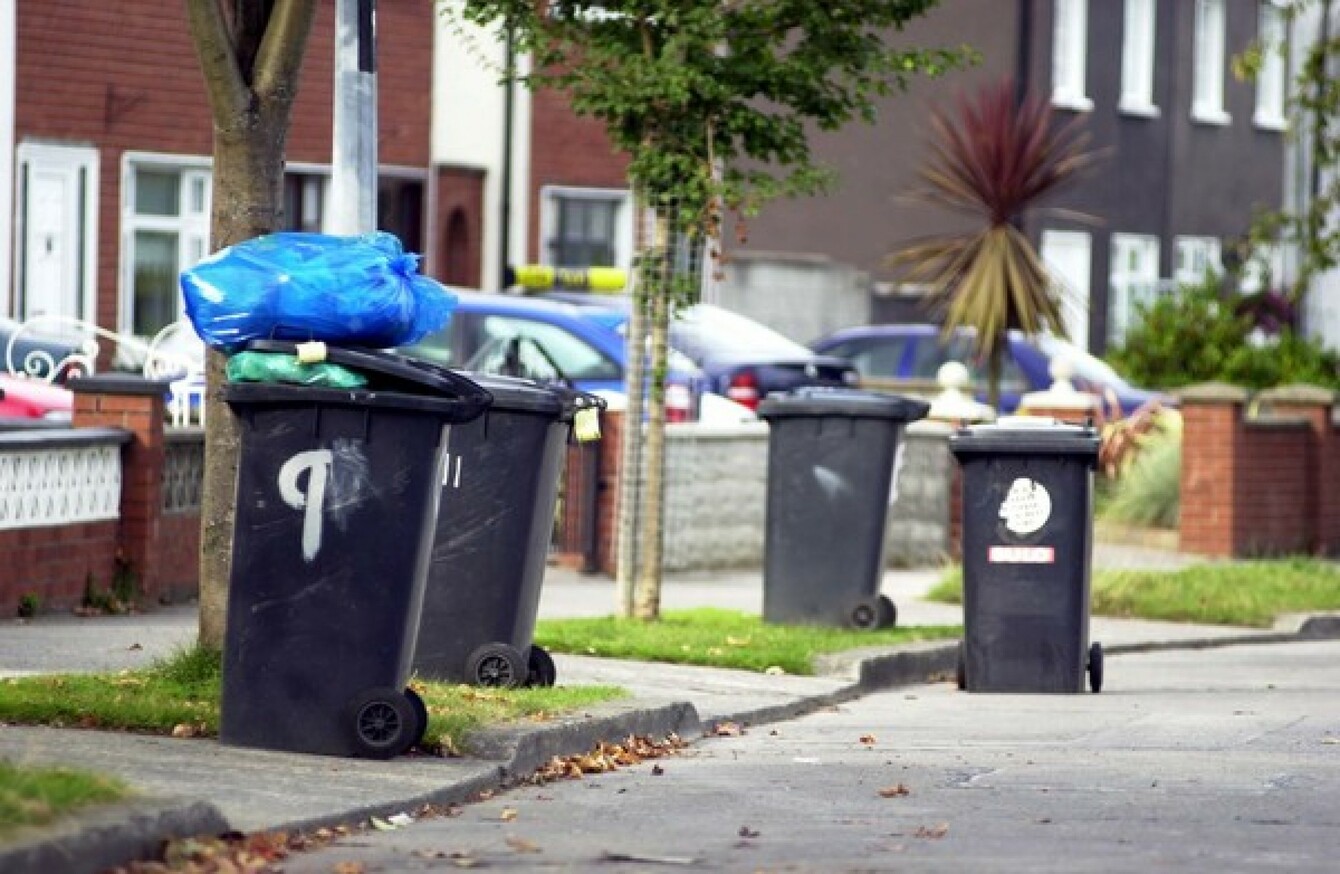 Image: RollingNews.ie
Image: RollingNews.ie
WASTE COLLECTION COMPANIES are starting to charge customers for black bins over a certain weight – without the government's agreement – after the pay-by-weight bin charges system was delayed last year.
Greyhound started charging extra for black bin bags that exceed 42 kilograms (92 pounds) this month. The company says the new charge is part of its fair usage policy to encourage recycling.
Meanwhile, Panda customers have been told that a new weight limit of 40 kilograms (88 pounds) per black bin lift will come into effect from July for health and safety reasons. Panda has 175,000 customers, while Greyhound has 120,000.
The pay-by-weight scheme, which was due to come into place from 1 January, was delayed in the eleventh hour last December amid controversy around bin companies abusing the system.
The debacle resulted in Simon Coveney (who was responsible for the waste collection industry at the time) putting a freeze on bin charges for a period of 12 months.
Announcing the delay of the pay-by-weight scheme in December, the Minister for Communications, Climate Action and Environment Denis Naughten said the reason was because discussions between government officials and the waste industry were ongoing.
However, a spokesperson for the Department told TheJournal.ie that these new charges where bin companies charge customers whose black bins go above a certain weight have not been agreed:
The situation describing black bin bags is not part of any newly agreed terms, as the review has yet to conclude.
Waste collection industry representatives indicated last year that they would not increase regular charges for the 12 months to 1 July 2017 for the same level of service while the introduction of a system to encourage householders to prevent and segregate waste is reviewed.
Health and Safety 
A letter sent to Panda customers in recent weeks explains that "bin men frequently struggle with heavy bins" and that the bin can collapse on top of them if they get the balance wrong.
For a larger image of the letter, click here. 
One Panda customer told TheJournal.ie that he understands that heavy bins could be a risk but that Panda isn't stopping their workers lifting these bins, they are now just charging for it.
In the letter he received, Panda advised him to "present your bin for collection a bit more often so you don't exceed the 40kg maximum".
However, each bin lift costs €9.05.
The customer added that as his black bin currently averages 89.90 kgs, his bin lift would cost just under €23 including the lift charge of €9.05 and 27.7c per kilo past the 40 kg allowance.
It's just an excuse to dramatically increase their revenue off the backs of customers who have no other service providers in the area and are stuck with Panda.
TheJournal.ie contacted Panda but did not receive a response.
#Open journalism No news is bad news Support The Journal

Your contributions will help us continue to deliver the stories that are important to you

Support us now
Environment 
Meanwhile, Greyhound has brought in a 30 cent charge per kilo over the 42kg limit. It says 42kg is well over the average weight and the households being charged rarely use their brown bin.
In a statement to TheJournal.ie, Greyhound said the surcharge will affect less than 2% of its customers.
"Under Greyhound's Fair Usage policy, a small number of customers, less than 2% of our customer base are being charged extra for black bins that exceed 42 kilograms – well above the average weight of a black bin. The surcharge amounts to 30 cents per kilo over the limit."
It added that the customers affected are the ones who don't use their brown bins and that the initiative is to encourage recycling habits and to help the environment.
The households that have incurred this extra charge are customers who rarely, if ever, leave out a brown bin, although they have been provided with this facility. Their brown bin waste is being disposed of in their black bin and, in some instances, in their green.