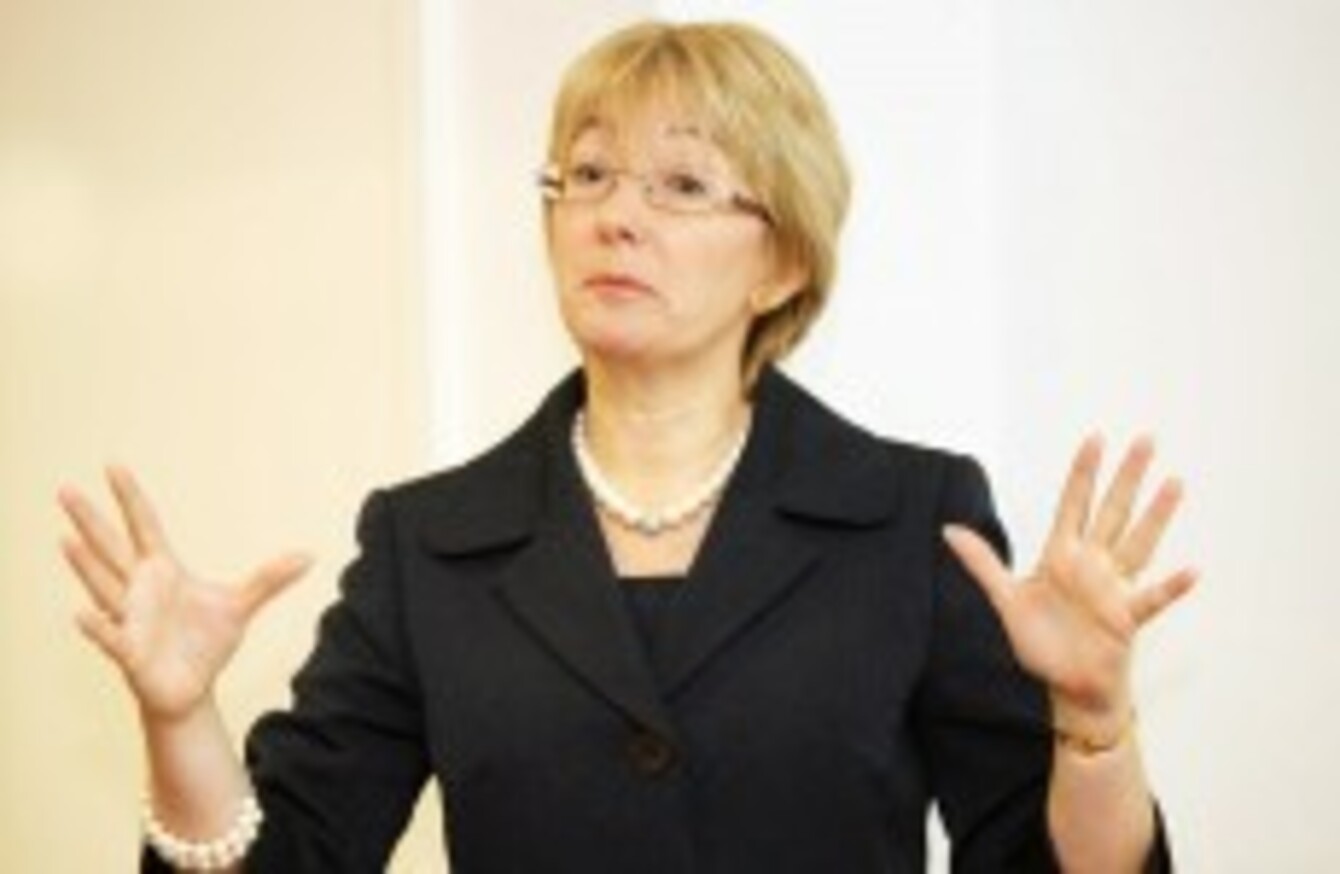 Image: Photocall Ireland
Image: Photocall Ireland
Updated at 12.43pm
FORMER FIANNA FÁIL Minister Mary Hanafin has defied the wishes of the Fianna Fáil leadership, and allowed her name to go forward for this month's local elections.
The ex-TD hit the headlines over the weekend after news of her candidacy emerged.
The party initially approached her last Wednesday to run in the Blackrock ward of Dun Laoghaire-Rathdown, on the basis that polling had shown she could help the Fianna Fáil result.
She agreed on the basis that the existing candidate, Ógra FF president Kate Feeney, was informed. However — the party later changed its mind and asked her to not to allow her name go forward.
On Saturday, Hanafin lodged the official papers necessary — signed by Fianna Fáil general secretary Seán Dorgan.
Noon today was the final deadline for those papers to be withdrawn. However, speaking on RTÉ's Today with Seán O'Rourke just before that deadline, Hanafin confirmed she will in fact be running.
The timeline…
When initially approached last Wednesday, Hanafin said she hadn't agreed to sign up for the race immediately for a number of reasons — including that her father was ill and that she was completing a masters.
She said she had agreed to allow her name go forward on Thursday, and had been given the official nomination papers at that stage.
"I was the one who said 'please make sure that this is all explained to the existing candidate'," Hanafin said. "I said I won't lodge the papers until you do that."
She said she had spoken to party leader Micheál Martin "at tea-time" on Friday, and that he was happy with the state of affairs at that point.
However, late on Friday, she received a call asking her not to allow her name go forward, but says she was given "no good reason" for the u-turn.
Mary Hanafin in Seán O'Rourke's studio today [RTÉ Press]
Hanafin said she felt she ought to lodge her papers anyway the following day, as she hoped the matter could be sorted by holding talks with Feeney and other party officials over the course of the long weekend.
That didn't happen, and then from then-on I was asked to withdraw. It accelerated from then on.
"The portrayal on Saturday was 'here's a former minister muscling in'. Quite genuinely, I wasn't."
Hanafin said she was asked first to withdraw by Dorgan, and that Micheál Martin had asked her three times in total to ask her to pull out — most recently this morning.
She said she had been given "no good reason" to withdraw, whereas, in contrast, she had been presented days earlier with "reputable research" that showed Fianna Fáil had a good chance of attaining two seats in the Blackrock ward.
"Headquarters made a complete hames of it," Hanafin said of the debácle, adding that "my battle is not with Micheál Martin".
Row
Martin is expected to come under pressure over the row from other Fianna Fáil TDs and senators at a meeting of the parliamentary party this lunchtime.
A statement from party HQ on Saturday had said Hanafin had been informed "in the clearest possible terms" that there would only be one candidate in the Blackrock Ward.
The former minister has been outspoken in her criticism of Fianna Fáil's performance in Dublin recently.
"Brutal" and "absolutely appalling" were the choice phrases she used last month.
Throughout her years in government, Hanafin had a range of portfolios – she was Minister for Education and Science (2004), Minster for Social and Family Affairs (2008), Minister for Tourism, Culture and Sport (2010), and Minister for Enterprise, Trade and Innovation (2011).
Contacted via phone and text by TheJournal.ie for comment in the run up to today's noon deadline, Hanfin sent back a simple one-word statement:
"Running."
First posted at midday.