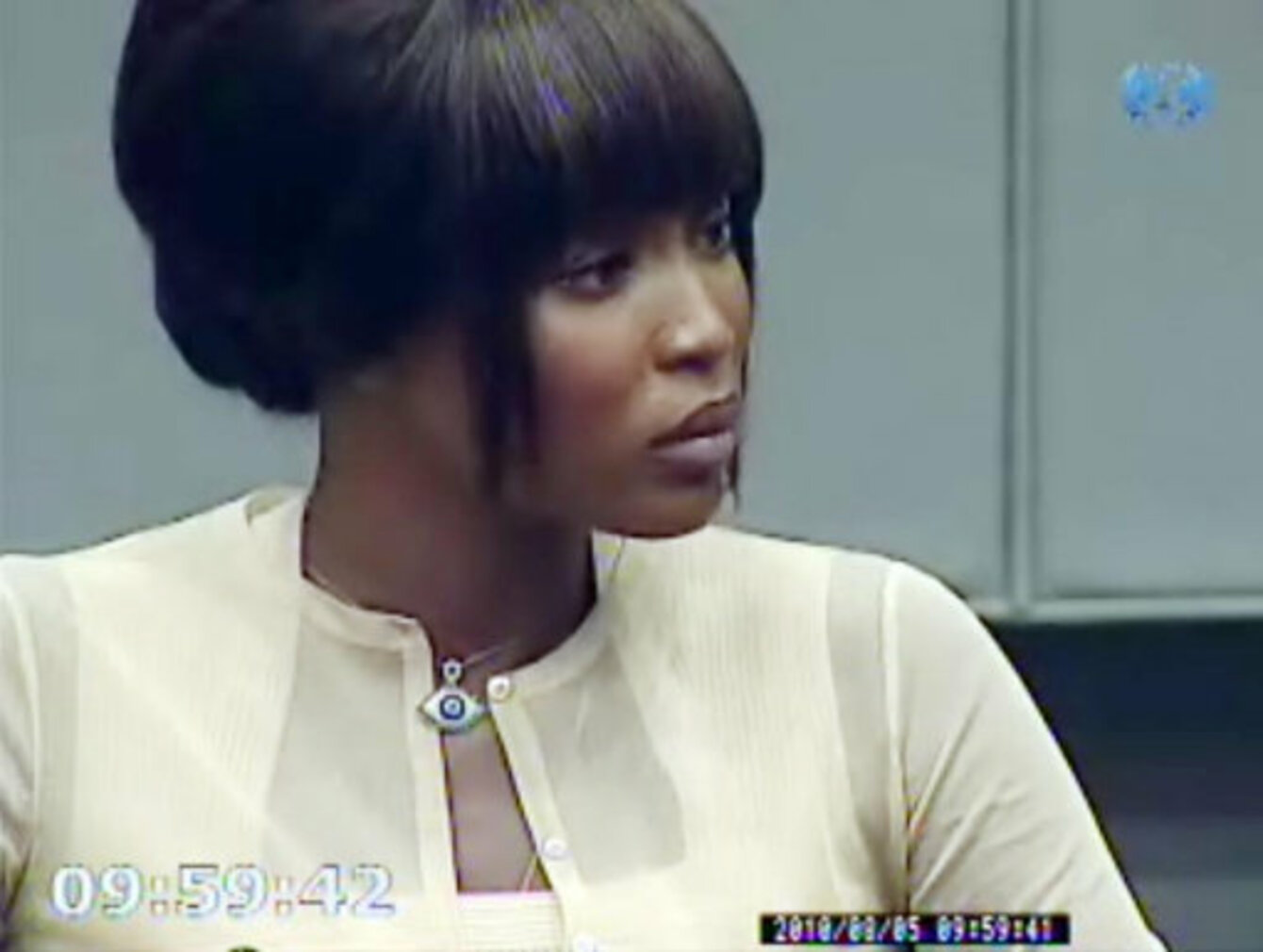 Video grab of Naomi Campbell giving evidence at the trial of Charles Taylor at the Hague
Video grab of Naomi Campbell giving evidence at the trial of Charles Taylor at the Hague
AS NAOMI CAMPBELL's former agent, Carole White, prepares to take to the witness stand at the Hague for the second time today, the only clear thing to emerge from the Blood Diamond trial is that – well, nothing much is terribly clear at all.
In an attempt to sort the diamonds from the dirty pebbles, here's our guide to who's claiming what…so far.
When they first heard about the diamonds:
Naomi says:  When I was sleeping I had a knock on my door. I opened my door and two men were there and gave me a pouch and said: 'A gift for you'. I opened the pouch the next morning when I woke up… I saw a few stones in there, they were very small dirty-looking stones.
Mia says:  Naomi joined us at the breakfast table, but before she sat down, she immediately recounted an event of that evening. She said in the night she had been awakened by some men who were knocking at her door, and that they had been sent to her by Charles Taylor and they had given her a huge diamond.
Carole says: Whilst we were eating dinner, Naomi leant back and Charles Taylor leant forward and Naomi was very excited and told me, 'Oh he's going to give me some diamonds..After dinner we went back to the guest house. Naomi was very excited about the diamonds that were meant to be arriving. She was in communication with some men, including I believe the driver who was due to be bringing the diamonds.

We both went to bed. I heard some pebbles hit my window. I looked down and two guys were there. They said: 'We have something for Miss Campbell – can you let us in?' I woke Miss Campbell. We went downstairs and let the men in. She really wanted to let them in.
They took out a scruffy paper and handed it Miss Campbell and said: 'These are the diamonds'. She opened them and showed them to me.
How many stones were there?
Naomi says: I can't really recall after 13 years. Maybe two or three?
Mia says: Naomi Campbell said 'diamond' – singular. That's what she said. I didn't see the diamond or diamonds.
Carole says: Five or six.
Did Naomi know the stones were diamonds?
Naomi says: If someone hadn't said they were diamonds I wouldn't have guessed right away that they were. When I'm used to seeing diamonds I'm used to seeing them shiny in a box
Mia says: She may not have used the word 'huge' but she did say a diamond.
Carole says: After the men had gone we both discussed the diamonds… She [Naomi] was quite disappointed because they were not shiny… They weren't very big.
Who said they were from Charles Taylor?
Naomi says: At breakfast I told Miss Farrow and Miss White what had happened and one of the two said, well that's obviously Charles Taylor, and I said, yes I guess it was. I think it was Mia Farrow who said there was no-one else at the table that would give such a gift. So the assumption was made. I don't know anything about Charles Taylor. Never heard of him before, never heard of the country Liberia before. I never heard of the term 'blood diamonds' before. So I just assumed that it was (him)
Mia says: Naomi.
Carole says: Naomi told me at dinner. Charles Taylor was smiling and nodding in agreement.
#Open journalism No news is bad news Support The Journal

Your contributions will help us continue to deliver the stories that are important to you

Support us now