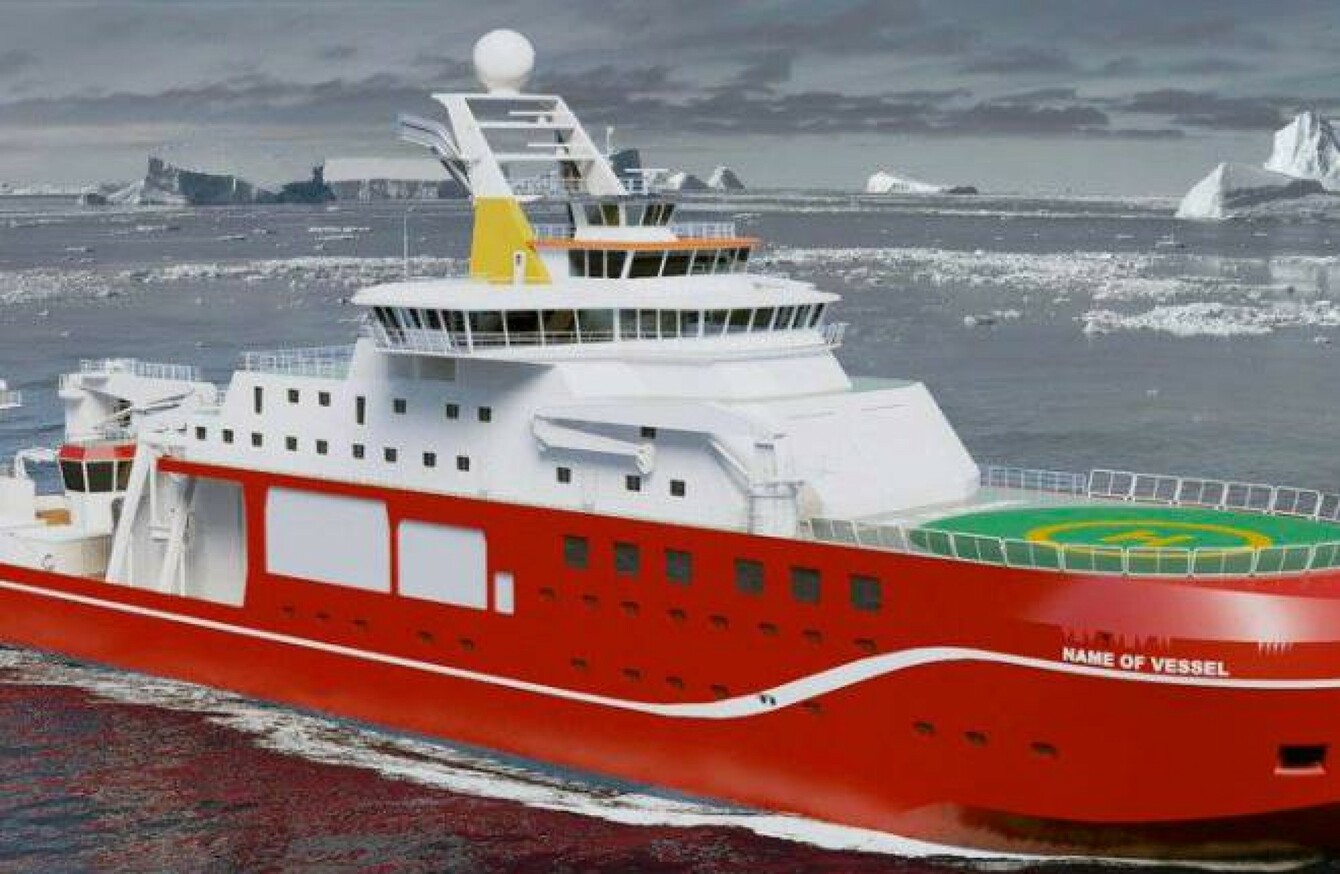 An artist's impression
Image: NERC
An artist's impression
Image: NERC
BRITAIN'S NEW POLAR research ship could end up being called Boaty McBoatface, with the name leading the public vote by several nautical miles.
Former BBC radio presenter James Hand, who came up with the name, said 905 of the thousands of entries were daft — so he thought he would throw in one of his own.
He suggested the name to the Natural Environment Research Council (NERC) last week and since then Royal Research Ship Boaty McBoatface has sailed way ahead of the competition.
Before the voting site crashed under the weight of people trying to have their say, Hand's suggestion was leading with 28,590 votes, far ahead of its closest competitor, which had just over 3,000 votes.
Some of the more unusual suggestions include the RRS Onion Knight, RRS Pingu, RRS Usain Boat, RRS I Like Big Boats And I Cannot Lie and RRS Kanye West.
The £200 million (€255 million) state-of-the-art polar research ship, which will be 128 metres long and weigh 15,000 tonnes, is set to sail in 2019.
"Operating in one of the world's most challenging global environments — our polar regions — we're looking for an inspirational name that exemplifies the work it will do," the NERC said when it launched the naming competition.
The final decision on the new name will be taken by the NERC.
'Delighted with people's enthusiasm'
Alison Robinson, NERC's director of corporate affairs, claimed the council was "delighted" by the public's enthusiasm and "pleased that people are embracing the idea in a spirit of fun".
"We are very much enjoying hearing everyone's ideas," she insisted.
Alan West, a former head of Britain's navy, said: "It's a typical thing of the Brits going mad.
"This is a key bit of research where we are probably leading the world, and we should all be very proud of it," he told BBC radio.
"I'm rather proud that we have silly names going around — but I hope we don't select one."
Hand said he voted for RRS David Attenborough, after the veteran television naturalist.