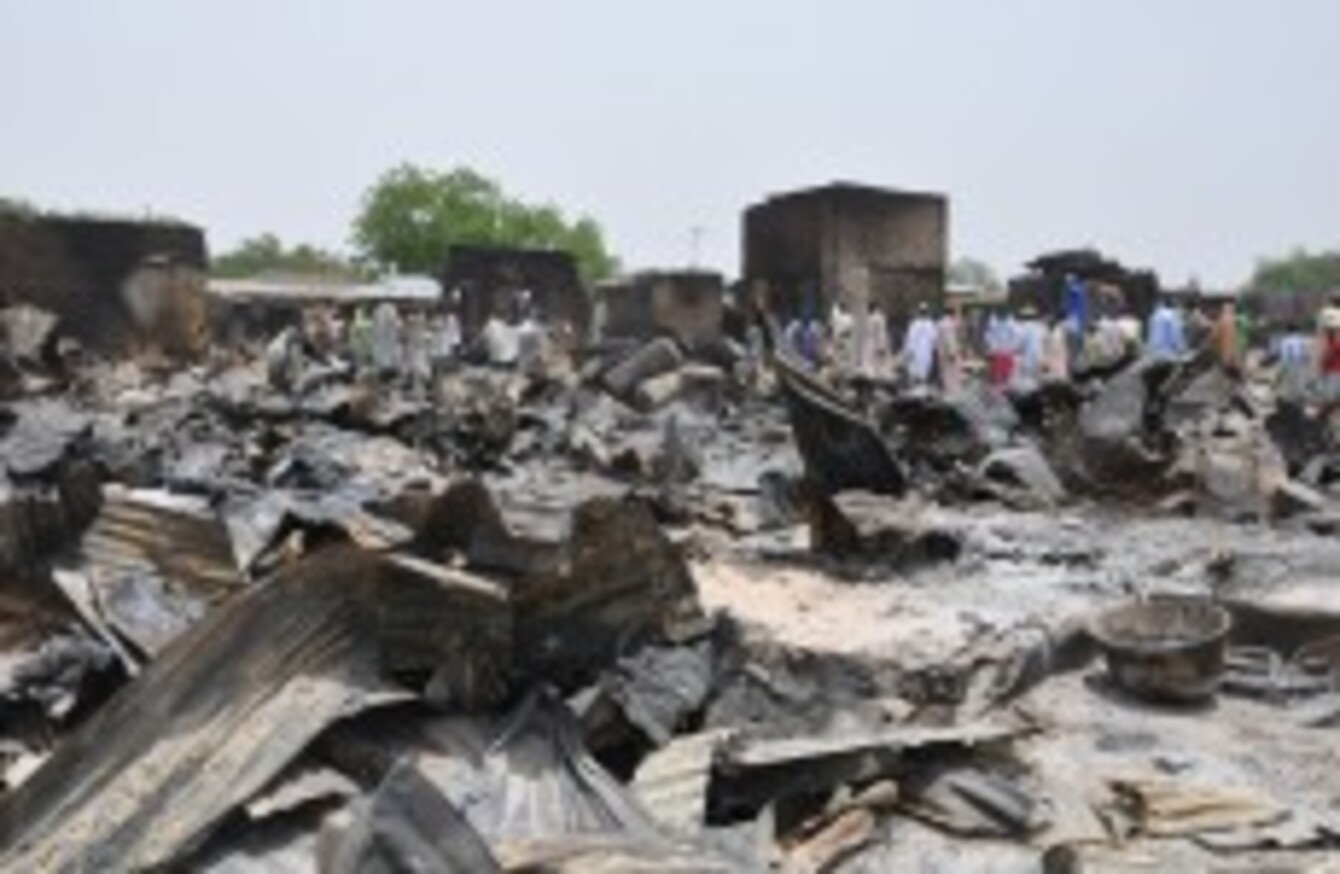 Nigerian people stand outside homes destroyed by Boko Haram. (FILE)
Image: AP/Press Association Images
Nigerian people stand outside homes destroyed by Boko Haram. (FILE)
Image: AP/Press Association Images
BOKO HARAM DESTROYED at least 16 towns and villages, killing at least 100 people in a major attack in northeast Nigeria, local officials said.
The attack comes as President Goodluck Jonathan kicked off his campaign for re-election.
There were fears of heavy casualties in the Wednesday assault in the remote north of Borno state, which came after the militants captured the town of Baga in Borno state on Saturday, forcing at least 20,000 people to flee.
News that the insurgents had returned to the town and surrounding settlements in the Lake Chad region came as Jonathan launched his bid for a second term at a mass rally in Lagos.
But Jonathan, much criticised for his failure to end the Islamist violence, made only passing reference to the insecurity and appeared instead to blame his predecessors for failures in defence spending.
"These people did not buy anything," he told thousands of supporters in a speech at the end of the five-hour long meeting, without mentioning his critics by name.
Jonathan's main opponent, former military ruler Muhammadu Buhari, and his All Progressives Congress (APC) party, have blamed corruption for the inability to end the Boko Haram insurgency.
Soldiers have complained of a lack of weapons and even bullets to tackle the better-armed militants.
Homes razed
Nigerians are due to elect a new president on February 14 but there are fears that polling could be ruled out in swathes of the northeast because of the violence.
The electoral body in Africa's leading economy and most populous nation maintains, however, that there are no plans to postpone the vote.
In a fresh indication of the scale of the rebellion, Musa Bukar, head of the Kukawa local government area, said petrol bombs and explosives were used to destroy Baga and nearby settlements.
"We have over 20,000 people displaced from Baga and surrounding villages in a camp in Maiduguri and we are making arrangements to convey another 10,000 from Monguno where they ran to," he added.