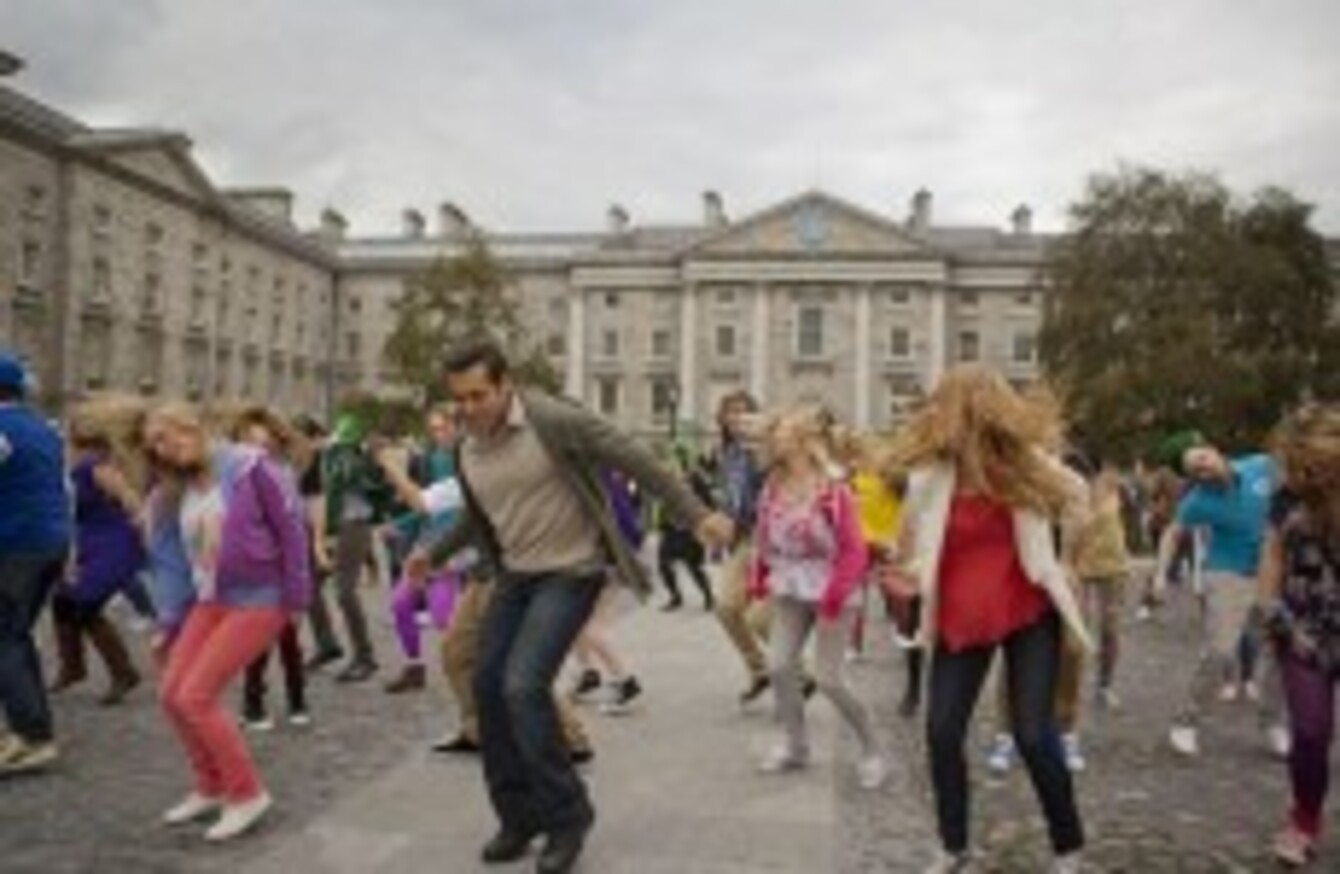 An on-set shot from 'Ek Tha Tiger' - filmed here in 2011
Image: Tourism Ireland
An on-set shot from 'Ek Tha Tiger' - filmed here in 2011
Image: Tourism Ireland
DIRECTORS, PRODUCERS AND location scouts from the Indian film industry have arrived in Dublin to begin exploring possible locations for future Bollywood movies.
They'll be checking out locations in Dublin first, including Stephen's Green, Dublin Castle, Trinity College, Temple Bar and the Ha'penny Bridge – before moving on to the West, and sights like the Cliffs of Moher, Kenmare and the Dingle Peninsula.
The producers will then conclude their visit in Northern Ireland, where they'll look at Titanic Belfast, the Carrick-a-rede Rope Bridge and Dunluce Castle.
A Bollywood film shot on location in Dublin in 2011 – Ek Tha Tiger – became one of the biggest-grossing movies ever in India and was seen by an estimated 100 million cinema-goers. An impeccably choreographed (and completely unbelievable) fight scene staged in Dublin city centre locations and atop a moving Luas tram became a viral hit in Ireland after it was released at the end of last year:

The visit is taking place at the invitation of Tourism Ireland and the Irish Film Board. The tourism body is hoping that future Irish-set Bollywood projects will help "significantly boost awareness of Ireland among India's growing middle classes who have the potential to come here on holidays". According to CEO Niall Gibbons:
Films shot on location here, like Ek Tha Tiger, are really influential – helping to increase awareness of Ireland, to whet appetites among Indian travellers who are always on the look-out for new destinations and create a curiosity to come and visit the places where the film was shot.
The group of Bollywood producers and location scouts pictured on the rooftop of Dublin's Westbury Hotel
Ek Tha Tiger (Once There Was a Tiger) was shot in Trinity College and various other Dublin locations in autumn 2011, and stars two of the Indian film industry's biggest stars, Salman Khan and Katrina Kaif.
Its plot centres on an Indian secret agent's efforts to investigate a Trinity scientist suspected of selling information about missile technology to Pakistan. The agent, played by Khan, falls in love with the professor's assistant (Kaif) who is also studying dance at the city centre college.
Since its release last year, the movie has become the second highest grossing Bollywood film of all time – taking a worldwide box office of around €40 million.