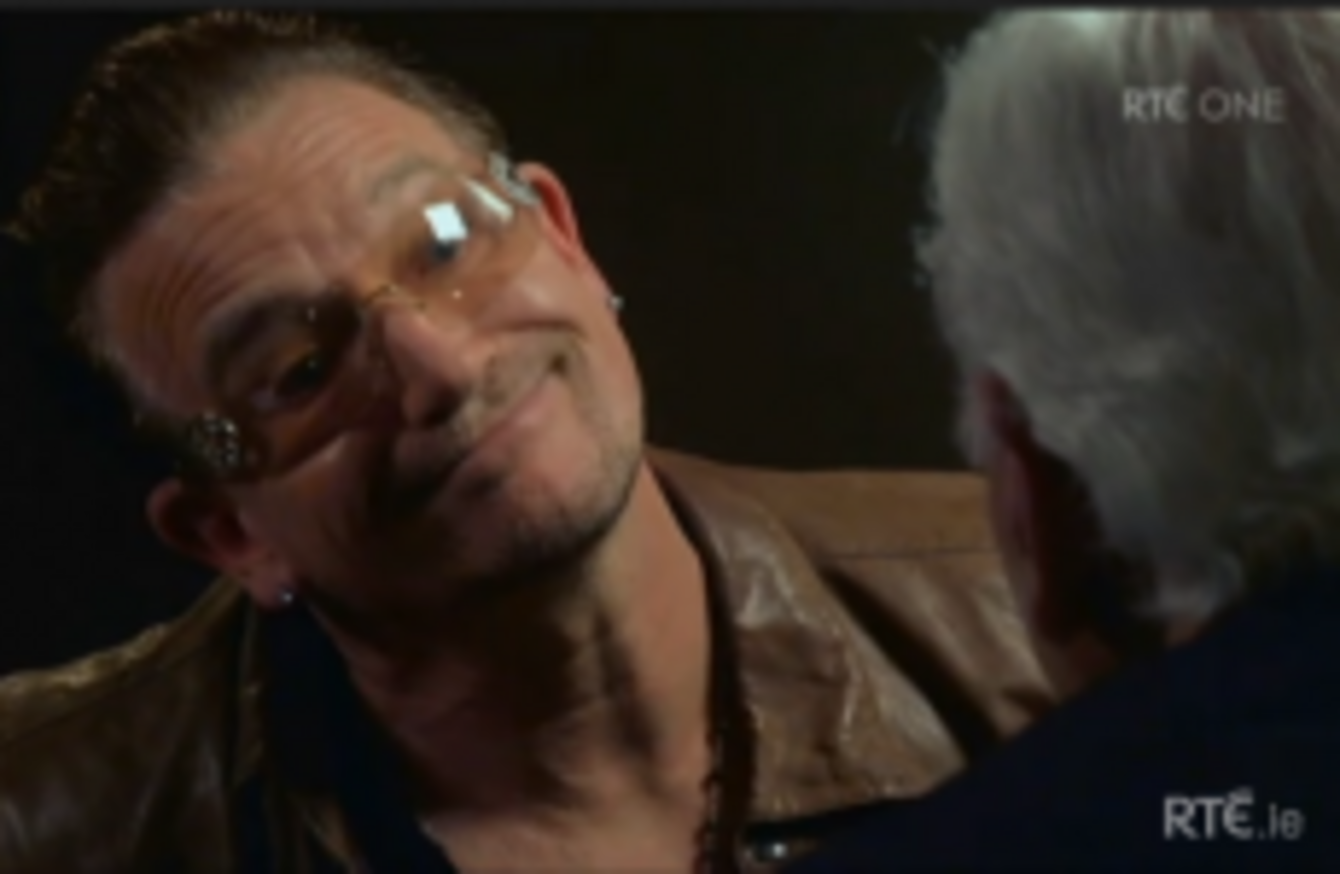 The singer pictured during an interview with Gay Byrne last month
Image: RTE screengrab
The singer pictured during an interview with Gay Byrne last month
Image: RTE screengrab
BY THIS STAGE, one imagines, Bono must be growing a little tired of picking up awards and honours.
However, in spite of once famously describing former President of France Jacques Chirac as a "w*anker" over the leader's decision to test nuclear weapons in the South Pacific, it appears – these days – that the U2 singer is in no mood to turn down an invitation from the French Government.
According to the Ministry of Culture and Communication, he will be made a 'Commander of the Order of Arts and Letters' in a ceremony in Paris later this evening.
The Killiney resident can add the distinction to a long list of honours for his humanitarian and musical work. Among that list are an honourary knighthood from Britain, and France's Legion d'Honneur (awarded, it must be said, during Chirac's time in office – so it appears he wasn't one to bear a grudge!).

(Youtube: U2 – Vision over Visibility)
As part of U2, he also picked up the 'Freedom of Dublin' in 2000. He and The Edge made the most of the privileges afforded to them too – the day after the ceremony they brought 'their' sheep to Stephen's Green to "graze freely on the common pasture of the city".
Unfortunately for Bono, one of his flock – perhaps unnerved by the cameras – marred the occasion somewhat by relieving itself on the singer's jacket. Fortunately for us, the moment will be replayed in Irish homes for as long as RTÉ exists, as part of Reeling In The Years 2000…

(Youtube: swgarrett1980)