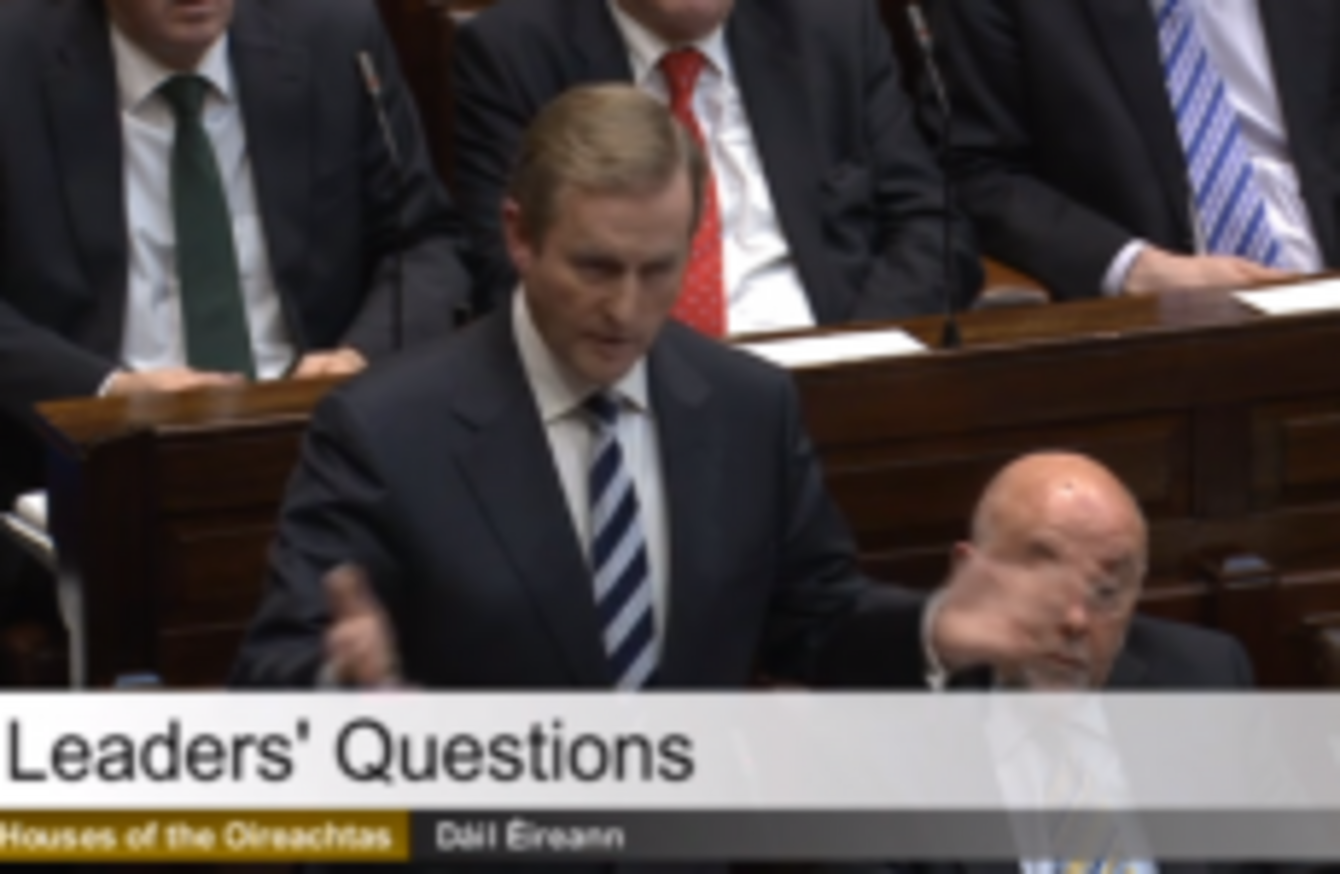 Enda Kenny at Leaders' Questions this afternoon
Image: Screengrab via Oireachtas TV
Enda Kenny at Leaders' Questions this afternoon
Image: Screengrab via Oireachtas TV
THE TAOISEACH HAS been told that "the bonus culture is back" and "alive and well" in Irish Water by the Fianna Fáil leader Micheal Martin.
Speaking at Leaders' Questions in the Dail this afternoon, Martin raised the issue of bonuses being paid to staff at Irish Water, the new State utility that has been the subject of controversy in recent weeks, and asked Enda Kenny why the government approved the bonuses.
Kenny described the payments as "performance pay" and said that they would be paid on the basis of staff in Irish Water "achieving a particular set of criteria and targets".
He said he has asked the Minister for Environment "in the interests of transparency and accountability" to have the Irish Water chief executive, John Tierney, supply him with the criteria for the payments so that "everybody will understand what is involved if an employee is to achieve an output of work that would allow him or her to achieve a performance pay rating".
He said Tierney will be happy to lay out the information and pointed out that Irish Water "will be scrutinised by the Oireachtas here and by civilian society because it's subject to the Freedom of Information Act".
But Martin responded: "The bonus culture is back, is basically what you're saying and it's alive and well in Irish Water."
'Cannot continue'
Martin said that bonuses had been approved despite the objections of government ministers and claimed the coalition went against its own advice in setting up Irish Water as a subsidiary of Bord Gais, something a report from Pricewaterhouse Coopers had advised against.
Kenny said that the present situation with water provision cannot be allowed to continue, saying that 18,000 people on public water supplies have to either boil their water or have restrictions in place and that supply in Dublin is at 96 per cent.
"This cannot continue and it shouldn't continue," he said.
Sinn Féin's Gerry Adams said that "what passes for a public health service is crumbling before our eyes" and called on the Taoiseach to reverse cuts to the sector this year.
Kenny said that Adams's comments that "the health service is crumbling" were "an insult" to people working on the frontline.
He said that the number of people on trollies in hospitals is 40 per cent lower this year than two years ago and said the actions of Health Minister James Reilly have "brought about improvement".
For the Technical Group, WUAG TD Seamus Healy raised the issue of pylons and the Eirgrid consultation process, citing health concerns and a letter that James Reilly sent to his Cabinet colleague, Pat Rabbitte.
Kenny pointed out that Reilly's letter concerned underground cabling and said that it was important to analyse the submissions to Eirgrid which he noted have numbered over 30,000.