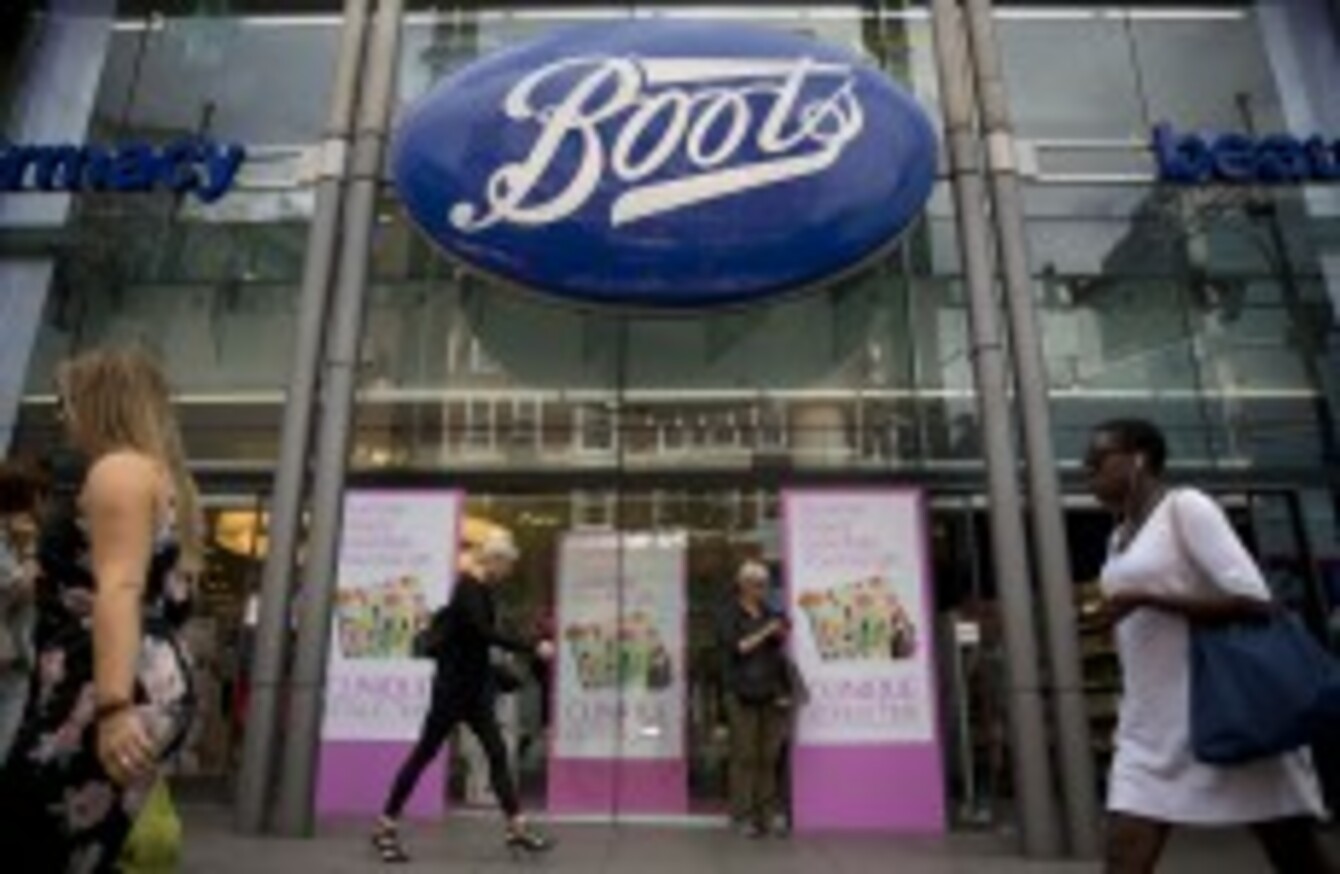 Image: AP/Press Association Images
Image: AP/Press Association Images
PHARMACY CHAIN BOOTS has been fully taken over by US retailer Walgreen in a deal worth €3.9 billion, plus shares.
The agreement will see the American powerhouse brand take over the 55% of the company that it doesn't already control.
Walgreens originally bought into the UK chemist in 2012.
The pharmacy chain, which was established in the UK in 1849, has been present in Ireland since 1996. There are currently 74 Boots stores in Ireland, and the company employs over 2,000 people here.
Walgreens said that it expects to achieve around $1 billion (€750 million) in efficiencies as part of the merger.
No inversion
Unlike a rake of recent transatlantic corporate marriages, including AbbVie's takeover of Dublin-based Shire and US medical device manufacturer Medtronic's purchase of Irish player Covidien, there will be no 'tax inversion' element to the deal.
Tax inversion, which is the practice of head-quartering a new joint venture between companies in a non-US jurisdiction to avoid paying the higher rate of corporation tax in America, has come under sustained political attack in the US in recent weeks.
Speculation that the US may move against companies that have gone through with inversion deals has been rife, pushing the share value of some players down.
In a recent speech on inversion by US President Barack Obama, Ireland was the only country explicitly named.
However, the new combined Boots/Walgreens outfit will have its HQ in the Chicago are and will be domiciled in the US.
In a statement, Walgreens said that it had "evaluated the possibility of combining…under a foreign parent company in an 'inversion' transaction".
However, Walgreens president Greg Wasson said that his team had decided not to press ahead with an inversion as they lacked "the requisite level of confidence that a transaction of this significance would need to withstand extensive IRS review and scrutiny".
As a result the company concluded that it was not in the best long-term interest of our shareholders to attempt to re-domicile outside the US.