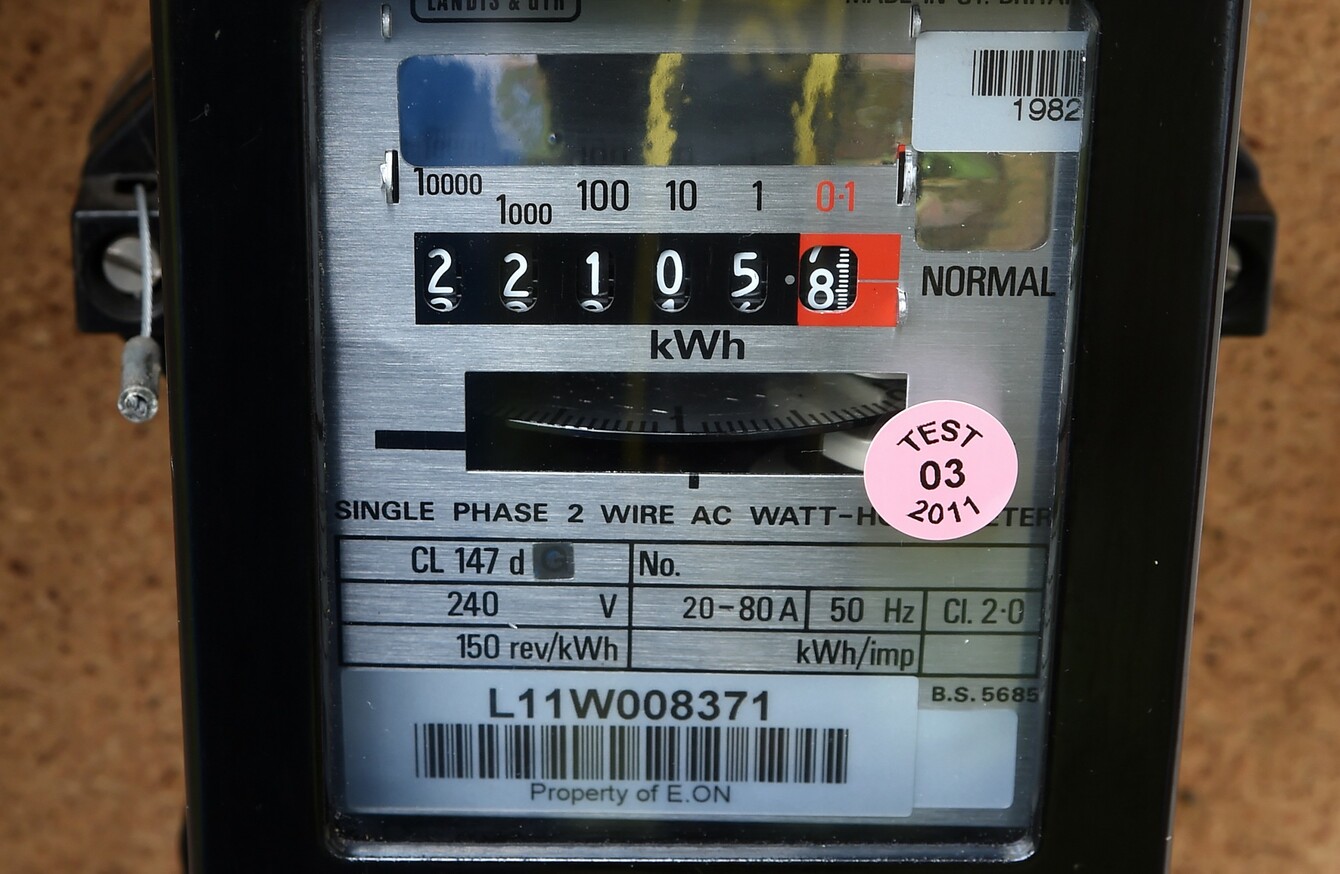 File photo of electricity meter
Image: PA Wire
File photo of electricity meter
Image: PA Wire
A DUBLIN GRANDFATHER who offered a "cheaper" energy service to householders by tampering with their ESB and Bord Gáis meters will be sentenced later.
Detective Garda David Ennis said one woman told gardaí that James McLoughlin (42) had interfered with her meter to allow a free flow of gas into her house for €100.
The woman said McLoughlin had advised her to top the meter up by €10 a week and Bord Gáis "won't come near you".
McLoughlin, of Summer Street South, pleaded guilty at Dublin Circuit Criminal Court to criminally damaging two Bord Gáis meters and an ESB meter at Summer Street South between 2 July 2013 and 25 February 2014.
He also pleaded guilty to possessing a stolen Bord Gáis meter at his address on 25 February 2014 and to interfering with a Bord Gáis meter and ESB meter between 26 June 2013 and 25 February 2014.
He further pleaded guilty to interfering with a Bord Gáis meter at Benbulbin Road, Drimnagh between 1 March and 31 May 2013.
McLoughlin has 42 previous convictions, including road traffic and theft offences.
Engineers from Bord Gais (now Ervia) and the ESB told gardaí that McLoughlin's activities had been extremely dangerous, with risk of electrocution, gas leaks and explosion.
Det Gda Ennis said McLoughlin, who was not qualified to work with meters, had offered householders a "cheaper" energy service than the suppliers.
The detective told Garrett McCormack BL, prosecuting, that he and colleagues set up surveillance on McLoughlin in 2013 after receiving confidential information about a person tampering with meters.
Gardaí observed McLoughlin visiting a number of houses and got a search warrant for his address. A Bord Gáis engineer attended the search and discovered two stolen gas meters on the property.
Det Gda Ennis said McLoughlin "exercised his right to silence" on his arrest following this search.
The detective said investigators returned to the house in February 2014 to rearrest McLoughlin after discovering his fingerprint on a gas meter on Benbulbin Road.
He said the Benbulbin Road address had been written in a diary found during the first raid on his home.
The householder at this premises described how she had paid McLoughlin €100 for a "service".
A Bord Gáis engineer found two more stolen meters during a second search of McLoughlin's house in February 2014.
An ESB engineer also discovered that an electricity meter had been drilled to stop the recorded usage at the premises.
Det Gda Ennis said this engineer had to fit a tamper-proof ESB meter, while Bord Gais had to take extra measures to prevent McLoughlin from interfering with the gas supply.
The detective agreed with Damien Colgan SC, defending, that gardaí had not been prohibited from entering his client's house a second time though they had no search warrant.
Mr Colgan submitted to Judge Sarah Berkeley that McLoughlin, a qualified plumber, had made efforts to deal with his "issues". He said his client also suffered from depression.
Judge Berkeley acknowledged that McLoughlin has serious mental health and addiction problems and adjourned the case for a probation and community service report.
Comments are closed as legal proceedings are ongoing.