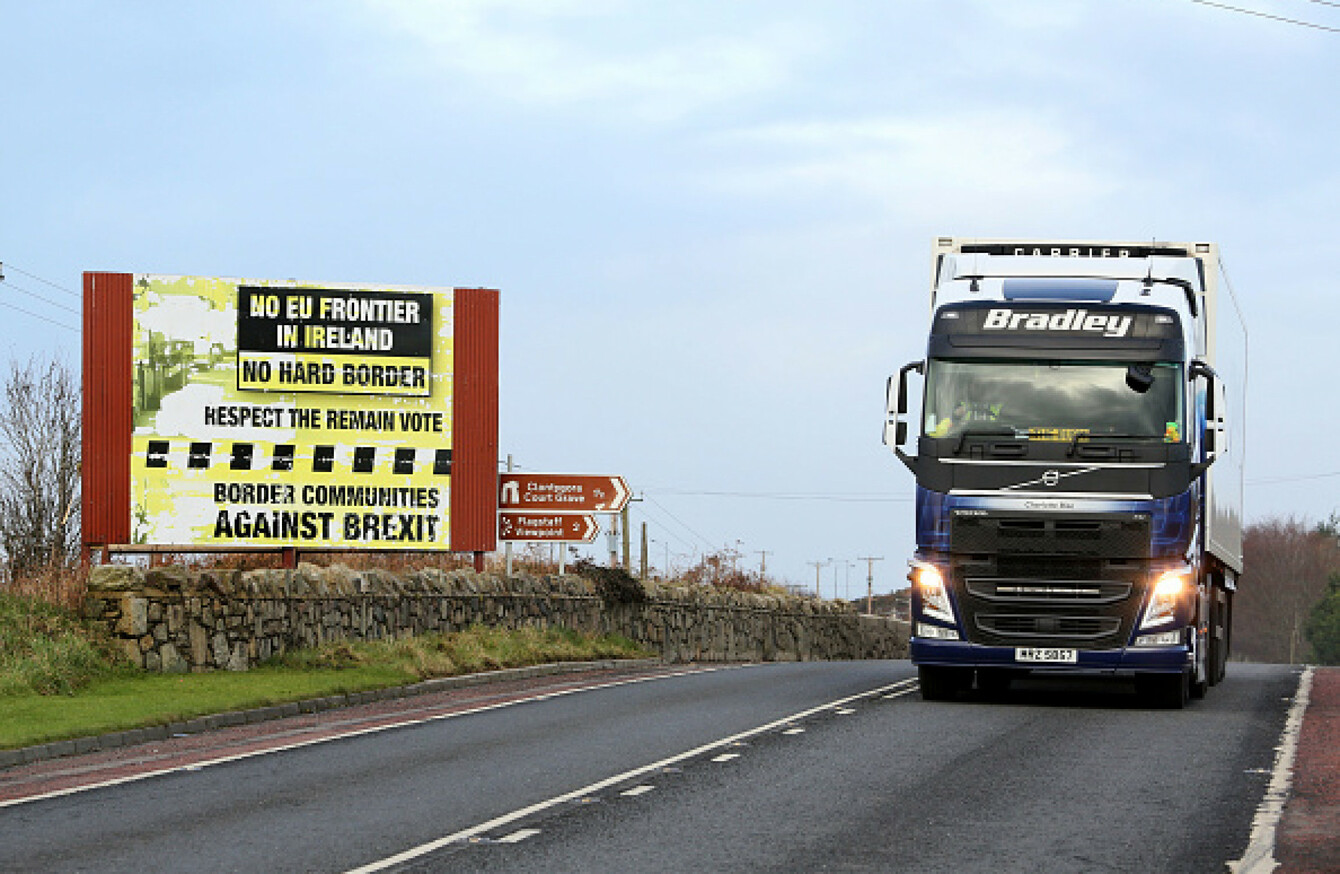 A truck crosses the border at Armagh.
Image: Getty Images
A truck crosses the border at Armagh.
Image: Getty Images
THERE IS AS yet "no evidence" to suggest that an invisible border on the island of Ireland will be possible after Brexit, a group of MPs has warned.
The warning came from the House of Commons' Northern Ireland Affairs Committee which also said that the UK government "will not have the time" to implement anything substantial before the planned withdrawal date.
The planned withdrawal date is 29 March 2019 but the UK government has suggested a two-year implementation period thereafter.
The committee is made up of MPs from the Conservatives, Labour and the DUP.
In a report on the border issue published today, the committee welcomed the proposal for a phased implementation period but pointed to other concerns.
Among them, the concern that no technological solution that would eliminate the need for customs posts has been presented.
"We have, however, had no visibility of any technical solutions, anywhere in the world, beyond the aspirational, that would remove the need for physical infrastructure at the border," the report stated.
We recommend the government bring forward detailed proposals, without further delay, that set out how it will maintain an open and invisible border.
The report went on to say that it has "seen no evidence to suggest that, right now, an invisible border is possible."
"The government's proposals for technical solutions represent blue sky thinking but it will not have the time to implement anything substantial before withdrawal day," the report added.
Last month, the European Commission published a draft text of an agreement that would see Northern Ireland remain part of the EU customs union if the UK did not devise a solution for the border.
The UK government has consistently stated it is also opposed to a hard border and does not plan to erect customs posts between the North and the Republic.
Earlier this month, Taoiseach Leo Varadkar rejected a suggested by British Prime Minister Theresa May that the US/Canada border could provide a template for the border on the island of Ireland.