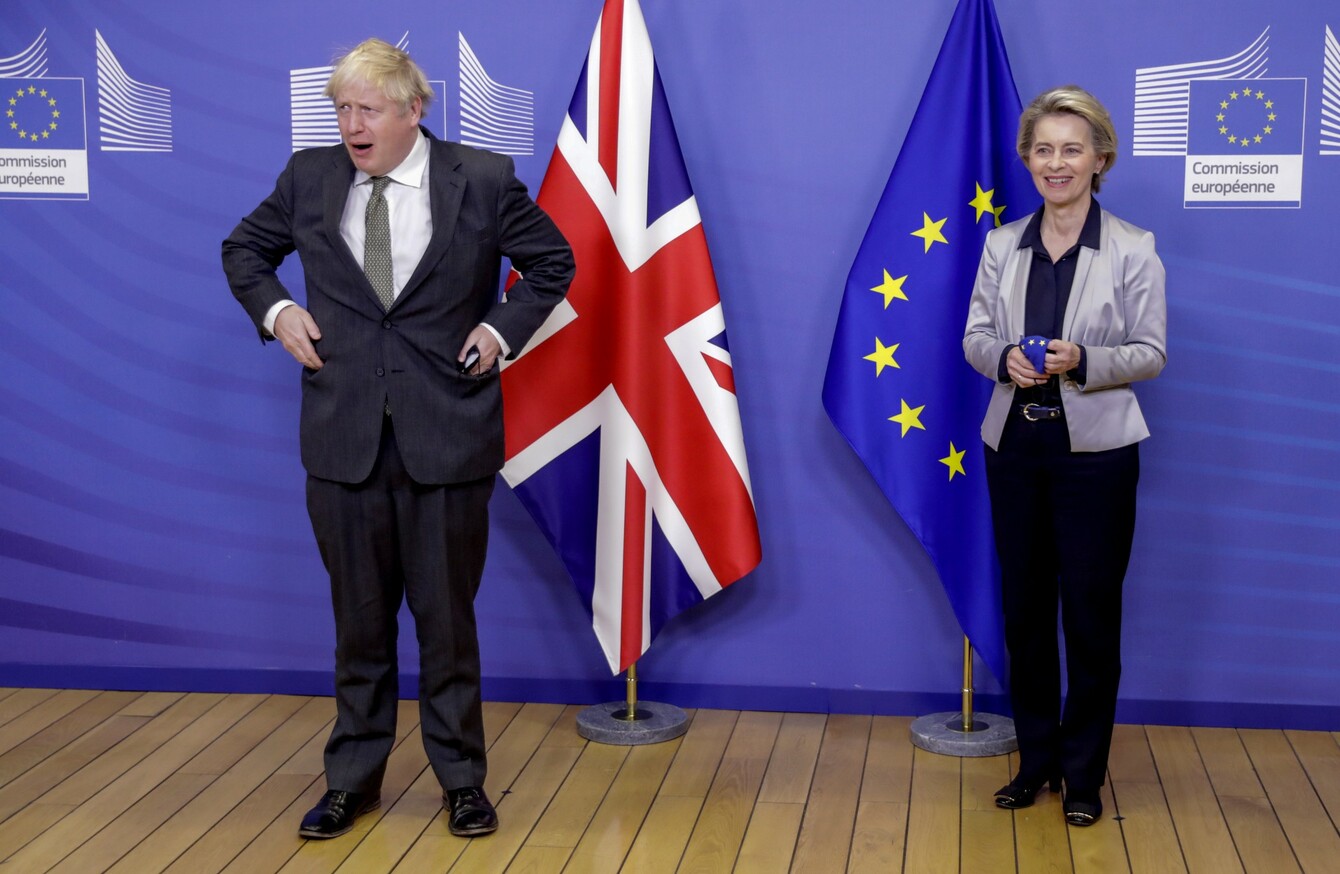 European Commission President Ursula von der Leyen welcomes British Prime Minister Boris Johnson to Brussels.
Image: Olivier Hoslet via PA Images
European Commission President Ursula von der Leyen welcomes British Prime Minister Boris Johnson to Brussels.
Image: Olivier Hoslet via PA Images
Updated Dec 9th 2020, 10:44 PM
BRITISH PRIME MINISTER Boris Johnson and European Commission chief Ursula von der Leyen have agreed to decide by Sunday whether their Brexit talks are worth continuing, Downing Street said, noting "very large gaps" still remain.
The two leaders met this evening to try to salvage negotiations following stalled talks just weeks ahead of the end of the transition period on 31 December.
Over a lengthy dinner in Brussels, the two leaders "had a frank discussion about the significant obstacles which remain in the negotiations", a senior Number 10 source said.
"Very large gaps remain between the two sides and it is still unclear whether these can be bridged."
The leaders agreed to further discussions by their negotiating teams "over the next few days", the source said.
"The PM does not want to leave any route to a possible deal untested.
"The PM and VDL agreed that by Sunday a firm decision should be taken about the future of the talks."
In a statement after the meeting, European Commission president Ursula von der Leyen said: "We had a lively and interesting discussion on the state of play across the list of outstanding issues.
"We gained a clear understanding of each other's positions. They remain far apart.
"We agreed that the teams should immediately reconvene to try to resolve these essential issues.
"We will come to a decision by the end of the weekend."
We had a lively & interesting discussion on the state of play on outstanding issues.

We understand each other's positions. They remain far apart.

The teams should immediately reconvene to try to resolve these issues. We will come to a decision by the end of the weekend. pic.twitter.com/jG0Mfg35YX

— Ursula von der Leyen (@vonderleyen) December 9, 2020
Stumbling block
The so-called level playing field has been a key stumbling block in the talks, as has the extent of EU access to British fishing waters.
Johnson said Brussels' proposals on fishing would mean Britain would be "the only country in the world not to have sovereign control over its fishing waters".
"These are not terms that any prime minister of this country should accept," he told MPs in his weekly question and answer session.
Britain formally left the EU on 31 January, nearly four years after a referendum on membership that divided the country and paralysed politics.
The end of a transition period, designed to allow both sides to thrash out the terms of their new relationship, is approaching on 31 December, making agreement on a deal more urgent.
Whatever happens, Britain will leave the European customs union and single market. Johnson said deal or no deal, the country will "prosper mightily".
By retaking control of UK money, borders and laws, "we will seize all of the opportunities that Brexit brings", he said.
But Johnson is under strong pressure from businesses, which want greater clarity on the new rules that will apply from 1 January.
Dinner
The Prime Minister and the EU chief were to discuss ongoing attempts to reach a breakthrough on a post-Brexit trade deal, although the meal was a formal negotiating session.
Ahead of the meeting, Von der Leyen said that she was "looking forward" to welcoming the British Prime Minister, tweeting: "We will continue our discussion on the Partnership Agreement."
Downing Street hoped the dinner could pave the way for talks between negotiators Barnier and his UK counterpart David Frost to resume, but there were warnings that Johnson and von der Leyen must find the will to break the deadlock first.
However, Taoiseach Micheál Martin told the Dáil yesterday that the move should not be interpreted as a signal that a deal was imminent.
Tánaiste Leo Varadkar told RTÉ's Morning Ireland that yesterday was a "historic day" that would ensure the Northern Ireland Protocol would be respected regardless of the outcome of trade talks.
The Fine Gael leader also said he agreed with a previous suggestion by Martin that there was a "50-50″ chance of a deal being reached.
"I think that assessment is correct," Varadkar said.
At the Fine Gael parliamentary party tonight, Varadkar said the divorce deal agreed with former Prime Minister Theresa May three years ago had proved to be bulletproof.
This is based on there being no hard border on the island of Ireland and access to the European Single Market and Common Travel Area have been protected.
The Fine Gael leader told party colleagues that this progress was made because of EU solidarity and unity.
Varadkar added that there may not be a breakthrough on trade negotiations tonight, but negotiations would continue. 
The EU's chief negotiator Michel Barnier warned the bloc's foreign ministers that he now believes a no-deal Brexit is more likely than a trade agreement being reached by the end of the transition period on 31 December.
Leaders of the EU's 27 member states will gather in Brussels tomorrow for a two-day summit, potentially giving further political impetus for a deal.
Senior UK Cabinet minister Michael Gove said this morning that the EU will have to give ground if there is to be any hope of a breakthrough in the crunch talks.
Asked about Barnier's assessment, he said: "No, I don't think it is right to say that yet."
"I think that tonight there is an opportunity for the Prime Minister and Ursula von der Leyen, and they have a good relationship, to thrash out a potential way through," he told BBC Radio 4.
Gove also said that von der Leyen would "want to ensure that all EU member states recognise that a deal is in everyone's interest and that will require a degree of movement for some on the EU side".
#Open journalism No news is bad news Support The Journal

Your contributions will help us continue to deliver the stories that are important to you

Support us now
That comment could be seen as a reference to French warnings that President Emmanuel Macron could veto a deal, with Paris especially concerned about the issue of fishing rights – one of the main obstacles to an agreement
Talks paused
The EU and UK are hoping to establish a trade relationship with zero tariffs and zero quotas, which would avoid further disruptions from 1 January.
Talks between Frost and Barnier paused after both sides moved as close towards a deal as political red lines would allow.
Though a deal is reportedly 97% agreed, political leaders must make decisions on the final issues.
Negotiations have faltered on the same issues that have plagued negotiations from the start: fishing rights; the level playing field measures aimed at preventing the UK undercutting the EU on standards and state subsidies; and the way for trade disputes to be discussed and resolved.
Johnson said yesterday that trade talks with the EU are proving "very tricky", but that he hoped the "power of sweet reason" would triumph.
A spokesperson for the Prime Minister also said that Frost was set to return to London last night to discuss the remaining differences in reaching a free trade deal with Johnson.
Today's meeting between Johnson and von der Leyen follows an announcement yesterday by the UK that it would drop clauses in the Internal Market Bill that would have allowed ministers to break international law.
It means that the Northern Ireland Protocol – which would mean goods travelling from Britain to Ireland via the North will be checked after they cross the Irish Sea – can be implemented in practice. 
With reporting from Gráinne Ní Aodha, Press Association, and AFP.