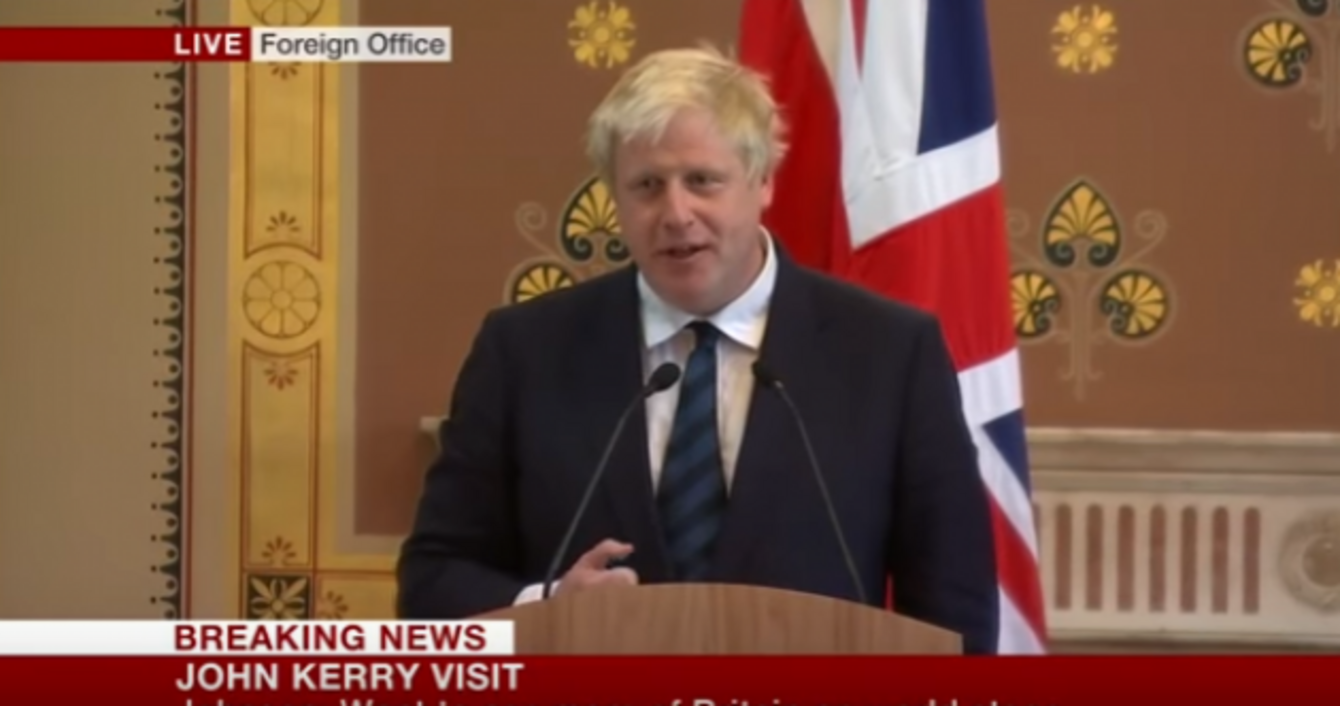 Britain's Foreign Secretary Boris Johnson
Image: BBC
Britain's Foreign Secretary Boris Johnson
Image: BBC
Source: Huffpost Story/YouTube
BRITAIN'S NEW FOREIGN minister Boris Johnson resorted to Latin earlier today as he attempted to bluster his way past questions about his history of undiplomatic language.
Appearing in London with his US counterpart John Kerry to reaffirm the value of the trans-Atlantic "special relationship" in the wake of the Brexit vote, Johnson faced tough questioning.
Why had he dismissed US President Barack Obama's concerns about Britain's EU membership referendum as the prejudices of a "half-Kenyan" anti-imperialist?
Had he lied about Obama removing a Winston Churchill bust from the White House or misled British voters about the consequences of their vote to leave the EU?
Would he apologise for comparing the appearance of Democratic White House contender Hillary Clinton to that of "a sadistic nurse in a mental hospital"?
Well, no. These phrases and others that have resurfaced since he was promoted last week were, he said, "obiter dicta" – inconsequential remarks.
Now, along with his new friend "John" Kerry, Johnson has far more important matters to attend to – the wars in Syria and Yemen, negotiating Britain's EU exit and world trade.
"I'm afraid that there is such a rich thesaurus now of things that I have said that have been one way or another – through what alchemy I do not know – somehow been misconstrued that it would really take me too long to engage in a full-blown itinerary of apology to all concerned," he told reporters.
Johnson insisted that everyone he had met since becoming Britain's top diplomat understood that his past utterances should be seen in the proper context of his career as a newspaper columnist and political campaigner.
And he protested that the crises that Britain and the United States are now confronting together are "far more important than any 'obiter dicta' that you may disinter from 30 years of journalism."
Oxford contemporary 
Kerry met Johnson in Brussels on Monday at a foreign ministers' council and is to see him again in Washington on Wednesday and Thursday at summits on Iraq and the war against the Islamic State jihadist group.
The Secretary of State seemed keen to build up his new friend "Boris" and revealed that the US ambassador to the European Union had been a contemporary of Johnson's at Oxford University and still spoke highly of him.
"He talked to me about some of the great experiences that they had there and he told me that this man is a very smart and capable man," Kerry said.
"That's the Boris Johnson that I have met, that's the Boris Johnson that I intend to work with," Kerry said. When Boris thanked him – "I can live with that. Stop there!" – Kerry said amid laughter: "That is called diplomacy."
Earlier, Kerry had made a courtesy on Prime Minister Theresa May, becoming the first senior US official to visit her since she took over last week from outgoing premier David Cameron.
'Out' campaign 
Cameron was forced to resign after he failed to convince British voters to vote to remain in the European Union, leaving May with the task of negotiating an exit that could have profound economic and geopolitical consequences.
Kerry and Obama were publicly opposed to Brexit and US officials are privately dismayed at the referendum result, which was championed in irrepressible style by Johnson, one of the leaders of the "Leave" campaign.
But Kerry said he had been reassured by his meetings in Brussels and London that the drawn-out divorce process would be conducted in a measured and serious way.
The talks in London were followed by a meeting of EU foreign ministers to discuss the fragile cessation of hostilities in Syria, as well as the humanitarian situation and the conditions needed to resume UN-backed talks.
France's Foreign Minister Jean-Marc Ayrault will press for the need to step up strikes against Islamic State, after last week's massacre in Nice that left 84 people dead, his office said.
Kerry and Johnson were also to meet foreign ministers from Saudi Arabia and the United Arab Emirates this evening to discuss the conflict in Yemen.