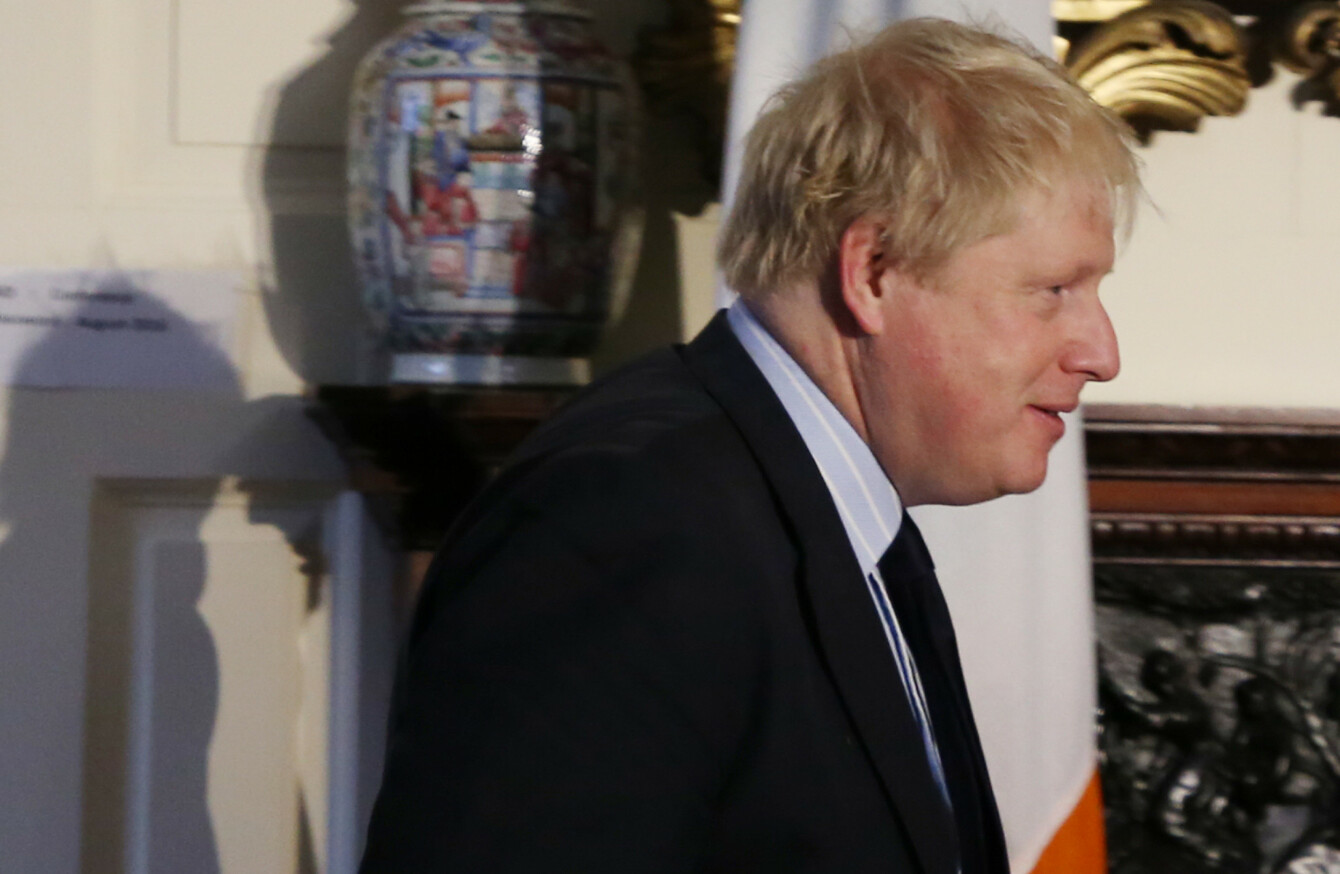 Image: Sam Boal/RollingNews.ie
Image: Sam Boal/RollingNews.ie
THE UK FOREIGN Office told Irish officials "not to listen" to Boris Johnson ahead of his visit here earlier this month, Sky News reports.
Johnson met with Foreign Affairs Minister Simon Coveney on 17 November, but Sky claims his own officials told Dublin to "ignore the public utterances" of Johnson.
However, the Department of Foreign Affairs "absolutely refutes" the story, it told TheJournal.ie.
"We absolutely refute the contents of that report."
The UK Foreign Office also hit back, tweeting:
"We do not recognise this version of events, and the claims made in the article are not supported by any sources from the Foreign Office – either on or off-the-record. Disappointing to report as fact."
Johnson and Coveney held a joint press conference on the day, but were not on the same page when it came to Brexit talks.
Coveney reiterated the Irish position that a transitional period of "four or five years" is preferable for new trade arrangements after Brexit while Johnson said he feels a new relationship could be forged "on a much shorter timescale".
Brexit talks remain stalled, with the issue of the border one of crucial importance to negotiations progressing.
The Irish government wants guarantees from the UK government around the border. That there will be no so-called "hard border" with regulatory checks on goods and people passing between the two countries.
An Taoiseach Leo Varadkar is set to meet with European Council President Donald Tusk tomorrow, but it is not thought the issue will be resolved by then.
Aggrieved
Meanwhile, a former British MP says the UK and Ireland's relationship is special "despite Ireland staying neutral in World War II".
Speaking to Pat Kenny on Newstalk, former Chancellor Nigel Lawson said that the border should be as unobtrusive as possible.
However, he said that the European Commission wanted to "punish" the UK and said that old attitudes to Ireland pervade in the UK.
"We have always had a good relationship with Ireland. Despite the shock at the decision of De Valera to stay neutral in the war against Hitler and Nazi Germany.
"Despite that, we have maintained a very special relationship.
"The decision to stay neutral was a great shock."
He paid tribute to the Irish soldiers who fought for the Allied forces and said that Britain would not have allowed a Nazi occupation of Ireland.