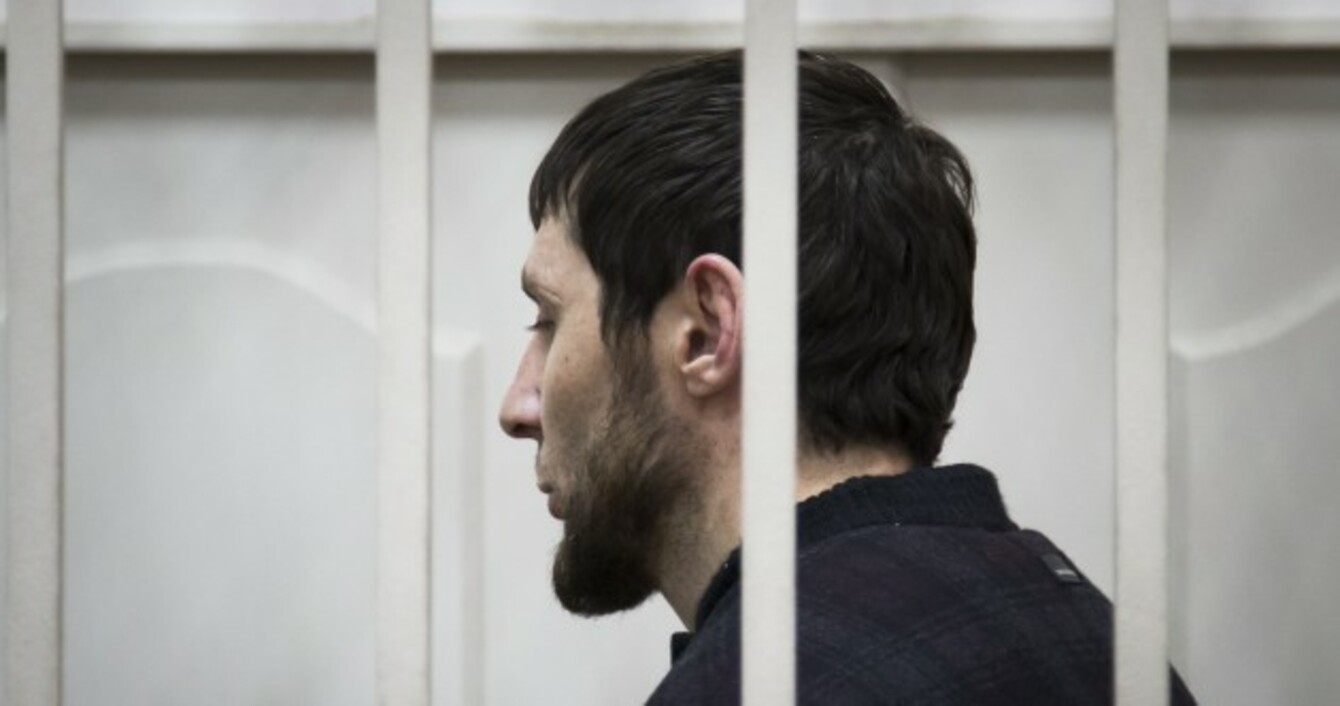 Zaur Dadaev stands in court on Sunday.
Image: AP/Press Association Images
Zaur Dadaev stands in court on Sunday.
Image: AP/Press Association Images
Updated at 10pm
A FORMER CHECHEN police officer has claimed he was tortured into confessing to the murder of Russian opposition activist Boris Nemtsov.
Zaur Dadayev's claims have been supported by a member of the Kremlin's human rights council, prompting an argument with investigators.
The statement from the group – a body close to President Vladimir Putin and often criticised as window-dressing for authorities – angered Russia's powerful Investigative Committee who accused it of meddling in their probe and threatened to investigate its motives.
Amnesty International said the allegations raised "very serious questions about the fairness of these proceedings and fuels speculation about a possible state-sanctioned cover-up."
Nemtsov (55), a former deputy prime minister who became an outspoken Putin critic, was shot four times in the back as he walked along a bridge near the Kremlin on 27 February in the most shocking assassination of an opposition leader during Putin's 15 years in charge.
Investigators rounded up five suspects within a week and presented them to a Moscow court.
Electric shock
Dadayev, a decorated former deputy commander of a police unit in troubled Chechnya, allegedly signed a confession and was charged with the murder on Sunday alongside Anzor Gubashev, who worked for a private security company. The two men and three other suspects were remanded in custody.
However he has now insisted to the council's Andrei Babushkin that he is "innocent" and only made the admission under duress.
"There are reasons that lead us to believe Zaur Dadayev confessed under torture," Babushkin told AFP after a visit to the suspect's Moscow prison cell on Tuesday.
We cannot confirm that he was tortured as we are not investigators, but we did find numerous wounds on his body.
The accusations were denied by a separate monitoring commission, which visited the prison on Wednesday and said there was no sign of bodily harm on the suspects.
Anton Tsvetkov, head of the Moscow Public Observer Commission, said: "Zaur Dadayev says he was tortured, including with electric current, but the body parts he showed bore no evidence of any electrical current impact or burns."