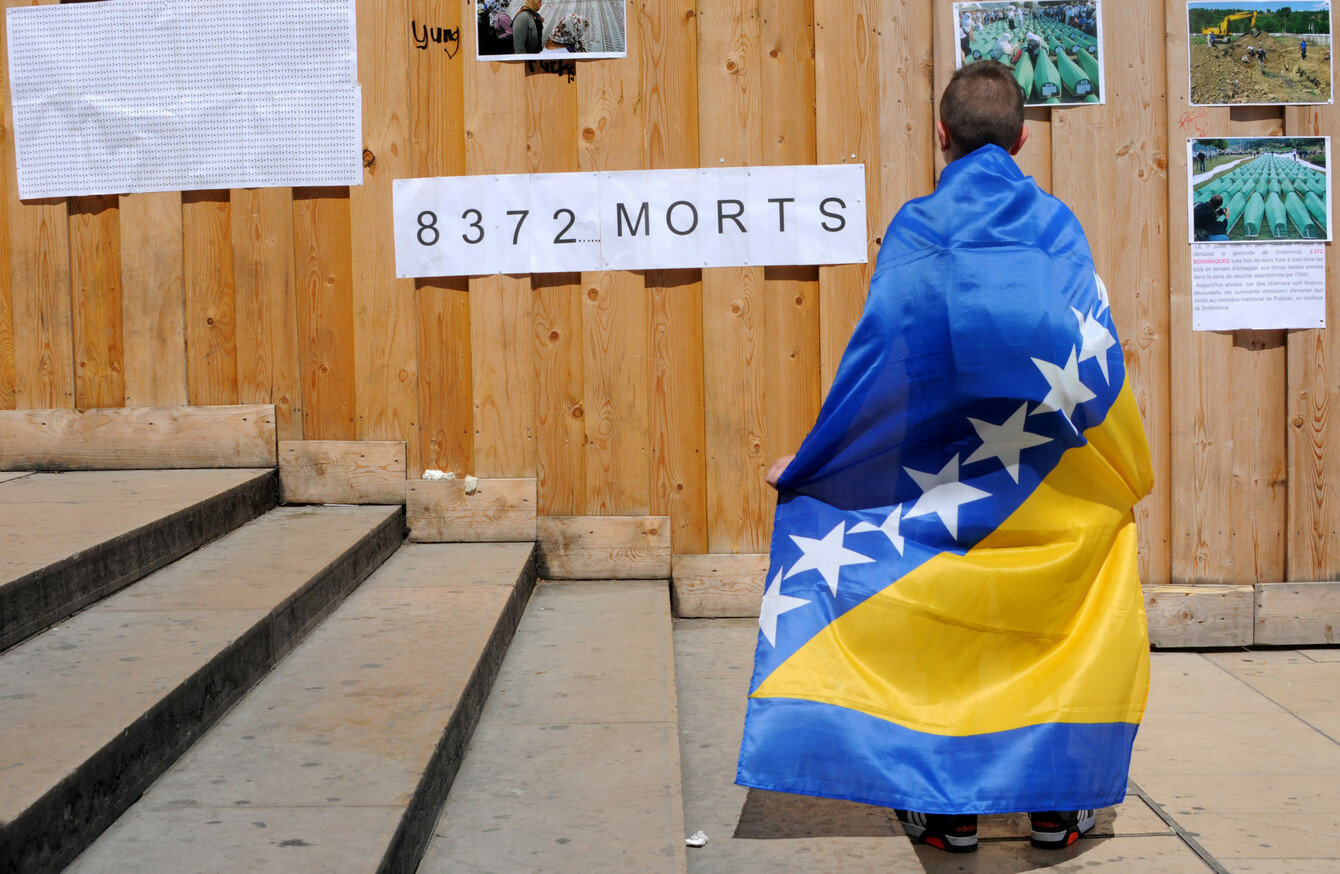 A boy wrapped in a Bosnian flag commemorates the 20th anniversary of the Bosnian war in 2015.
Image: Apaydin Alain
A boy wrapped in a Bosnian flag commemorates the 20th anniversary of the Bosnian war in 2015.
Image: Apaydin Alain
MORE THAN 20,000 survivors of wartime sexual violence in Bosnia and Herzegovina are still being denied justice, says a new Amnesty International report.
"We need support, not pity": reveals the scope of physical and psychological consequences of these crimes and the barriers preventing women from accessing the support and legal redress.
The report, based on research conducted over two years, reveals how systemic obstacles combined with a lack of political consensus have consigned a generation of survivors – raped during the 1992-1995 war – to poverty and hardship. During the conflict thousands of women and girls were subjected to rape and other forms of sexual violence by military and paramilitary groups. Many were enslaved, tortured and even forcibly impregnated in so-called 'rape camps'.
Elma was four months pregnant when she was taken to a rape camp and gang-raped on a daily basis. She told Amnesty International:
They would wear balaclavas and ask me if I could guess which one was on top of me. These were all local boys.
As a result of the physical abuse, she lost her baby and suffered lasting injuries to her spine. Almost 25 years on, Elma, who is unemployed, has not received any meaningful financial support from the State and is in need of medical and psychological assistance.
Since war crimes trials began in Bosnia in 2004, less than 1% of the total estimated number of victims of war crimes of sexual violence have come to court.
Courts across the country have completed only 123 cases involving sexual violence charges and although the number of prosecutions has increased in recent years, Amnesty is calling for more to be done to ensure perpetrators are brought to justice.
After the war, Sanja, a woman who had been held captive and repeatedly raped by a soldier and his comrades, reported him to the authorities.
The police and judicial authorities failed to take action against the perpetrator and social services failed to recognise Sanja's situation and provide assistance. She told Amnesty International:
I don't trust anyone any more, especially not the state. They all failed me.
While there has been significant progress in witness protection and support, the report says this could be undermined by high acquittal rates in several jurisdictions and often-reduced sentences for those convicted. Meanwhile the increase in the number of cases prosecuted comes with a huge backlog of cases.
Women victims of sexual violence tend to experience high rates of unemployment and poverty and are among the most vulnerable economic groups in Bosnia. Only around 800 survivors have been able to access some monthly allowances and other basic benefits.
Colm O'Gorman, executive director of Amnesty International Ireland says the report shows that the women are being forgotten:
"As each year passes, so does the prospect of ever attaining justice or receiving the support to which they are entitled. These women cannot forget what happened to them and neither should we."