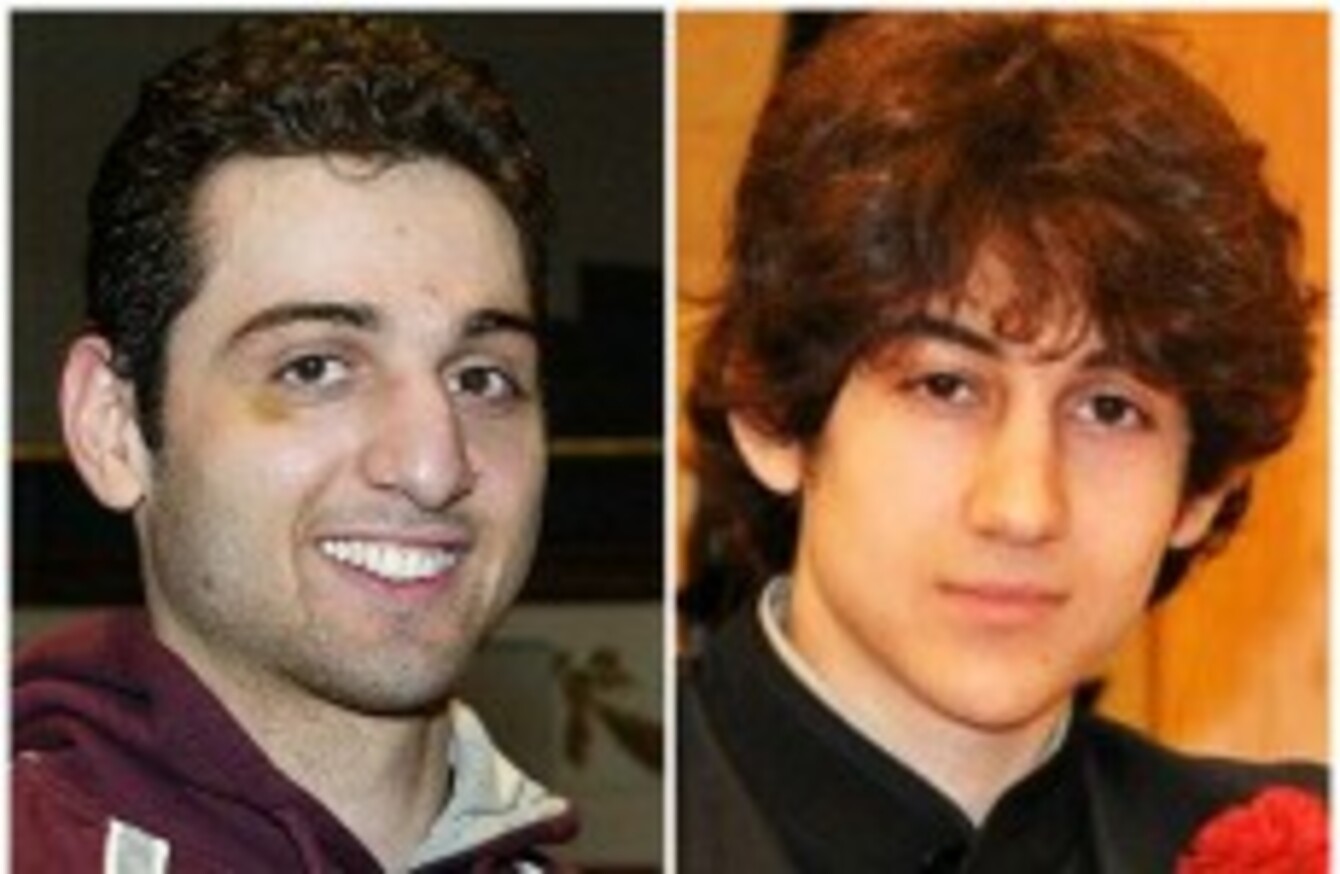 Tamerlan Tsarnaev, 26, left, and Dzhokhar Tsarnaev, 19, right.
Image: Uncredited/AP/Press Association Images
Tamerlan Tsarnaev, 26, left, and Dzhokhar Tsarnaev, 19, right.
Image: Uncredited/AP/Press Association Images
THE BOSTON BOMBINGS have highlighted the practically impossible task US law enforcement faces in preventing terror attacks by determined radicals acting in isolation, security experts say.
Despite evidence that one of the suspects, Tamerlan Tsarnaev, had popped up on the radar of US authorities prior to last week's twin blasts, analysts warn attempting to thwart similar attacks in future may prove futile.
Tsarnaev, 26, is suspected of carrying out the April 15 attacks with his brother Dzhokhar, 19, which left three people dead and 264 injured.
Tamerlan was killed during a bloody gun battle with police Thursday as the net closed on the two siblings of Chechen descent.
Dzhokhar, who remains under guard in a Boston hospital, has reportedly told investigators that his elder brother was the driving force behind the attacks and "wanted to defend Islam from attack."
'No financial support or assistance from any foreign group'
The teenager, who faces life imprisonment or even the death penalty after being charged for his role in the attack, has also told investigators the brothers received no financial support or assistance from any foreign group.
According to counter-terrorism experts, the mounting probability that the Tsarnaevs may have been radicalised via militant Islamic sources on the internet is more alarming than the possibility they were part of a wider plot orchestrated by a group such as Al-Qaeda.
Tamerlan Tsarnaev had showed increased signs of radical behavior at the mosque he attended in Cambridge, Massachusetts, and he had been quizzed by the FBI at the request of Russian authorities in 2011.
He later traveled to Dagestan for five months, and US Homeland Security Secretary Janet Napolitano acknowledged to lawmakers Tuesday that security monitors "pinged" when he left.
Misspelled name
But Republican Senator Lindsey Graham had said Monday that an FBI official told him Tsarnaev's trip was not flagged to the agency because his name was misspelled in the system, possibly on a plane ticket.
Even still, said counter-terrorism expert Philip Mudd, a former deputy director of national security and No.2 at the FBI, little could have been done because at that point he had not committed any crime.
"We've got a Constitution that says you can be a radical, speak however you want to speak," Mudd said. "Even if we wanted to, we could not investigate every radical in this country."
Tracking every individual with radical views in the United States is impossible, he added.
"There are too many of them, and what they're doing is not illegal," he said at the Brookings Institution, a Washington think tank.
The key lies in trying to discern if individuals who had consulted extremist websites had given any indication of moving towards violence. Until last week, Tamerlan Tsarnaev had not given any sign of his murderous intent.
Mudd's view is shared by Joseph Young, an assistant professor at American University's justice, law and society department.
"The really unsettling part is that it's really difficult to predict who's likely to do these kinds of things," Young said.
"It's a real challenge. It's not reasonable to assume they (the FBI) are going to be 100 percent accurate."
#Open journalism No news is bad news Support The Journal

Your contributions will help us continue to deliver the stories that are important to you

Support us now
Attack 'more emotionally driven than ideology driven'
Mudd suspected the Tsarnaevs' governing philosophy prior to the Boston attack had been "more emotionally driven than ideology driven."
"That, to me, defines a lot of what we see in the transition from Al-Qaeda operations to more affiliates and especially these homegrown kids," he said. "My cold analysis is this is more emotion today than it is ideology."
Young, meanwhile, warned that Al-Qaeda attacks of the past had been easier to anticipate.
"If we look at the patterns that occurred prior to 9/11, it was much clearer about the plots that were developing," he said, adding that Al-Qaeda was quite obvious about its intentions.
"Those kinds of attacks were more disruptive but the good news is that they're easier to predict," he noted. "The kinds of attacks (like Boston) are not as disruptive, but they're extremely hard to predict."
Marc Thiessen, an analyst with the American Enterprise Institute, wondered if the Boston attacks could mark a new kind of terrorism in the United States.
"Watching the massive news coverage of the Boston bombing, seeing how two kids with backpack bombs seem to have succeeded in putting a major US city on lockdown, it may now dawn on Al-Qaeda leaders that a series of small-scale attacks like this can have the same impact as one spectacular mass casualty attack," Thiessen wrote in the Washington Post.
"If it does, that would be very bad news for America. Because it is impossible to defend in every place, at all times, against every possible form of attack."