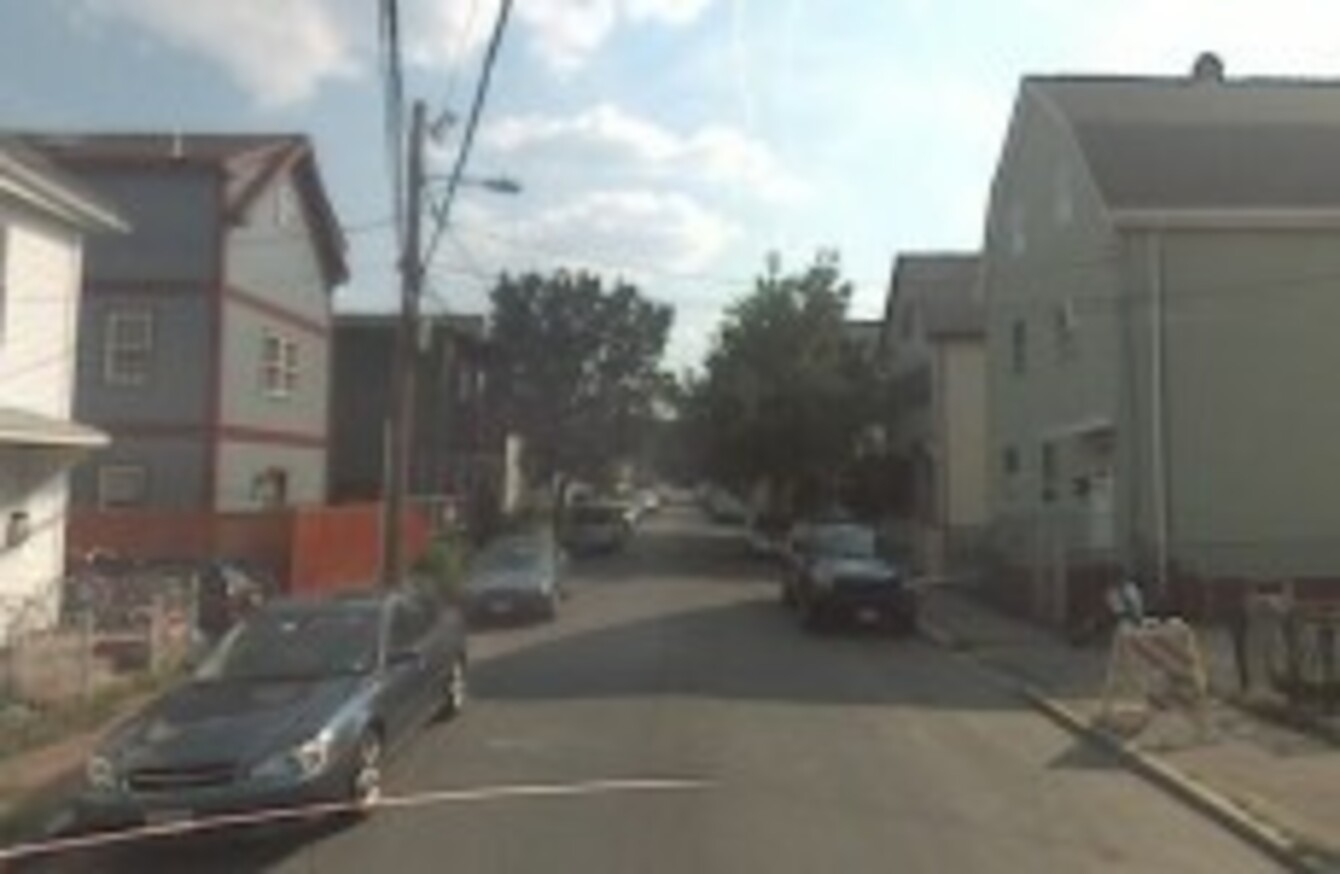 Norfolk St
Image: Google Street View
Norfolk St
Image: Google Street View
LIKE EVERY OTHER Massachusetts resident last Friday morning, Eric Grzymkowski woke up in the shadow of the previous Monday's horrific Boston bombings attack.
The twin bombs at the Boston Marathon had led to the deaths of three people and around 180 more people suffering injuries, and the hunt was on to find out who had perpetrated such a senseless crime.
But writer Grzymkowski found himself inadvertently drawn into the heat of the events, when it emerged that the two men police suspected had planted the bombs lived just five doors down from him on the quiet Norfolk St in Cambridge.
'Things escalated quickly'
Grzymkowski, who lives with two friends, woke up before his usual time of 8.30am when he heard his housemates talking in the living room. "I checked my phone and I had all these text messages: 'I hope you're OK', 'Don't go to work today', – so I knew something was up right when I woke up," he told TheJournal.ie.
The police had released photographs of the two suspects, brothers Tamerlan and Dzhokhar Tsarnaev, the previous evening. While Grzymkowski was asleep, the two men had become involved in a police chase that led to Watertown, where Tamerlan, the elder brother, was killed. Dzhokhar, just 19 years old, escaped and was thought to be on the run.
The hunt was on to find out more about the siblings – and the trail led to just down the street from Grzymkowski and his friends.
Pretty soon things just kind of escalated pretty quickly. I woke up and I knew they were chasing the bomber in Watertown, and then I checked on Twitter and addresses started popping up in my area; people saying they think he lives on Norfolk St, and then somebody said he lives at 410 on Norfolk St, and that's when we all looked at each other and were like wait, that's down the street.
"It went from they're chasing the bomber in Watertown to, holy crap they might live down the street," he recalls. As police zeroed in on the Tsarnaev residence, this began to escalate even further.
"Right around the time I started thinking to myself you should get your stuff together because they might start evacuating the area… maybe a minute later [at around 8am] they came knocking on the door and told us to get out," he said.
It was scary. We had all expected we were just going to hunker down in the apartment all day because they had told everyone not to leave their houses. That's scary enough, but to have them come knocking on your door and say you have to leave, it's not safe here…
Evacuation
To make matters even more frightening, police didn't know at the time if the brothers had any explosive devices in their home, or if they had booby-trapped the apartment, said Grzymkowski. But the speed of the evacuation – he was wearing his pyjamas and his female roomate was in her bathrobe – meant that they didn't have too much time to really grasp what was going on.
I wasn't really too worried for my own safety at that point. We didn't even have enough time to process it.
Grzymkowski did not know the Tsarnaevs. "I didn't recognise them at all – I wish I had, 'cause I could have maybe stopped a lot of the events after," said Grzymkowski, no doubt sharing the sentiments of other locals. "I had never seen them as far as I knew. Even when they released the clearer pics, I didn't recognise them at all."
After the police told them to leave their homes, they didn't get back to Norfolk St for another 14 hours, exhausted after all the activity.
They woke up the following morning to a street full of reporters and Bostonians visiting to see where the bombing suspects lived.
"What was normally a very quiet st in Cambridge became equal parts police zone and tourist attraction, to a degree."
Moving forward
Will it take Boston long to recover from the last week's events? Grzymkowski thinks not: "I honestly don't think it will affect Boston for much longer than the inital immediate aftermath."
Nobody is going to stop doing what they normally do just because someone decided to blow up the Boston Marathon.
I think people will get back to normal really quick.
Reflecting on the past few days, it's hard for the Norfolk St residents to believe they lived just doors away from the men suspected of the worst attack in the US since September 11 2001.
"It was surreal to know that they were just down the street," said Grzymkowski. "It goes to show you that everybody is expecting someone who is capable of that type of act to somehow be different or to somehow look like someone who would do that; but obviously you know it could be anybody… anybody is capable of that sort of attack."
He is full of admiration for the authorities that found the suspects so quickly. Dzhokhar is currently in hospital in Boston, while authorities wait to see if he will be well enough to talk to them about their suspicions. "It's really an amazing feat from the police and the FBI and everybody else who is involved,", said  Grzymkowski. "To be able to orchestrate that kind of an investigation that quickly is astounding."
For Grzymkowski, his housemates and Norfolk St neighbours, life is slowly moving on after the initial shock.
It was a pretty typical day yesterday and today. And I'm glad, I'm glad that people are able to get back to their lives and aren't going to sit around watching the news for the next thing to happen.
Massachusetts will never forget what happened at the Boston Marathon on Monday 15 April 2013, and Norfolk St residents may not shake the fact their neighbours were the two main suspects behind the attack. But they are determined that their home will return to the calm, safe and friendly place it has always been to them.