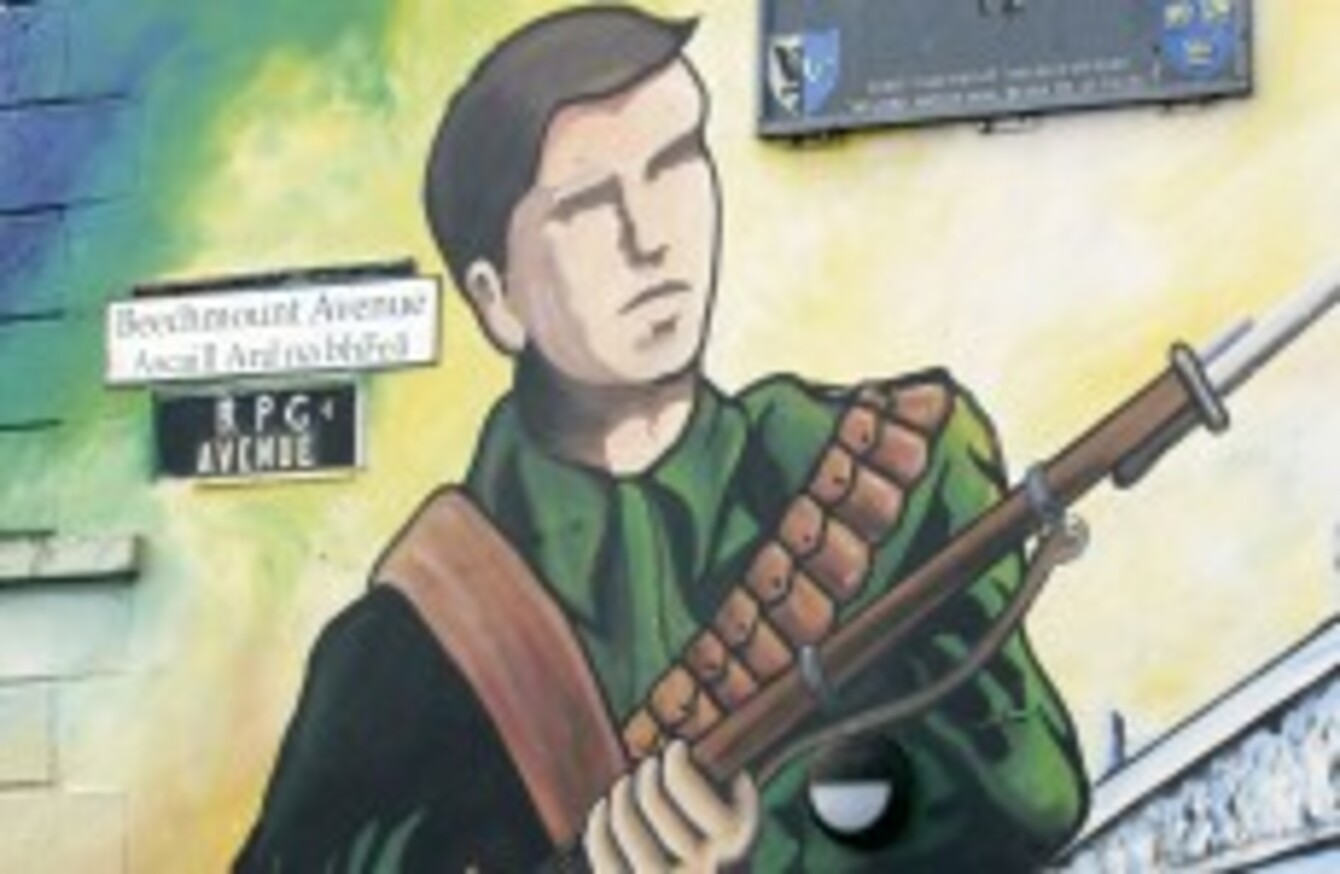 Irish Republican Army mural in West Belfast, Northern Ireland,
Image: AP/Press Association Images
Irish Republican Army mural in West Belfast, Northern Ireland,
Image: AP/Press Association Images
BOSTON COLLEGE HAVE said that the notion that they were too quick to hand over the Troubles tapes to the PSNI is "tired rhetoric" that "quite frankly is too willingly accepted by the Irish media," said Jack Dunn, spokesperson for the college.
Speaking on RTÉ's Morning Ireland today, he said that UK-US Mutual Legal Assistance Treaty was signed in 1994, adding that it was included in the contract for the Boston College project in which interviews were collected by journalist Ed Moloney and former IRA member Anthony McIntyre.
Information from the interviews were later transcribed into documents and have been accessed by the PSNI and used to secure several arrests.
It is believed they are also the basis for the arrest and questioning of Sinn Féin leader Gerry Adams, who was questioned for four days last week over the abduction and murder of mother-of-10 Jean McConville in 1972.
Treaty
Dunn said it was not envisaged that the treaty would be used by the PSNI to gain access to the tapes, stating:
… Given the investment by the Irish and British governments in the peace process no one thought that the PSNI would take the step that they took or would be allowed to take the step that they took…
Dunn said that the college did seek legal advice in relation to the project, adding they were advised to include a clause in the contract that would specify that the college would not be able to guarantee that they would be in position to refuse handing over the tapes if there was a court order, which he said they did.
He defended the college in terms of the efforts they made in attempting to prevent the surrender of the tapes to the PSNI stating that the college faced a Federal Court subpoena.
"We fought a lengthy two year battle and won a significant battle that reduced the number of transcripts released from 85 to portions of 11," he said.
Dunn said that Boston College have now offered to hand back interviews to those interviewed for the project upon their request.
Return
"If an interviewee expresses a desire to have their interview returned to them, Boston college will accommodate that," he said.
He concluded by stating that the project was "well intentioned" when it began, stating that it was to envisaged to be a great opportunity to capture testimony from those involved in the Troubles and to serve as resource for academics and scholars.
He said that "mistakes were made by all participants" but reiterated that no one thought the PSNI would seek to get the tapes – "a lot of people didn't think it would be allowed," he said.