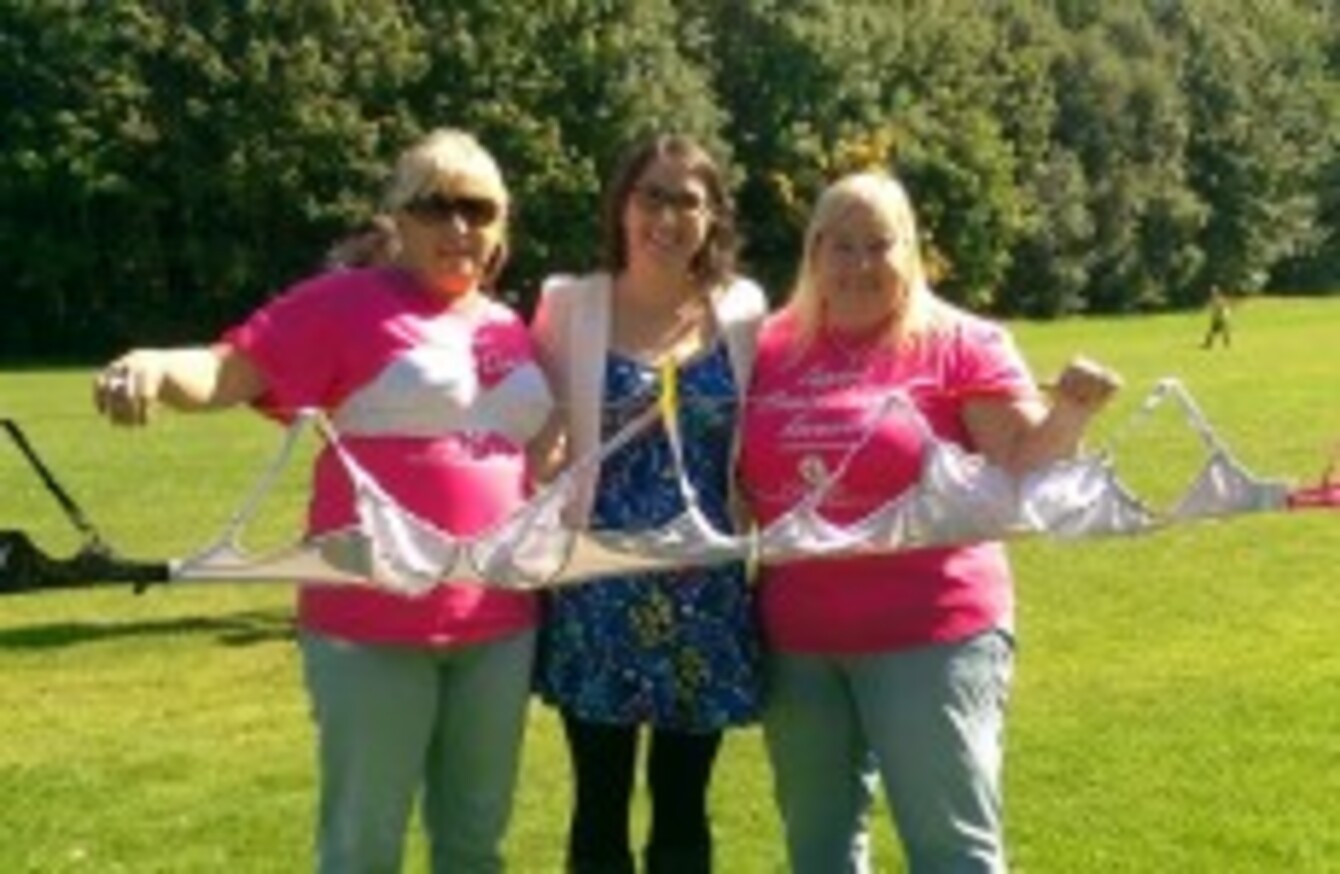 Ann McDonnell, Cllr. Emer Higgins and Lyn Lee pictured at last year's event in Corkagh Park
Image: Picasa
Ann McDonnell, Cllr. Emer Higgins and Lyn Lee pictured at last year's event in Corkagh Park
Image: Picasa
Updated at 9am
TWO SISTERS WHO lost their mum to breast cancer when they were young children have held an unusual event to raise money for breast cancer research.
Ann McDonnell and her sister Lyn Lee held an event on Sunday at Corkagh Park in Dublin which saw them raise over €2,000 after people donated their old bras and paid €2 each.
This is the second time the sisters have held this event. "My mother died of breast cancer 45 years ago and my sister and I, a couple of years ago, decided to start fundraising towards it and the bra chain came out of nowhere," recalled McDonnell.
"We were trying to thing of something different to do, so we got posters done and put the word out last year." They received 800 bras for the 2014 event.
Raising money – and awareness
The pub collections and event helped them raise €2020 this year, which they are "absolutely thrilled" about. Their mother died aged just 44, when Anne was five.
It was very quick – she died within six weeks.
McDonnell says the event is about raising awareness of the need for women to check their breasts for changes. They encouraged people to write the name of any loved ones they lost to cancer on the bras.
"There was a lot of emotion," said McDonnell.
"One lady came up to me and said her mother had passed away, and she had a close call herself. It was very emotional."
The sisters also raise money during the year by collecting in supermarkets, and are frequently finding people come over and chat to them about their experiences.
Most of the women say 'God, I wouldn't miss my mammogram'. The ones that would say they didn't check are the ones that have been found to have breast cancer, that's what we've noticed. It was only when it came to light there was something wrong that they [became] more aware of it.
McDonnell said she has realised that there is "not one family that hasn't been affected by some form of cancer".
Her advice to people? "Check yourself regularly and go and get your mammograms. And if you're in doubt, go to the doctor."
"Ann and Lyn are an absolute breath of fresh air," said local councillor Emer Higgins. "Last year's event was fantastic."
The sisters are hoping to collect more bras for next year's event. If you would like to donate any old bras, email annmcdonnell2003@yahoo.ie for more details. The suggested donation is €2 per bra.