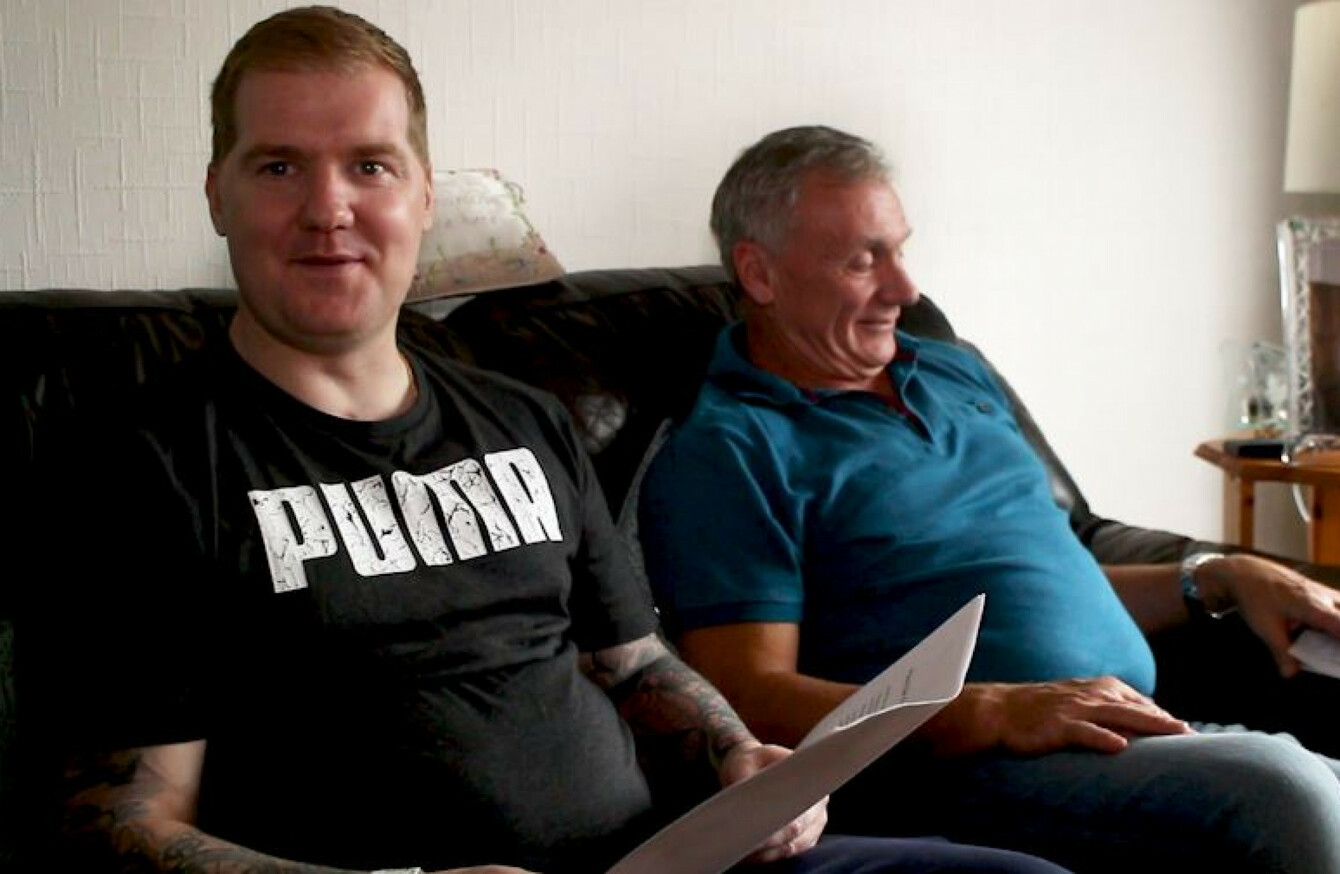 Paul De Ferreira and his father Ronnie.
Image: TheJournal.ie/Andrew Roberts
Paul De Ferreira and his father Ronnie.
Image: TheJournal.ie/Andrew Roberts
A MAN WHO almost lost his life in a quad bike accident has finally received the required funding for a place in an Acquired Brain Injury Ireland facility, where he can continue his recovery. 
It follows a stay of almost a year in the National Rehabilitation Hospital in Dun Laoghaire, and a sustained media campaign by Paul de Ferreira and his family in recent weeks to raise awareness of his case. 
The accident, which happened two years ago, left the 36-year-old with serious injuries to his brain, with doctors forced to remove some of Paul's skull due internal injuries that caused it to swell. 
"There was blood streaming down the road," when they were putting him into the ambulance, Ronnie Spadaccini, Paul's father, said.
I hope nobody ever has to – as a father or a mother – see blood coming out of their son's ears and rolling down the road.
Medics weren't expecting Paul to survive – but he defied the odds and two years later, after relearning how to walk, talk and feed himself again, the Clondalkin man is ready to move to the next stage of his recovery.
Late last year, doctors at the NRH said they had taken Paul as far as they could with the treatments offered at the facility. 
The best place for him, they suggested, was a specialised facility that would focus on reintegrating him back into society.
On Paul's behalf the NRH applied for funding, which is granted by the HSE, around November of last year and Paul was assessed in March and April of this year. 
Then, the process stalled. In August this year Paul received notice that he would have to move from the NRH and back to the acute hospital in Tallaght, which is not equipped to properly treat Paul's condition.
"It's a hospital that can do nothing for him," Ronnie said. Paul would only be taking up a bed for somebody who really needs it.
Ronnie and the rest of Paul's family didn't want that happening as such a move could hinder the good progress he had already made and cause Paul to fall back in his recovery.
They made repeated queries to the HSE but said they were not getting any answers on when funding would be released – if at all.
When originally contacted about Paul's case by TheJournal.ie last month the HSE said in a statement that it could not comment on individual cases, but was aware of the demand for neuro-rehabilitation services and supports. It said that resources for funding were finite.
Ronnie contacted various media outlets, including this website, to tell Paul's story, hoping to kickstart some progress. We published the video below and an accompanying article on 24 August. 
Source: TheJournal.ie/YouTube
Fortunately, at the end of August the HSE rang Paul's wife Lisa and told her that funding that been approved.
"That's what I was fighting for and nobody was doing anything about it," Ronnie said. "Paul's delighted, he keeps asking, 'When I'm I getting out of here?'"
The Acquired Brain Injury Ireland facility where Paul will live will have an emphasis on independent living "where 4-5 individuals with an acquired brain injury live together as a community and staff are available 24/7," according to a spokesperson.
A keyworker will support each resident in their rehabilitation goals and work on personal care, home management, decision-making, judgement and social skills.
Residents are also encouraged to re-integrate into the community, to join social clubs and groups or take up placements for study or work.
The Acquired Brain Injury Ireland spokesperson added: "Paul will be one of four residents in a residential neuro-rehabilitation service in Lucan". The brain injury charity hopes to have the service open by the end of 2018."
The question of where Paul will live in the meantime has not yet been settled. The family is having meetings with the NRH to see if he can stay there until he can be moved.
"All I hope for is that he can make a living when he does finish his therapies and that he can carry on with basically a normal life and get back with his wife and kids," Ronnie said. 
He said it was a shame that brain injury patients had to wait for such a long time before progressing to the next phase of their treatment.