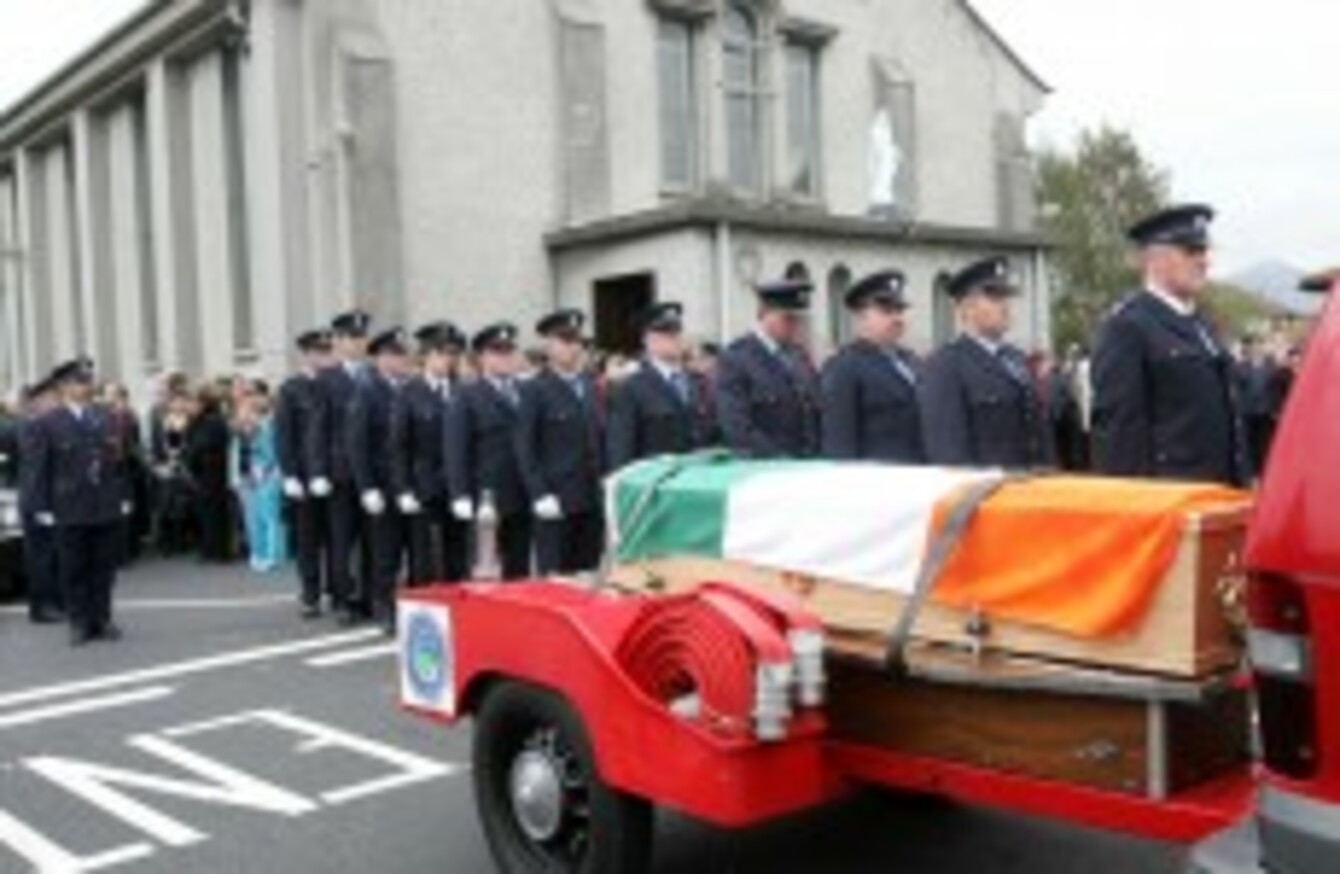 The remains of part-time firefighter Mark O'Shaughnessy are taken from the Church of Our Lady Queen of Peace in Bray.
The remains of part-time firefighter Mark O'Shaughnessy are taken from the Church of Our Lady Queen of Peace in Bray.
Updated 22.44
A 17 DAY inquest into the deaths of two part-time fire fighters in Bray almost seven years ago has delivered a 'narrative verdict'.
Such a verdict outlines the circumstances surrounding a death but does not attributed it to a named individual.
Brian Murray and Mark O'Shaughnessy died when the roof of a disused factory collapsed on them when they were dispatched to a fire on 26 September 2007.
During the course of the inquest, the Coroner and the members of the jury heard the circumstances of how the men were sent to the fire and the operating procedures that were in place.
In October of last year, Wicklow County Council was fined €355,000 in connection with the deaths of two firemen. The council had plead guilty to health and safety
violations at the Circuit Criminal Court.
In a statement following today's verdict, Wicklow County Council presented what they said were enhanced operating procedures that have been introduced since the fatal fire and were outlined during the inquest.
These included the introduction of "pre-determined attendances" which are instructions given by a chief fire officer to the communications centre following a call for assistance.
The PDAs are designed to give fire fighters greater clarity in what the will be dealing with when they are dispatched to an incident.
The plan to introduce PDAs was already in place ahead of deaths of the two men, but in the month after the fire the control room of the Bray fire service was moved to the East Region Communications Centre.
The council also say that a new vehicle has a Compressed Air Foam System and there is training for members on how to use it correctly. This issue was raised in last year's court proceedings.
Families
But the family of Mark O'Shaughnessy have this evening said that they have been "entirely disgusted" by the response of the Councillors in Wicklow County
Council.
They say that despite many councillors publicly stating that they would attend the inquest after it resumed on 1 May, they say that only Sinn Féin's John Brady has done so.
The family say that members of Wicklow Fire Service who were in place at the time of the fire still remain in management positions.
The family's statement also has specific questions for the current county manager Eddie Sheehy:
Ultimately, almost seven years have passed since that fateful day where ongoing failures within Wicklow Fire Service finally came to national attention in the most horrific way. We would like to ask the county manager Eddie Sheehy, the following questions: Who does he believe had responsibility for the health and safety breaches experienced by Brian and Mark?
"It hurts me very greatly that after almost 7 years of patience through gruelling legal proceedings, and fighting at a local and national level, We will probably be unsuccessful in achieving those aims due to political ignorance and apathy at every level."
Originally posted 21.18